Miami needs more from Reggie Johnson to make deep run
It was promising that Miami could take Duke's best shot, get little from Reggie Johnson -- and still only lose by three. But the Hurricanes need more from Johnson.
• 3 min read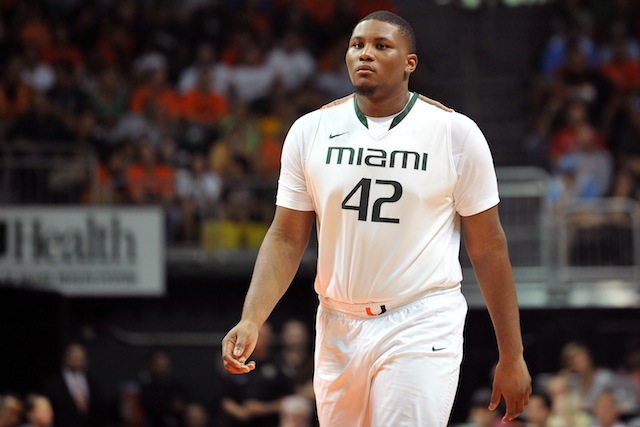 DURHAM, N.C. -- Both plays come up in the official play-by-play as "Shane Larkin Turnover."
With 3:49 remaining and Miami trailing Duke by five, Larkin drove the lane and dumped it off to Reggie Johnson , who fumbled the ball and cost the Hurricanes an easy two points.
Determined to make up for it, Larkin again drove the lane with 2:49 left and dished to a wide-open Johnson, who let the ball slip through his hands -- allowing Duke's Rasheed Sulaimon to go back the other way and give the Blue Devils a seven-point lead.
While they both are listed as turnovers for Larkin, the mistakes certainly weren't on his shoulders. Johnson could have had four easy points, both times looking to make it a one-possession game in the final minutes.
Instead, the No. 5 Hurricanes came up short on both possessions -- and came up short in the end, falling to No. 3 Duke 79-76 when 3-pointers from Larkin and Rion Brown wouldn't drop in the final seconds.
Aside from the actual notch in the loss column, it was a generally positive result for the Hurricanes. They took Duke's best shot -- an effort that included 36 points from Ryan Kelly in his first game back from injury -- and came within one made 3-pointer from sending the game to overtime.
More on Miami-Duke
Column

Related links
More college hoops coverage
Larkin was outstanding down the stretch, scoring 13 points in the final seven minutes en route to a 25-point performance. Durand Scott played well at both ends of the floor, limiting Duke's Seth Curry and also making plays off the bounce. Trey McKinney-Jones hit some big shots, and Kenny Kadji went for 17 points and 10 rebounds.
The X-factor heading into the game was Johnson -- and he came up short in his first start since returning from injury, committing four fouls and not scoring a single basket.
"When Reggie came back, he hadn't practiced in a month and we needed to get him back in the flow of practices," coach Jim Larranaga said. "His progress has come far enough along that I thought it might be a good boost for him. It kind of helped Julian [Gamble]. I thought that if they kind of reversed roles, it might help both of them, but obviously that didn't happen."
Johnson struggled from the outset, having trouble dealing with Mason Plumlee's length on the interior. He couldn't finish anything early on, and was unable to provide much of an inside presence.
The game turned late in the first half when Johnson was blocked by Plumlee at one end and subsequently stood around looking for a goaltending call. Four seconds later, Johnson was late getting back, leaving Kelly alone for a wide-open 3 that trimmed Miami's lead to two and gave the Blue Devils momentum.
"We have to look at the good things we did, and the bad things we did, and try to correct them," Scott said. "And not make them again."
That's going to be the key going forward for Miami. Larkin and Scott are both players who can create their own shots off the dribble and get into the lane against most teams. Kadji is a matchup nightmare with his ability to step outside and knock down shots. They need interior production, though, and that comes from Johnson.
Sure, they went 6-2 while he was sidelined with a broken thumb, but his ability to provide inside balance makes them so much tougher to deal with. He had four double-doubles in the first seven games of the season and went for 15 points and eight rebounds at NC State in early February. In his last five games, though, Johnson is averaging just 3.8 points and 5.2 rebounds, while shooting 8-for-26 from the field.
It's promising that Miami could get next-to-nothing from Johnson and still come within three points of Duke on the road. 
To be a true Final Four threat, though, Johnson has to be a factor.
For more college basketball news, rumors and analysis, follow @EyeOnCBB on Twitter, subscribe to our RSS Feed and subscribe to our College Basketball Newsletter. You can follow Jeff Borzello on Twitter here: @jeffborzello
Discussing the one-and-done rule -- plus Michael Porter Jr.'s injury and Billy Preston's c...

Even though he's scheduled to graduate in December, the NCAA still won't let Hayes play

The Wisconsin resident wasn't happy with how the Musketeers handled their win in Madison
There's a change to the way teams are picked and selected for the NCAA Tournament

Gamecocks coach Dawn Staley says the she only wants an invite to the NCAA Tournament

Goodwin is making the most of his chance at Florida Gulf Coast after he was forced to leave...