Michigan advances, tops Vols team nobody should want to play
Michigan became the team nobody wants in the NCAA tourney by beating the team nobody will have to play nor should want to: Tennessee.
More NCAA hoops: Tournament bracket | Complete coverage of NCAAs | Latest news
INDIANAPOLIS -- Michigan is the team nobody wants to play, but somebody will have no choice. To get to the Final Four, the Louisville-Kentucky winner will have to get past Michigan, and nobody sane wants to get past Michigan. Nobody sane wants to play Michigan.
The Wolverines have perimeter shooters at four spots and an emerging force at that fifth, center Jordan Morgan. The Wolverines run a beautiful offense designed by the beautiful mind of offensive savant John Beilein, who has won everywhere he has coached and now is one game from putting Michigan into its second consecutive Final Four. The Wolverines are a team nobody wants to play.
But I'll tell you this: If I'm a team -- if I'm the Louisville-Kentucky winner -- I'd rather play Michigan than the team Michigan beat. The team Michigan barely beat. The team Michigan was, to be perfectly honest, lucky to beat 73-71 Friday night in the Sweet 16.
I'd rather play Michigan than Tennessee .
Michigan can beat you by 20, beat you in a way that will leave you feeling hopeless, but Michigan's supposed to beat you. There's no shame in losing to a Michigan team with two or three future NBA wings. Nik Stauskas and Glenn Robinson III are NBA no-brainers. Caris LeVert will get a shot. Those three, plus Morgan, plus point guard Derrick Walton Jr.? With future star Zak Irvin off the bench and John Beilein sitting over there, drawing up beautiful plays you can't stop?
There's no shame in losing to Michigan.
Tennessee is different, and this is not an insult or even a back-handed compliment. Wrap your brain around the idea that I'm praising the daylights out of Tennessee when I say that playing the Vols is no fun, because teams are supposed to beat the Volunteers ...
... but probably won't.
Michigan did, but only after three other NCAA Tournament teams could not. Iowa couldn't beat Tennessee in the First Four at Dayton. UMass won 24 games this season but couldn't beat Tennessee in the Round of 64. Mercer thoroughly deserved to win against Duke, then thoroughly lost to Tennessee in the Round of 32.
Then, Michigan.
Michigan was supposed to beat Tennessee on Friday, easily even, and sure enough that was happening. The Wolverines led by double digits with five minutes left in the first half and then kept scoring. LeVert hit a 3-pointer and the score was 41-28. Morgan dunked and it was 43-30. Morgan dunked again and it was 45-32. But you'll notice that Tennessee was scoring too, doing what Tennessee does, which is compete. Grind. Believe.
Other teams may believe as much as Tennessee, but how many teams believe as much as Tennessee with so little to believe in? The Vols have a coach who was on the hot seat three weeks ago. They have a nice but short center in Jarnell Stokes, a strong but battered (and even shorter) power forward in Jeronne Maymon, and some complementary pieces in Antonio Barton and Josh Richardson. The Vols have only one guy with a shot at an NBA roster, Jordan McRae, who is the epitome of this 2013-14 Tennessee team. McRae came to college as not much to look at, tall enough at 6-foot-6 but skinny and a poor shooter and a mediocre ball handler.
As a freshman, Jordan McRae scored 18 points. All season.
As a senior he averaged 18.6 points. All season.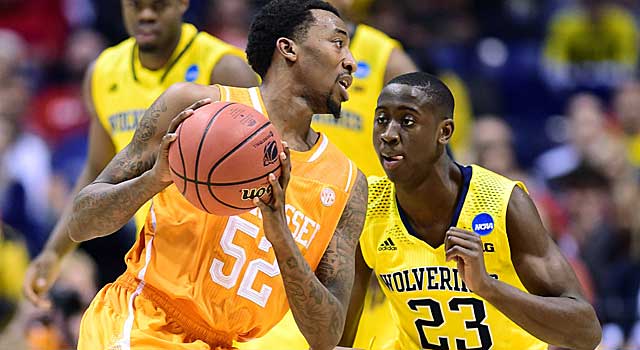 McRae saddled up the Vols in the second half, scoring 16 of his 24 points and blocking three shots and making inbounds passes a nightmare by shadowing Stauskas or Robinson or LeVert and just reaching, trying, competing for the ball.
Michigan is beautiful and led 70-60 with 3:40 left and by eight points with less than three minutes to go -- but here came Tennessee, a team Michigan had mostly enjoyed playing until then. And that's when Tennessee became a team nobody wants to play, not in the Elite Eight on Sunday and certainly not Friday night, even with an eight-point lead with 2:45 left and future NBA wings on the court and a brilliant coach like John Beilein on the sideline. Michigan had no choice but to play Tennessee, to try to finish off Tennessee, and the Volunteers almost didn't let it happen.
McRae hit a pull-up jumper from 15 feet. Then he drove on Stauskas, scored and was fouled. The free throw made the score 72-67 with 1:56 left. Michigan turned it over, and after a McRae miss, he blocked Robinson's shot to force a shot-clock violation. Richardson drove for a bucket, making it 72-69 with 25 seconds left.
Michigan turned it over against Tennessee's pressure, and then McRae drove for a layup to make it 72-71 with 10.8 seconds left.
Michigan turned it over against Tennessee's pressure again, and even when Stokes lowered his shoulder and fouled Morgan with six seconds left in an apparent flop, and even when Tennessee had no choice but to put Stauskas on the line with 2.1 seconds left -- after nearly stripping the ball, twice, on inbounds plays -- the Volunteers still had a shot.
But after Stauskas missed the second of two free throws for a 73-71 lead, McRae's 50-footer at the horn flew over the backboard, and the game was over. Michigan, a team nobody will want to play in this NCAA Tournament, had beaten a team nobody else will have to play.
And you're lucky, Kentucky or Louisville. Awfully damned lucky. Because Tennessee would've been a team you were supposed to beat.
Whether you were going to beat them or not, well, let's just say this: You're lucky you won't have to find out.
It's difficult to imagine an athletic director giving the Hall of Famer another chance

The recruiting scandal has cost Rick Pitino his job as coach of the Cardinals

Pitino's lawyer fought for his client's job Monday
These teams who have the potential to pull some upsets should they make it to the Big Danc...

Gary Parrish and Matt Norlander explain how and why UNC escaped penalty

J'Raan Brooks, a top-100 player, says he's reassessing his options