Michigan State tops Kentucky in matchup of No. 1 vs. No. 2
Michigan State will be the new No. 1. But Kentucky showed lots of promise even in defeat.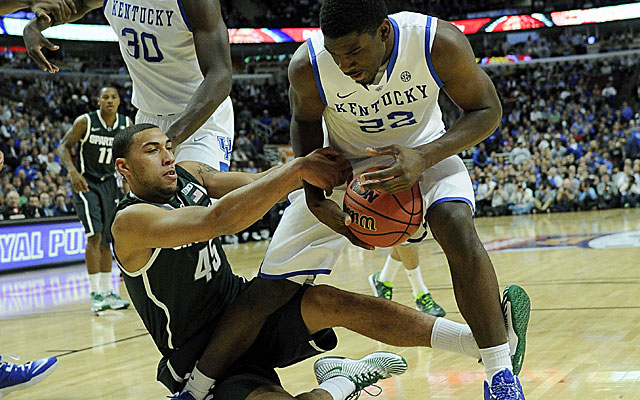 CHICAGO -- John Calipari spent the days leading up to this Champions Classic telling everybody that his team wasn't ready to play a good and experienced outfit like Michigan State. He said Kentucky had "no chance." He called the whole thing "unfair."
On some level it was just Calipari being Calipari, of course.
These are the kinds of things he always says.
But for most of Tuesday night here at United Center it looked like Calipari was shooting us straight. His rotation of five freshmen and two sophomores missed five more shots than they made and four times as many 3-pointers as they sank. They turned the ball over 17 times. They shot only 55.6 percent from the free throw line and gave up 21 points in transition. It was ugly. The Wildcats looked their age. They trailed by as many as 15 points in the first half and by double-digits throughout most of the second. And yet Kentucky still found itself down by a mere bucket in the final minute.
Seriously,  after all that, the Wildcats were somehow in a position to win.
They just needed a stop and a score.
Problem is, they're still young and often lost -- point being they got neither that stop nor that score. "We don't have any pride in our defense right now," Calipari later acknowledged. So Michigan State exhaled and recorded a 78-74 victory in what was the earliest No. 1 vs. No. 2 matchup in college basketball history. Which means the top-ranked Wildcats won't be top-ranked much longer. Which means that debate about whether they might go 40-0 is over before it really even started.
But this was still an encouraging night for Kentucky.
I'll tell you why in a moment.
But first let me tip my hat to the Spartans.
They were never going to match Kentucky player-for-player because nobody can match Kentucky player-for-player. But what the Spartans lacked in individual talent (only relatively speaking, it's important to note) they made up for with experience, toughness and opportunistic scoring. Keith Appling played like a senior point guard while finishing with 22 points and eight assists. Adreian Payne played like a senior big while finishing with 15 points and three rebounds. Gary Harris played like a sophomore All-American while finishing with 20 points on 14 shots.
Michigan State is terrific and a deserving No. 1.
Tom Izzo's team will be atop the Top 25 (and one) on Wednesday.
"We'll see what we can do," Izzo said, "with a bull's-eye on our back."
My guess: Michigan State will be just fine with a bull's-eye on its back ... as long as the names Appling, Payne and Harris remain on the backs of the jerseys. Either way, the next real test won't come until North Carolina visits Breslin Center on Dec. 4.  That game will be among the highlights of the ACC/Big Ten Challenge.
But enough of that for now.
Let's get back to Kentucky because Kentucky is still the story here.
For months folks have debated whether these young Wildcats would be closer to the 2011-12 team that won the national title or the 2012-13 team that lost in the NIT, and I believe we learned, even in defeat, that the former will almost certainly be true. Again, the Wildcats lost; everybody realizes that. But the fact that they played so poorly and carelessly for roughly 30 minutes and still had a legitimate chance to beat a team as undeniably good as Michigan State this early in the season speaks volumes.
Andrew and Aaron Harrison struggled (combined 4 of 13 from the field). But they'll get better. James Young struggled (3 of 11 from 3-point range). But he'll get better. And god help everybody when Julius Randle gets better because that 6-foot-9 monster of a prospect finished with 27 points and 13 rebounds in 35 minutes and only seemed human when he walked into the interview room afterward and acknowledged that his body was failing him.
"I'm cramping," Randle said. "I'm cramping bad."
"I told you to take yourself out of the game," Calipari said with a smile.
Then the coach excused his star player to the locker room.
Then Calipari spent the next 14 minutes explaining that this is all a big process, that there's nothing simple about trying to win huge games early with an inexperienced roster, and that some of his players were back in the locker room crying. He insisted that's a good sign because it shows that losing bothers them.
Calipari didn't seem mad.
He didn't even seem frustrated.
He seemed like a coach who knows he has talent and time.
"We're going to be fine," Calipari said. "I've got four months to get this right."
Neither the Bearcats nor the Bruins have a top-60 KenPom win, but that will change Saturda...

Northern Colorado will be on probation through 2020 due to academic and recruiting violati...

You might not see a projected NCAA Tournament bracket quite like this one anytime soon
The Wildcats, once written off after a three game skid, appear poised to enter Pac-12 play...

The Ducks are riding a three game winning streak yet are slight underdogs against the Bulldogs...

The Hurricanes are one of only a handful of unbeaten teams left in college hoops