Midwest Regional preview: Marshall's injury could open door for KU
Two double-digit seeds and the top two seeds advanced to St. Louis, but there could still be some surprises in store. The fate of this region could depend on Kendall Marshall's wrist.
• 4 min read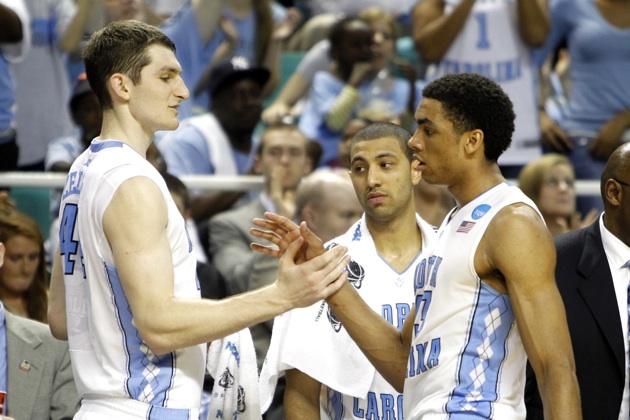 UNC still has plenty of talent, but the uncertain status of Kendall Marshall looms large for the Tar Heels. (US Presswire)
The Midwest region didn't feature any 15-over-2 upsets, but it had four double-digit seeds advance to the round of 32, and saw two double-digit seeds move on to St. Louis. The top two seeds both moved through – in Kansas' case, barely – but neither looks infallible in the Sweet 16. Heading into the NCAA tournament, the main story surrounding this region was a North Carolina player's left wrist. Now, it centers on a North Carolina player's right wrist. This region could still see some surprises.  
Three storylines dominating St. Louis
1. Kendall Marshall underwent wrist surgery on Monday, and his status for Friday is unclear.
2. Two double-digit seeds are still alive in this region, with Ohio being the one true Cinderella left.
3. Does Kansas become the favorite with Marshall's injury? The Jayhawks didn't look dominant against Purdue.
How they get to New Orleans
No. 1 North Carolina: Point guard play. Of course, if Kendall Marshall is healthy and effective on Friday, this problem is averted. However, without Marshall, the Tar Heels could struggle at that position. The only other true point guard on the roster is Stillman White, who played double-digit minutes just one time this season. North Carolina's transition offense is boosted by Marshall's passes; White isn't that kind of player. Will they have to use Harrison Barnes in a half-court offense?
NCAA tournament coverage
Related links
More college hoops coverage
Regional coverage
No. 2 Kansas: Consistent play from Tyshawn Taylor. Taylor was one of the best point guards in the country over the last two months of the regular season, ridding himself of the various labels that have plagued him throughout his career: turnover-prone, out of control, etc. In the NCAA tournament, though, Taylor hasn't been the same player he was in January and February. Through two games, he's averaging 10.0 points, 2.5 assists and 2.5 turnovers. He needs to make more of an impact.
No. 11 North Carolina State: Keep the big men on the floor. In each of the first two rounds, Richard Howell picked up four fouls, getting relegated to the bench for extended stretches. During the regular season, C.J. Leslie was prone to foul trouble in key moments as well. The Wolfpack won't be able to beat Kansas or North Carolina with either player on the bench for more than a few minutes. DeShawn Painter is serviceable off the bench, but NC State needs its horses on the court.
No. 13 Ohio: Limit second chances. Ohio has been outrebounded in the opening two games, but the Bobcats weren't dominated on the glass like they were during the regular season. The other three teams in the region are very good at getting second opportunities and making the most of them, with North Carolina, NC State and Kansas all capable of having a field day on the offensive glass. The Bobcats need to hold their own on the backboards to have a chance to pull more upsets.
St. Louis' five best players
1. Thomas Robinson, Kansas: Having an All-American season, Robinson is a monster down low. His strength and relentless make him a load to stop.
2. Tyler Zeller, North Carolina: He didn't get as much attention as some of his teammates, but the ACC Player of the Year is the go-to option down low.
3. John Henson, North Carolina: With his wrist seemingly healthy, Henson is one of the best two-way players in the country. Will be a huge key defensively.
4. D.J. Cooper, Ohio: The junior guard makes this team go, and he has the potential to carry the Bobcats offensively. 20.0 ppg, 6.0 apg in the NCAA tournament.
5. C.J. Leslie, North Carolina State: When he gets going, Leslie is fun to watch. He's tough to guard due to his athleticism and quickness in the post.
This region was tough to predict heading into the NCAA tournament, with North Carolina and Kansas both having the pieces to make the Final Four. Things are complicated even further with the injury to North Carolina point guard Kendall Marshall. With that said, the Tar Heels still have a ton of offensive talent, and there is a chance Marshall will be able to suit up in the Elite Eight. As a result, I'm going with North Carolina to get to New Orleans. There's too much firepower on the roster.
The selection committee will again reveal what it is thinking ahead of Selection Sunday

Teams not in major conferences with a shot at an at-large NCAA Tournament bids

The nation's No. 3 player will commit Saturday and here's his impact on each of his finali...
Gary Parrish and Matt Norlander also preview the weekend and Zion Williamson's announcemen...

The Sun Devils started 12-0, but since then are 2-4 after Wednesday's loss to Stanford

Andrew Jones is Texas' second leading scorer