Midwest Regional wrapup: North Carolina can't overcome Marshall's wrist
Despite all the upsets and exciting finishes in the Midwest Region, the overarching story for the first two weeks of the NCAA tournament was the right wrist of Kendall Marshall. North Carolina couldn't overcome his injury, and Kansas marched through to New Orleans.
• 4 min read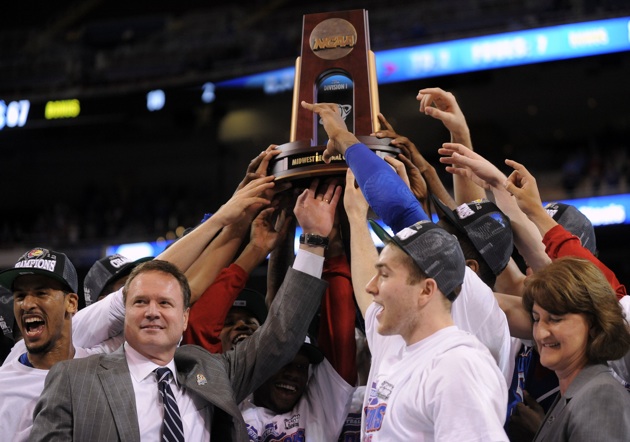 Bill Self and Kansas toppled North Carolina to win the Midwest and reach New Orleans. (US Presswire)
Like the rest of the NCAA tournament, the Midwest region had some early surprises, but ended up with a lot of chalk. It also ended up with the best possible Elite Eight matchup, with North Carolina and Kansas battling it out for the right to go to the Final Four.
There were two double-digit seeds in the Sweet 16, and four in the round of 32. There were plenty of close games and missed buzzer-beaters in the first few rounds. Overall, it might have had the most exciting action in the bracket.
However, the story line of the region – and the entire tournament – was the right wrist of North Carolina point guard Kendall Marshall. He injured it against Creighton in the round of 32, and the Tar Heels were never the same without him. The ongoing story of whether he would play was the primary headline every day, but Marshall never did suit up for North Carolina in the Sweet 16 or Elite Eight.
Would the region have ended differently if Marshall were healthy? That remains to be seen. It was certainly the story of the region, though.
Regional MVP: Thomas Robinson, Kansas. The Jayhawks used an extremely balanced effort to get to New Orleans, but Robinson was the most consistent. He racked up three double-doubles, had came one rebound away from getting a fourth. In the four games, Robinson averaged 15.8 points and 12.5 rebounds. He wasn't as efficient from the field as he was during the regular season, but his strength and determination helped will Kansas through some of the struggles. 
All-regional team
Thomas Robinson, Kansas
Tyshawn Taylor, Kansas
Jeff Withey, Kansas
Tyler Zeller, North Carolina
Walter Offutt, Ohio
Game to remember: North Carolina 73, Ohio 65. There were several good candidates in this one, including both Sweet 16 contests, Creighton and Alabama's round of 64 matchup and multiple round of 32 games. However, there was only one overtime game in the entire NCAA tournament – and it almost ended up being one of the bigger upsets of the tournament. Ohio guard D.J. Cooper came inches away from having one of the best shots in recent history, but his desperation 40-footer hit the rim at the buzzer of regulation. North Carolina needed an extra five minutes to finally overcome Cooper and Walter Offutt, and the Tar Heels needed a 30-rebound advantage in order to win.
Game to forget: South Florida 65, California 54. Sure, it was part of the First Four, but this game was still putrid. California scored 13 points in the first half, going scoreless for the final 8:55 of the opening period. South Florida ended up taking a 32-point lead with 8:49 left, and California needed a foul-fest in the final three minutes just to reach 50 points. It had 40 with 2:54 remaining.
Biggest disappointment: Michigan. Georgetown was a higher seed, but at least the Hoyas won a game. Temple could have been a candidate here too, but with Michigan as a No. 4 seed, we'll go with them. The Wolverines shot 30 percent from 3-point range and allowed Ohio to knock down 51 percent of its shots en route to a 65-60 Bobcats win. Ohio looked like the better team throughout the night, with Michigan needing late shots just to make it a game in the final minutes. The Wolverines are 3-9 in the NCAA tournament since 1994.
Best individual performance in a losing effort: Robbie Hummel, Purdue. I feel like I should let Goodman write this, but I'll pinch-hit. Hummel went for 26 points and nine rebounds, including five 3-pointers, almost leading the Boilermakers to a win over Kansas. However, Purdue had some offensive lapses late in the game, falling in the final minute, 63-60. It was a very tough way for Hummel to end his career, but he couldn't have done much more for his team that night. His shooting in the first half got Purdue the lead; the Boilers just couldn't hang on. Hummel will be missed.
Most memorable moments
Unheralded Kansas guard Elijah Johnson knocking down a 3-pointer to give Kansas a four-point lead in the Elite Eight against North Carolina.
Ohio guard D.J. Cooper's 40-foot desperation 3-pointer at the end of regulation against North Carolina that hit the rim.
Kendall Marshall getting fouled by Ethan Wragge – a foul that would change the tide of the entire NCAA tournament.
Creighton's Josh Jones blocking a last-second 3-pointer from Alabama's Trevor Releford to preserve the Bluejays' one-point win.
Down by three, Georgetown's Jason Clark missed a 3-pointer from the right wing to give North Carolina State the win.
If Saint Mary's had to pick one person to shoot a game-tying 3, the Gaels would likely choose Matthew Dellavedova. However, he passed it up to Rob Jones, who missed a buzzer 3 to fall to Purdue.
Kansas' Tyshawn Taylor dunking it instead of dribbling the clock out, followed by Purdue's Ryne Smith barely missing a game-tying 3.
North Carolina State had a chance to knock off Kansas – but made too many mistakes down the stretch. The Wolfpack will be back.
Team to watch out for next year: North Carolina State. San Diego State is going to be absolutely loaded next season too, but North Carolina State could enter the season as the ACC favorite. The Wolfpack finished this season with a bang, and proved they could hang with the elite teams. Richard Howell and C.J. Leslie are both expected to be back down low, as is point guard Lorenzo Brown and sharpshooter Scott Wood. Mark Gottfried also welcomes one of the best recruiting classes in the country, with McDonald's All-Americans Rodney Purvis, T.J. Warren and Tyler Lewis entering the fold. 
Gary Parrish and Matt Norlander discuss a wild Saturday of college basketball

Ball left the program earlier this month and has since signed with a Lithuania professional...

The Hoosiers grow up before our eyes, and Miller has his first signature victory as Indiana...
Trae Young, a freshman and the nation's top player, has a 21-point first half at Wichita S...

Michigan State is probably going to have company atop the Big Ten standings

Sooners beat third-ranked Shockers while Florida and FSU lost in upset fashion to unranked...