Mike Conley understands why Shane Larkin entered this NBA Draft
Shane Larkin should be the second or third point guard taken in this NBA Draft. That's the main reason why he felt compelled to enter this NBA Draft.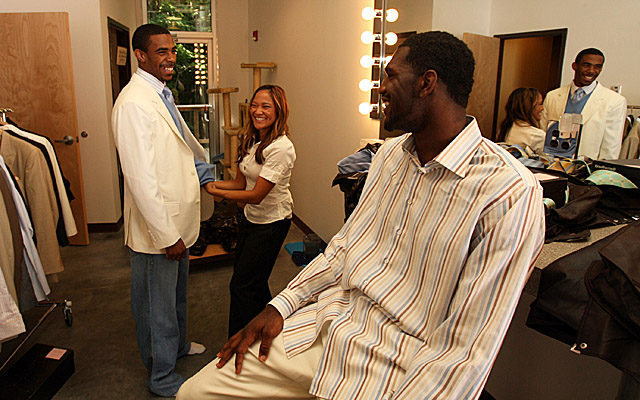 I had talked to enough people close to <a href= in recent weeks to realize he was leaning toward entering the NBA Draft because, well, there were just too many good reasons for him to enter the NBA Draft. His so-called stock had peaked. Most of his quality teammates had exhausted their eligibility. Marcus Smart, a point guard projected as Larkin's superior, had announced he would return to Oklahoma State, which, by extension, enhanced Larkin as a prospect in this draft. I could go on and on.
Basically, it no longer mattered that Larkin loved Miami.
Or that he never had plans before or during this season to leave.
All that mattered was that Larkin suddenly had lots of reasons to leave.
"It's a business decision at this point," Barry Larkin, the famous father, said Sunday, and the whole thing reminded me a lot of how Mike Conley went from being "Greg Oden's teammate" to a top-five pick in the span of a few months in 2007.
Nobody, literally nobody, projected Conley as a one-and-done prospect before his freshman year. Soon as the season ended, he announced he was returning to Ohio State because he absolutely planned to return to Ohio State and had no desire to leave.
"To be honest, I didn't want to leave Ohio State at all," Conley told me recently by phone. "I had a great time there. I enjoyed it. I still live there in the offseason. It's a phenomenal city and a phenomenal university."
But ...
"But after a few weeks go by, you start to see things unfolding, and then you have somebody whispering in your ear that you can go in the  lottery," Conley added. "And I was like, 'Wow. That's one of my ultimate goals -- to play in the NBA. And you never know with injuries. God forbid, if something happens to me, I'll never get another chance to do this.' So you kinda have to pull that trigger."
So Conley pulled that trigger.
The Memphis Grizzlies took him fourth overall.
He's starting in the Western Conference playoffs.
Now I can't tell you for sure that Larkin will go in the lottery or that he'll ever start in the Western (or Eastern) Conference playoffs like Conley did and is doing. But what I can tell you is that Larkin is more likely to go higher in this year's draft than he would've gone in next year's draft, which projects as tougher, at least in part, because Smart figures to be involved. So the Conley decision of 2007 -- which, by the way, put him in the draft a year before Derrick Rose -- and the Larkin decision of 2013 are rooted in the same things. They're two decisions made by two players who realized there would never be a better time to be in the draft even if they didn't really plan to be in the draft. So they made the decisions. It was obviously wise for Conley. I think Larkin made the right choice, too.
A revamped Erwin Center is part of a $4.25 million upgrade to the Longhorns' hoops facilit...

Nov. 10 will be here before you know it so here's what you need to know

The league would be wise to treat that series like the ACC treats Duke-North Carolina
Pacific is penalized after the NCAA found academic rules were broken

Arizona, for no good reason, doesn't have to play at USC or UCLA this season

We look at the 'Major 7' leagues and give you the best of what's to come in conference play...