Mike Rice speaks at Nike Skills Academy camp
The disgraced former Rutgers coach spoke publicly on Tuesday for the first time since he was fired in April for abuse of his players.
• 1 min read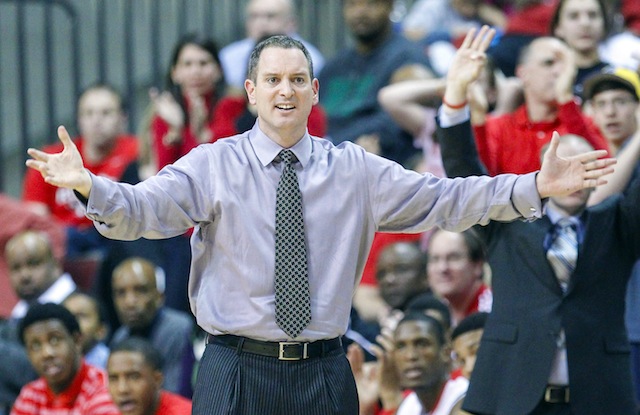 Mike Rice, the disgraced former Rutgers coach who lost his job in April after practice video of him physically and verbally abusing players surfaced, spoke at a Nike camp on Tuesday. The news comes by way of a report from Yahoo Sports.
A source confirmed the news to CBSSports.com's Jeff Borzello Tuesday night.
The Nike Skills Academy allowed Rice to speak in Union, N.J., on Tuesday. Rice confirmed via text message to Yahoo Sports of his attendance. This marks Rice's first public appearance/speaking engagement since his firing.
Rice referred to himself as a "viewing guest of John Lucas," at the camp. Rice spoke to a group of college players at the camp at Kean University and spent the rest of the day watching the workouts on the sideline.
The camp is arguably Nike's most prestigious for elite college and high school players. Rice's appearance is in coordination with John Lucas, who invited him. This comes after Rice reportedly spent five weeks in anger management at Lucas' Houston-based treatment center.
The details of Rice's speech at the camp were not revealed in the report.
Recently on the blog: Audio of irate former Rutgers assistant teeing off on Rice
FBI investigation suggests Quinerly received improper benefits from a Wildcats assistant c...

Meet the mid-major coach who refused to vote for the teams involved in the recruiting scan...
The player, now at the University of Portland, says he was injured during a workout which broke...

Please don't start with the 'Being preseason No. 1 didn't work out so well for Duke last season!'...

A look at some of the biggest name coaches in new places in 2017