Mike Rice speaks at Nike Skills Academy camp
The disgraced former Rutgers coach spoke publicly on Tuesday for the first time since he was fired in April for abuse of his players.
• 1 min read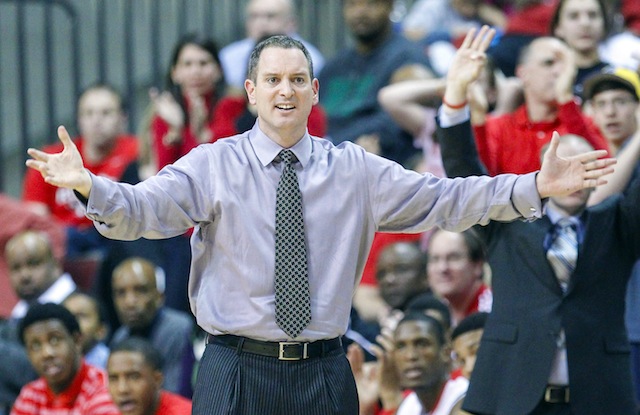 Mike Rice, the disgraced former Rutgers coach who lost his job in April after practice video of him physically and verbally abusing players surfaced, spoke at a Nike camp on Tuesday. The news comes by way of a report from Yahoo Sports.
A source confirmed the news to CBSSports.com's Jeff Borzello Tuesday night.
The Nike Skills Academy allowed Rice to speak in Union, N.J., on Tuesday. Rice confirmed via text message to Yahoo Sports of his attendance. This marks Rice's first public appearance/speaking engagement since his firing.
Rice referred to himself as a "viewing guest of John Lucas," at the camp. Rice spoke to a group of college players at the camp at Kean University and spent the rest of the day watching the workouts on the sideline.
The camp is arguably Nike's most prestigious for elite college and high school players. Rice's appearance is in coordination with John Lucas, who invited him. This comes after Rice reportedly spent five weeks in anger management at Lucas' Houston-based treatment center.
The details of Rice's speech at the camp were not revealed in the report.
Recently on the blog: Audio of irate former Rutgers assistant teeing off on Rice
Arizona, for no good reason, doesn't have to play at USC or UCLA this season

We look at the 'Major 7' leagues and give you the best of what's to come in conference play...

Louisville's coach predicts a change is coming to the NBA's one-and-done rule by 2019
Multiple former players of Lonergan's alleged verbal abuse and inappropriate remarks

When Miller left for Indiana, there was cause for concern in Flyerland; a top-100 signee says...

The Hoyas will spend their non-league schedule playing mostly nobodies -- as will most big...