Missouri's perimeter group establishes itself against UCLA
Missouri's backcourt vaulted itself into the conversation as one of the nation's best after putting up big numbers in a win over UCLA.
• 2 min read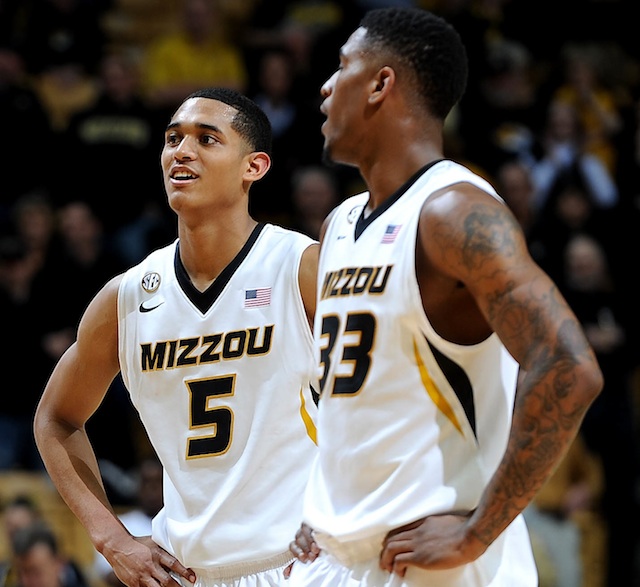 There are plenty of terrific perimeter groups across the country. Oklahoma State, Louisville, Connecticut, Oregon, Memphis, etc.
It's time to add Missouri to that list.
The Tigers' perimeter trio of Jordan Clarkson, Jabari Brown and Earnest Ross combined for 63 points as Missouri took down No. 18 UCLA, 80-71. All three players scored at least 20 points, and Clarkson also dished out six assists.
With those three in the fold, Missouri will be a nuisance to guard all season – and should be right in contention for a top-three spot in the SEC. All three are transfers, but there haven't been any issues with chemistry. They're clicking and playing well off one another.
Clarkson, a transfer from Tulsa, might lead the SEC in scoring. He can get to the basket on most defenders, and he's nearly impossible to stop when his 3-point shot is falling. After hitting just one 3-pointer total in his last three games, Clarkson knocked down three in the first half against the Bruins. UCLA couldn't keep him out of the lane either. He has now scored at least 21 points in five straight games.
Brown, who arrived at Missouri after playing less than a semester at Oregon, has found the shooting touch that made him a five-star recruit back in high school. He had 22 points against UCLA, getting to the rim at will and drawing contact consistently. Brown also contributed on the glass, grabbing six boards – which is his average for the season.
Ross was the key on Saturday, though. The former Auburn transfer is putting up just below 14 points per game on the season – but his outside shot has been off, knocking down 29.4 percent coming into the UCLA game. On Saturday, though, he was on fire, especially in the second half. Ross hit five 3-pointers and was also active in transition. He's now knocked down 9-of-21 from 3 in his last three games.
The trio of Clarkson, Brown and Ross is enough to keep Missouri in most games. They can score in different ways, whether it's spreading the floor and attacking off the dribble or spotting up on the perimeter and knocking down 3-pointers. Moreover, freshman Wes Clark brings a different dimension off the bench – he's a pure point guard and loves to push the ball.
While Frank Haith's perimeter is what makes Missouri dangerous, the Tigers will need frontcourt production against the bigger teams in the SEC – and that could come from freshman Johnathan Williams III. He's not a classic low-post player, but he's active on glass and can finish. He had 10 points and 15 rebounds on Saturday.
Missouri is now 9-0 on the season and has won 24 straight home games – and if the Tigers' backcourt keeps producing at this level, that first loss might not come for several weeks. 
The Big Ten Tournament is a week earlier than usual, so the regular-season schedule may look...

Arizona, Grand Canyon and Tulane are also in Barcelona and have reported to be accounted for...

The Kansas forward is no longer accused of walking out on an $88 tab
Cavaliers basketball coach tapes statement on behalf of his university and his city

Gary Parrish and Matt Norlander discuss all things Marvin Bagley and his immediate future

Which version of Grayson Allen will show up for Duke and other questions for every ranked...