Mocking the Future: Projecting a lottery of high school prospects
With mock drafts on everyone's minds, we decided to do a projected lottery of high school prospects in the classes of 2013, 2014 and 2015. Who's the best regardless of class?
• 4 min read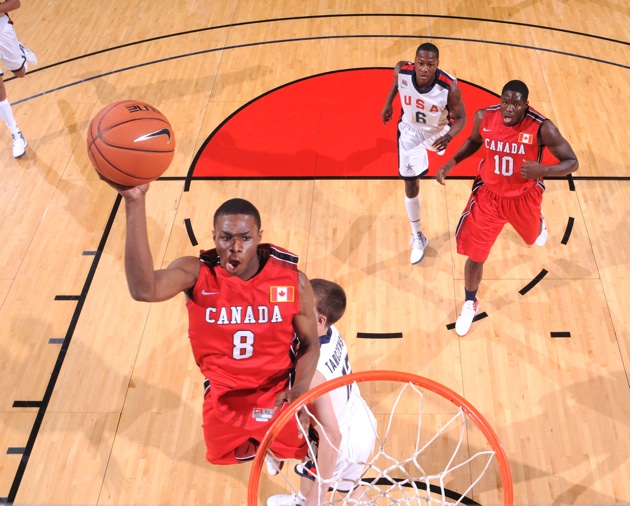 Andrew Wiggins, a native of Canada, is the best player in high school basketball right now. (Getty)
In high school basketball, we normally don't compare players in different graduation classes. We compare high school seniors to high school seniors, high school juniors to high school juniors, and so on. Of course, there are certain exceptions – like when Nerlens Noel reclassified to the class of 2012 and became the No. 1 prospect, or when Wayne Selden moved from 2014 to 2013 and took a slight dip in the rankings.
Keeping that in mind, and with the NBA draft set to take place on Thursday, we decided to do a mock draft lottery of all current high school players from the classes of 2013, 2014 and 2015. It's a difficult task, given the difference in age and experience, but we're going to attempt to do it based on potential and NBA draftability (that's the word we're going with).
1. Andrew Wiggins, 2014, Huntington Prep (W.Va.)
The best player in high school basketball, Wiggins doesn't really have a ceiling. His athleticism, offensive skillset and versatility give him an edge over nearly any competitor. Once the Canadian gets a killer instinct, look out.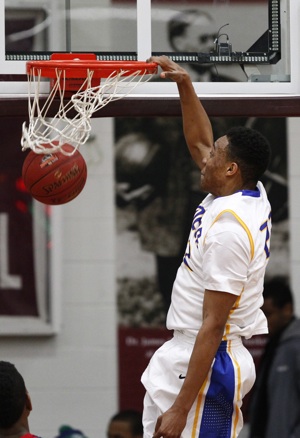 Jabari Parker's basketball IQ sets him apart from his peers in the class of 2013. (US Presswire)
2. Jabari Parker, 2013, Simeon (Ill.)
There is little doubt that Parker will have a long and successful NBA career. He has a tremendous basketball IQ and feel for the game, to go along with a wide range of skills. He's been injured this spring, but nothing lingering.
3. Jahlil Okafor, 2014, Whitney Young (Ill.)  
Okafor isn't an overwhelming athlete, but his hands and back-to-the-basket moves make for a go-to big man at any level. He has very good footwork and has developed a face-up jumper that draws defenders from the hoop.
4. Andrew Harrison, 2013, Travis (Tex.)
At 6-foot-5, Harrison is the ideal point guard for an NBA team. He effortlessly gets into the lane whenever he wants, and has good finishing ability. Moreover, he is adept at getting teammates involved.
5. Julius Randle, 2013, Prestonwood (Tex.)
Randle is just an ultra-productive forward who gets it done no matter who he is facing. The lefty can go off the bounce, finish inside or knock down fadeaways and mid-range jumpers. He's also a physical rebounder.
6. Noah Vonleh, 2014, New Hampton Prep (N.H.)
Given Vonleh's body and versatility, his potential seems tremendous. His offensive game is still growing, but has the ability to post up and knock down outside jumpers. Moreover, he might be the best rebounder in the country.
7. Cliff Alexander, 2014, Curie (Ill.)
Alexander has emerged as a top-five player in his class over the past few months. He is an explosive inside player who uses his strength and size to dominate. Alexander has good post moves and owns the glass.
8. Dakari Johnson, 2014, Montverde Academy (Fla.)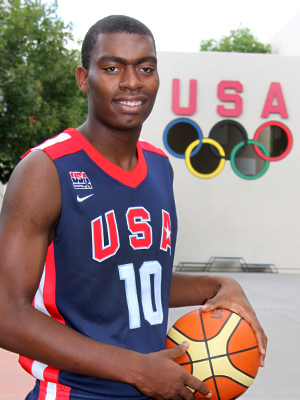 Dakari Johnson is a dominant post prospect in the class of 2014. (Steven Maikoski/USA Basketball)
After sitting out the last high school season, Johnson emerged this spring as one of the more dominant big men in the country. He has great hands and very good footwork, and is a lock to score when he gets the ball inside.
9. James Young, 2013, Troy (Mich.)
Young was a five-star prospect for most of his high school career, but he took it to a new level this spring. He can score any time he wants, and his 6-foot-6 frame is perfect for an NBA two-guard. A great offensive player.
10. Ben Simmons, 2015, Melbourne (Aus.)
The lone 2015 prospect in our mock draft, Simmons was arguably the best prospect at the Pangos All-American Camp in early June. The Australia native runs the floor well, knocks down perimeter shots and attacks the rim with aggressiveness.
11. Chris Walker, 2013, Holmes County (Fla.)
Walker's combination of size (6-foot-10) and athleticism make for a bonafide pro. He's a combo forward at this point, and runs the floor like a guard. He can finish around the rim, and is still developing his game away from the basket.
12. Emmanuel Mudiay, 2014, Grace Prep (Tex.)
Mudiay is still developing consistency and a killer instinct, but a 6-foot-4 point guard with vision is sought-after in today's NBA. He has very good athleticism and can take defenders off the bounce. Compared by some to Dwyane Wade.
13. Aaron Harrison, 2013, Travis (Tex.)
The brother of Andrew Harrison, Aaron Harrison is a stud player in his own right. He's more of a scorer than Andrew, but he has shown the ability to handle the ball. When his shot is falling, he can carry a team.
14. Tyus Jones, 2014, Apple Valley (Minn.)
Potentially the best pure point guard in high school basketball, Jones is polished and loves to get teammates involved. He's shown the ability to score 30 points or dish out 15 assists; imagine him surrounded by stars.
Just missed: Kasey Hill, Aaron Gordon, Trey Lyles, Kevan Looney, Karl Towns
CBS Sports HQ Daily Newsletter
Get the best highlights and stories - yeah, just the good stuff handpicked by our team to start your day.
Please check the opt-in box to acknowledge that you would like to subscribe.
Thanks for signing up!
Keep an eye on your inbox for the latest sports news.
Sorry!
There was an error processing your subscription.
Porter endured one of the most surprising slides in lottery history; it might wind up as the...

The Wildcats added some new pieces and climbed to the top of our early offseason rankings

Matt Norlander gives predictions and insights on all 60 picks, including why Michael Porter...
The 2018 NBA Draft gets underway Thursday night, with coverage on CBS Sports HQ beginning at...

UConn's probe claims Ollie set up a phone call between a recruit and Hall of Famer Ray All...

Kansas, Duke, Tennessee and Gonzaga are also in the top five