Mocking the Future: Projecting a lottery of high school prospects
How do the top prospects in the classes of 2015, 2016 and 2017 stack up? Let's take a stab at it.
• 3 min read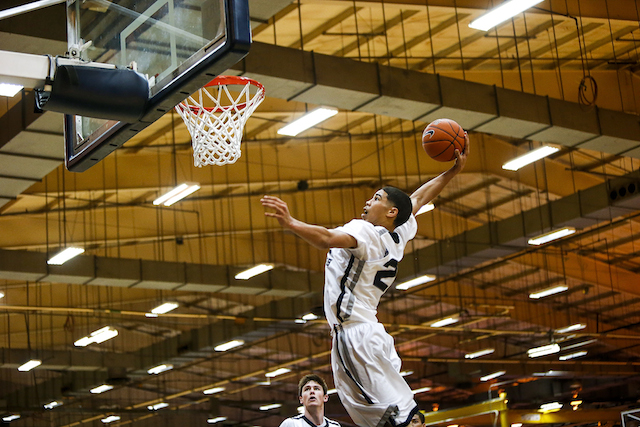 MORE: Latest News | Recruiting Updates | 247Sports Coverage
In high school basketball, everything is done by class. Players are normally compared to people in their graduating class, high school seniors to high school seniors and so forth. It's natural, of course. But with camps and AAU tournaments mixing players from different classes on a regular basis, one can begin to compare seniors to juniors and sophomores. 
After watching the elite prospects in each class several times over the past month, we've decided to do a mock draft lottery of all current high school players from the classes of 2015, 2016 and 2017. It's not easy, because there's a two or three-year age difference between some of these guys – but it's happening. It's based mostly on potential and overall NBA draftability, and not strictly how I would rank the players by class. (Yeah, we're making it a word.) 
1. Ben Simmons, 2015, Montverde (Fla.): The most sure thing in high school basketball. Simmons' all-around game is fantastic, and it's rare to see him have an off game. He's a superb passer, and can get to the rim consistently. Similarities to Scottie Pippen.
2. Jayson Tatum, 2016, Chaminade (Mo.): He's already got an NBA-ready offensive skillset. Tatum can score in a variety of ways, using his length and size to create mismatches against opposing wings. He's also got good range on his perimeter jumper. 
3. Troy Brown, 2017, Centennial (Nev.): He's already pushing 6-foot-5 and is the best point guard in the country. He has terrific passing ability, can get to the lane, and doesn't mind contact. He's also capable of knocking down outside shots.
4. DeAndre Ayton, 2017, Balboa City (Calif.): In a couple years, this could look way too low for Ayton. In other words, in terms of a pure prospect, Ayton might be the best in high school basketball. He's 6-foot-10 with touch and the ability to run the floor.
5. Josh Jackson, 2016, Justin-Siena (Calif.): A matchup nightmare, the 6-foot-6 Jackson possesses great length and can hurt opponents in other ways besides scoring. He's a very good passer, a versatile defender -- and yes, he can also finish off the bounce.
6. Thon Maker, 2016, Carlisle School (Va.): Maybe the biggest name in 2016, Maker is an extremely intriguing prospect. He's a 7-footer, but he's got range on his jumper and runs the floor very well. Defensively, Maker can be dominant. The post game is growing.
7. Skal Labissiere, 2015, Evangelical Christian (Tenn.): After July, Labissiere shot up the rankings in my mind -- due to a combination of production and potential. At 6-foot-10, he can handle the ball, make jumpers, and finish inside, while also blocking shots.
8. Malik Monk, 2016, Bentonville (Ark.): Perhaps the most entertaining player in high school basketball, Monk showed his potential with multiple 40 and 50-point games during the spring and summer. He just needs some consistency game-to-game. 
9. Jaylen Brown, 2015, Wheeler (Ga.): Another player who boosted his stock during July, Brown is one of the best scoring wings in the country. When his outside shot is falling, there are few players that can defend him, due to his strength and athleticism.
10. Harry Giles, 2016, Wesleyan Christian (N.C.): We didn't get to see him at 100 percent health at the Peach Jam, but Giles reportedly was dominant at USA Basketball. When healthy, Giles has a tremendous all-around game for someone standing 6-foot-9.
11. Dennis Smith, 2016, Trinity Christian (N.C.): The ultimate scoring point guard, Smith is nearly impossible to keep out of the paint. Smith can attack in transition or in the half-court, and also creates plays for his teammates. Monta Ellis-type of guard.
12. Malik Newman, 2015, Callaway (Miss.): Newman's scoring ability at the guard position is paralleled by very few players. He can go for 30 anytime he wants, possessing deep range on his jumper and the ability to get by his man and finish on pull-ups or lay-ups.
13. Diamond Stone, 2015, Dominican (Wisc.): Stone already has a very advanced skillset for a post player. He has consistent touch to the perimeter, can finish with his back to the basket, and is also a capable high-post passer. Tough to guard at this stage.
14. Ivan Rabb, 2015, Bishop O'Dowd (Calif.): The question with Rabb isn't his skillset or his talent; it's his production. He can go for 20 and 10, but then disappear at times. Once he puts it all together, Rabb has the size and length to be a force inside.
Just missed: Henry Ellenson, Stephen Zimmerman, Cheick Diallo, Brandon Ingram, Kobi Simmons, Derryck Thornton, Udoka Azuibuike
Oklahoma and Arkansas are new additions to Sunday's Top 25 (and one)

Gary Parrish and Matt Norlander discuss a wild Saturday of college basketball

Ball left the program earlier this month and has since signed with a Lithuania professional...
Sooners beat third-ranked Shockers while Florida and FSU lost in upset fashion to unranked...

The Hoosiers grow up before our eyes, and Miller has his first signature victory as Indiana...

Trae Young, a freshman and the nation's top player, has a 21-point first half at Wichita S...