MSG serving as a springboard for Duke's success
The Blue Devils are no stranger to Madison Square Garden, and this year we're showing you why that's particularly important.
• 2 min read
I watched Duke win again on Thursday night, beating UCLA 80-63 and cruising in the second half on the way to its ninth dub in 11 games this season.
This victory was the latest inside the walls of Madison Square Garden, or Cameron Square Garden, for those who like to poke fun at how frequent Duke makes the trip to New York, subbing in a game in the greater NYC area on a "neutral" court instead of a road tilt or two.
Mike Krzyzewski knows exactly what he's doing, though. He likes to give his players certain experiences, and there's a twist on Duke's New York City angle this time around. How or why could this year's NYC itinerary could wind up being big down the road? Consider:
-- Duke took the time for a preseason trip to New York City and West Point.
-- Duke played in the NIT over Thanksgiving break at MSG.
-- It played again against UCLA on Thursday night, in front of The Boss.
-- This year's NCAA tournament will feature games at Madison Square Garden for the first time in more than two scores.
And there you have it. Coach K is known in some part for his teaching ability around the NCAA tournament, to get his players to visualize, to understand that winning the NCAA tournament means simply winning three two-day tournaments. You don't beat the whole field; you beat two teams and move on. There's a lot to the mental approach of the NCAAs, Krzyzewski has said in the past.
So with Duke based in the East, and the MSG second-weekend games being the East Regional, it's reasonable to deduce there's a method to making a way to March Madness here. If Duke does indeed reach the second weekend of the NCAA tournament in the East Region, it'll be the team's fifth trip to New York in five months. It will feel as at home there as any place else outside of Cameron. The young men will feel comfortable in the confines.
And all of this in general bodes well for Duke, which has made MSG nearly as reliable a building to play in as Cameron. Here's the data: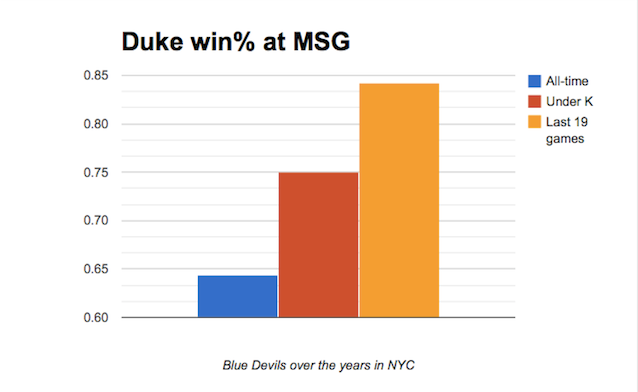 The team is getting better and better inside the World's Most Famous Arena. All-time the program is 29-16 (.644 win percentage). Under Mike Krzyzewski the team is 24-8 (.750) and over the past decade, approximately, Duke is 16-3 when playing on the corner of 33rd and 8th.
Just something to remember, should Selection Sunday come and Duke is slotted into the East. The trend and trail to Manhattan will be on the Devils' side.
Coach Shaka Smart doesn't expect him to be out for an extended period of time

Jackson isn't showing the Sun Devils much respect after beating KU

One AP voter must not know ASU is undefeated with wins over the Jayhawks and Musketeers
Duke and Kansas take a hit in the coaches poll

The top 10 gets a major shakeup after a wild week of upsets

The Sun Devils make a big jump and the Jayhawks slide after ASU pulls the big upset