Mudiay family: 'No truth' to skipping SMU over eligibility concerns
Though questions abound about star guard Emmanuel Mudiay's decision to rescind his commitment to SMU, brother Steph Mudiay says eligibility concerns were not a motive.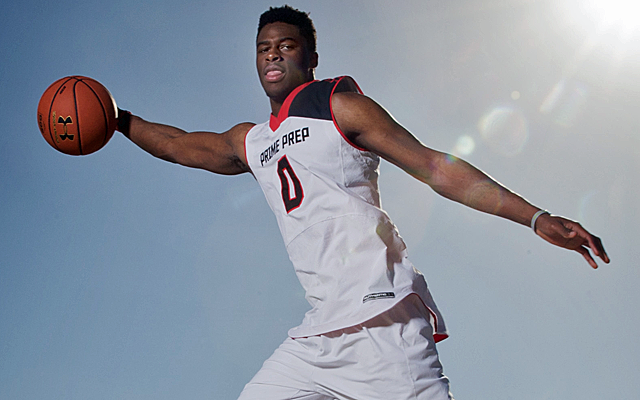 Latest in hoops: Latest News | Parrish: Not buying Mudiay explanation | Recruiting
With the college basketball world struggling to make sense of his bombshell decision, Emmanuel Mudiay is in the gym, shielded from the noise. The 6-foot-5, 190-pound point guard is working out with his trainer and preparing his body for next season, despite the giant question mark regarding where he'll be playing.
This is according to his older brother Steph Mudiay, who has been Emmanuel's mouthpiece since the younger Mudiay announced his intentions for the near future in a statement Monday.
One of the country's top recruits -- and already a top prospect in the 2015 NBA Draft -- Mudiay said he wanted to financially provide for his mother. His decision to backtrack on his commitment to SMU and instead play professionally overseas has sparked questions about the true motives behind his sudden change of heart. At the forefront are multiple reports speculating that Mudiay's move could be a way to bypass a looming NCAA investigation into his eligibility.
"There's no truth to that," Steph said in a phone interview, adding that "rumors" about Emmanuel's NCAA eligibility have been circling since the All-American starred at Dallas' Prime Prep Academy. "People have been speculating that anyway. Two years ago, there was an incident about eligibility issues and there were a lot of questions about whether the school was qualified or not. So I think it just went from there." Steph said.
The charter school -- which was co-founded by Pro Football Hall of Famer Deion Sanders in 2012 and could soon be shut down -- failed to fully meet the NCAA's academic requirements. After individual reviews, the NCAA ruled some former Prime Prep players ineligible. Others, like Monmouth freshman guard Micah Seaborn, were cleared to play college ball. Emmanuel was admitted to SMU and scheduled to enroll in August before changing course.
He won't suit up for Larry Brown and the Mustangs, who will need to find a way to replace the most heralded basketball recruit in program history just a couple of weeks away from summer workouts. Though the decision came as a surprise to most, Steph explained that the idea of his brother skipping college and playing overseas remained a possibility throughout.
"It was something that was always in the air. After meeting as a family, and my mom praying about it, it was a decision that was made together," he said, "This wasn't just a little kid making a decision by himself, my mom was very heavily involved in it."
Emmanuel will lock down an agent and a more concrete sense of where he will continue his basketball career by the end of the week, Steph said. He added that Asia and Europe are at the top of the list, as far as potential playing destinations, and that the detour to play ball overseas "definitely won't be a long-term thing" as Mudiay prepares to become eligible for the NBA Draft in 2015.
Originally from the Democratic Republic of the Congo, the Mudiays immigrated to Dallas, TX when Emmanuel was 5 years old. He now joins a short list of high school players opting for the overseas version of the One-And-Done. The most notable point of reference is Brandon Jennings, who faced eligibility questions before shunning the Arizona Wildcats to play in Italy, but posted subpar numbers in Euroleague competition.
"We wouldn't agree on him leaving if we didn't think he'd be successful. It's a good decision for him as a player and what he wants to do for his family," Steph said, "He's not trying to follow a trend, or be like Brandon Jennings. He just wants to provide for his mom."
The Cardinals could boost their NCAA hopes with a victory vs. the Hokies

Some coaches have responded after a scathing report alleging payments made to dozens of pl...

Zack Cimini nailed Miami-Ohio at Ohio last week and just picked Ball State vs. Western Mic...
Jerry Palm's latest NCAA Tournament bracket projection also shows why Florida has issues

Michigan State's Miles Bridges, Duke's Wendell Carter among dozens of players named

Kenny White used to set lines for Vegas' biggest books. Now, he's telling you who to back on...