Myles Turner commits to Texas, makes Rick Barnes' seat cool
This time last year, some folks had Rick Barnes' career at Texas on life support. But now look. The 59-year-old coach has a preseason top 10 team and a five-star recruit on the way.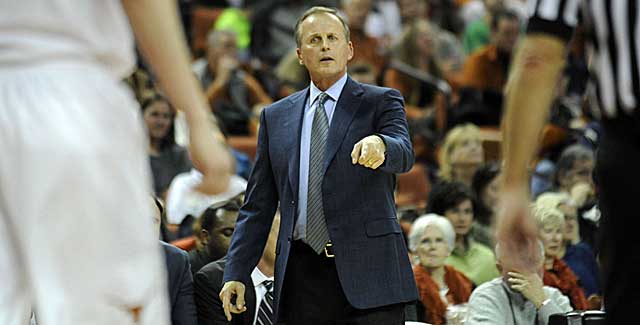 More: Post-NBA deadline Top 25 (and one) | More news & notes
I've long held the belief that when coaches get on the so-called hot seat with their fans they never really get off of it, and I still think that's probably true.
But Rick Barnes is trying to become an exception to the rule.
The longtime Texas coach was, this time last year, at or near the top of everybody's list of coaches on the hot seat, and that's never a good place to be positioned. Barnes was coming off of a CBI appearance, recruiting was in the dumps, especially within the state, and there was no real reason to think things would get turned around considering the Longhorns were picked to finish eighth in a 10-school league called the Big 12 last preseason. In other words, if the season would've gone as projected, Barnes would've missed the NCAA Tournament for the second straight year, and there were plenty of people in the industry who believed that reality would lead to a "forced retirement," at which point one of college basketball's very best jobs (for a variety of reasons) would be on the market.
As you know, things did not go as projected.
Texas (24-11, 11-7 Big 12) was instead one of the nation's more surprising teams while finishing tied for third with Iowa State in the league standings. They advanced to the Round of 32 of the NCAA Tournament and didn't lose a single relevant player from that team, which is why they're ranked ninth in the preseason Top 25 (and one).
So Barnes' seat has cooled considerably.
And the news got better Wednesday when Myles Turner committed to Texas.
"Kevin Durant has always been my favorite player," Turner said while announcing his decision live on national television, interesting because he's arguably Texas' best recruit since Durant enrolled in Austin in 2006. Whether the 7-foot center will start as a freshman, and whether he can play beside Cameron Ridley, is mostly beside the point at this point because I'm not here to debate lineup combinations as much as I'm here to highlight how Barnes suddenly, and surprisingly, has Texas headed back in the right direction, and he's now more likely to spend his 60th birthday this July recruiting to keep UT on the national radar than he is, you know, recruiting to save the job he's had since 1998.
Buried by some a year ago, Rick Barnes is still kicking.
He's got a good team on campus and a great recruit on the way.
All coaches who previously planned to pursue the UT job should probably adjust their plans.
The Wildcats are 3-2 with two losses to two unranked teams

Trump again says he should have left LiAngelo Ball in China

Cincinnati and Iowa highlight an impressive inaugural field for the Cayman lslands Classic
The president didn't take kindly to not getting a thank-you from LaVar

Southern California, ranked No. 8 in Sunday's Top 25 (and one), travels to face Vanderbilt...

Simons, 18, is a former Louisville pledge who is suddenly eligible for the upcoming draft