Myles Turner stakes claim as biggest riser of the summer
There were plenty of rising stars during the summer AAU period, but none more so than Myles Turner, who could be the No. 2-ranked player in 2014.
• 3 min read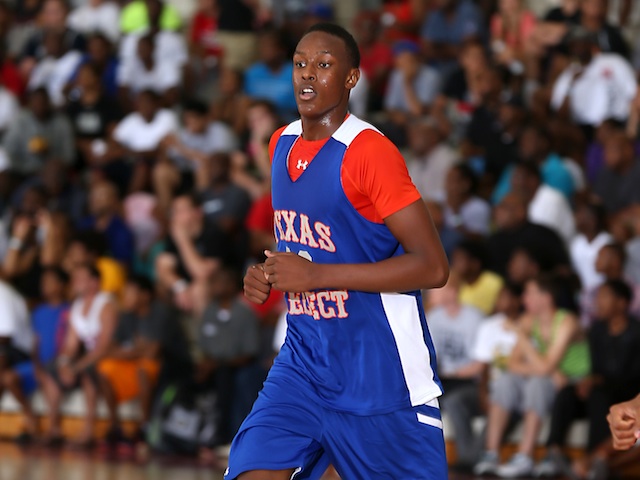 The biggest story of the spring and summer AAU scene was undoubtedly the emergence of Myles Turner.
Turner, a 7-footer from Trinity (Texas), burst onto the scene back in May at the Under Armour Invitational, followed that up with a big-time performance at the NBPA Top 100 Camp in June -- and then solidified his spot among 2014's elite with an outstanding July period.
In my opinion, he is slotted at No. 2 in the class of 2014, right behind consensus top prospect Jahlil Okafor. In fact, Turner might have the highest ceiling of any player in the senior class.
The scary thing is that Turner is only getting better.
"I really feel like my outside shot is coming a bit more," he said earlier this month. "I've always had an outside jumper, but I'm working on it a lot, it's really what I do. It's starting to come around. I've always been a defensive presence; I feel like I'm getting my timing better, blocking shots. Really, just being able to dominate defensively, turn defensive possessions into offensive possessions."
Comparing himself to LaMarcus Aldridge, Turner envisions himself as an inside-outside player at the next level. He's got tremendous length and athleticism, enabling him to alter shots and dominate the glass. Offensively, he has perimeter range, but can also finish around the basket and runs the floor well. In general, he's an absolute matchup nightmare.
Turner continues to look at NBA players in an effort to tailor his game and adjust some tendencies.
"I always look at older guys, have a thirst for knowledge," he said.
In the weeks following his breakout performance in May, Turner racked up interest and offers from more than 60 schools. He has trimmed that list to 25, but he's not making too much more progress just yet. Duke, Indiana, Baylor, Kentucky, Marquette, Kansas, UCLA, Texas, Texas A&M, Oregon, UT-Arlington, Louisville, SMU, Georgetown and others are all being considered.
The only trip Turner currently has set up for the fall is an October 4th official visit to Kansas for "Late Night in the Phog."
"I really like the fact every year, they put a big man in the league," Turner said of the Jayhawks. "They come from high school, maybe being a weaker player, but they always develop and are able to go into the league and make an impact. I really like the way coach [Bill] Self develops his big men."
Another school making a bigger push lately is Indiana, as Turner has family ties to the area. Turner's grandmother gave birth to 10 kids -- and many of his cousins and family members still live in the Fort Wayne, Ind., area.
"Coach [Tom] Crean mentioned Cody Zeller, told me I could be a player like him, through development," Turner said. "He said if I come in and work hard, I can make an immediate impact. And that's what I'm looking to do. Indiana is a great school, great history and everything, great history with bigs."
Kentucky made its presence felt during the latter half of the July period, with John Calipari showing up at many of his games. The Wildcats also went with a full staff for some of Turner's performances.
While Turner pays attention to who is in the crowd, it doesn't affect his play whatsoever.
"I know, through communication, who really wants me and who really doesn't," Turner said. "If they're going to make a serious effort to come get me, I'm going to make a serious effort to play no matter who is here."
The selection committee will again reveal what it is thinking ahead of Selection Sunday

Teams not in major conferences with a shot at an at-large NCAA Tournament bids

The nation's No. 3 player will commit Saturday and here's his impact on each of his finali...
Gary Parrish and Matt Norlander also preview the weekend and Zion Williamson's announcemen...

The Sun Devils started 12-0, but since then are 2-4 after Wednesday's loss to Stanford

Andrew Jones is Texas' second leading scorer