Naadir Tharpe looks like Kansas' point guard going forward
Frank Mason has been a pleasant surprise as a freshman, but Kansas' point guard pecking order is clear: Naadir Tharpe is the starter.
• 2 min read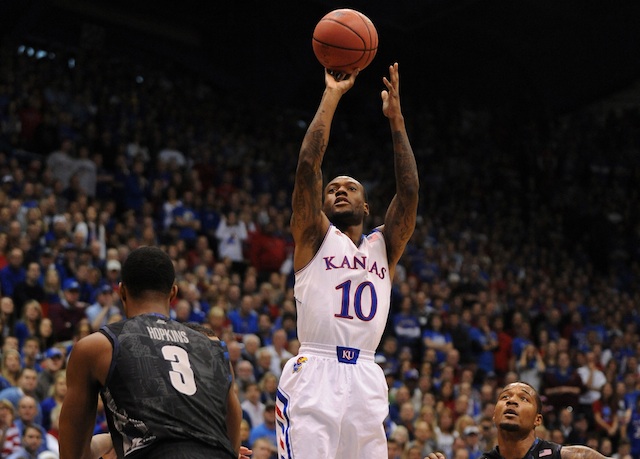 As the first month of the season progressed, the narrative when it came to the Kansas point guard situation was as follows: Naadir Tharpe is too inconsistent, and Frank Mason is more dynamic. By the time Big 12 plays rolls around, Mason will be starting at the point.
Bill Self's personnel decisions backed up that assertion, making the choice to start Mason over Tharpe a couple of weekends ago at Colorado. At the time, Mason was playing better than Tharpe, and his ability to get into the lane and create opportunities was impressive.
That's all changed since the two-game losing streak to Colorado and Florida.
And it's clear Self's preferred point guard going forward is Tharpe.
Against New Mexico last weekend, Tharpe played 37 minutes in the Jayhawks' win. He had eight points and nine assists – while Mason played just six minutes off the bench.
It was more of the same on Saturday, in Kansas' 86-64 win over Georgetown. Tharpe started off the game by dishing out two assists in the first couple minutes, and never slowed down. He finished with 10 points, four assists – and just one turnover. Meanwhile, Mason wasn't much of a factor for most of the night. He played only four minutes in the first half, and while his numbers were solid (five points, four assists), Tharpe was the first-choice point guard when the game was still in the balance.
And I think that's what Kansas needs going forward. In order for the Jayhawks to be a Final Four team, Self couldn't have a point guard competition on his hands every game. Mason is a terrific piece off the bench, with his aggressiveness and fearlessness getting into the lane. But Tharpe runs the offense better, and the junior from Massachusetts is more experienced.
Tharpe doesn't need to be exceptional. He just needs to make open shots, get the ball where it needs to be, and run an offense. What he absolutely cannot do is turn the ball over – and that's what has hampered him thus far in his career. With that said, over the past two games, he's dished out 13 assists with only five turnovers.
Kansas has enough scorers at other positions where the point guard doesn't need to score. If the Jayhawks do need some more explosiveness for a specific stretch, Mason is certainly an asset.
But going forward, Tharpe is the point guard Kansas needs in order to win. And it seems like Self knows it.  
Fall is being shut down after dealing with shoulder injuries and will undergo surgery soon

The Wildcats' resume doesn't seem too impressive right now

Was there contact? 'Everybody saw it,' UK coach John Calipari said
After losing its second game this week, a deep NCAA Tournament run looks far-fetched for U...

Coach K shows he is on on top of his game by landing the best three prospects in the Class...

The Buckeyes and Boilermakers continue to assert their dominance in the Big Ten