National Prep Showcase Notebook: First look at CBA big men
Louisville and Pittsburgh both received signatures from foreign big men this past week -- and we finally got to see them on Friday.
• 4 min read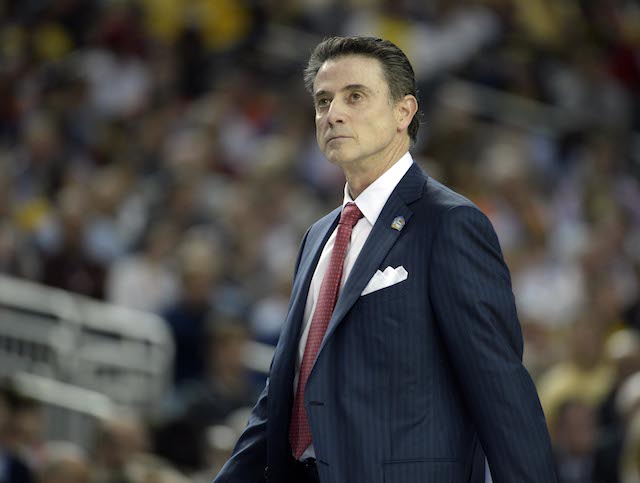 NEW HAVEN, Conn. – There are normally very few unknown high-major decisions during the early signing period. Over the past week, though, we had two – and both players came from the same prep program in Spain.
Defending national champion Louisville landed 7-foot-2 center Matz Stockman, while Pittsburgh snagged a signature from 6-foot-11 big man Shaquille Doorson.
Very few people had seen either player before this weekend, but we had a chance to watch the Canarias Basketball Academy (Spain) team at the National Prep Showcase on Friday night.
Stockman, from Norway, had 14 points and shot 6-for-6 from the field, showing the ability to carve out position inside and finish at the rim. Doorson, a native of Holland, didn't have the same success, playing only seven minutes. However, he grabbed four rebounds and showed off his college-ready body.
"They're not kids that are going to be program-changers for a year or two," Canarias head coach Rob Orellana said Friday. "These are four-year guys that are going to work their ass off every year to get better and better and better. There's a reason one is going to coach [Rick] Pitino and one is going to coach [Jamie] Dixon. Their resumes speak for themselves in player development."
Stockman is clearly the more ready prospect at this juncture, as his offensive skillset is more advanced.
"Matz's ability to score is uncanny for a kid his size, and he's got great agility and mobility," Orellana said. "When he's in his comfort zone, he's a hard guy to guard. Once he understands he can be a really, really good player, the sky is the limit."
Dixon has experience developing big men, from Aaron Gray to Steven Adams, and Doorson will certainly be a project for him over the next few seasons.
"Shaq didn't perform as well as he should, but it doesn't take a rocket scientist to figure out that he is 6-11, 265 lbs., and does want to play hard and he does want to win," Orellana said. "It's just a matter of time with him."
Jabari McGhee focuses on playing his game
After a very good spring in 2012, Jabari McGhee emerged as a high-major option at the forward position in the class of 2013. However, the 6-foot-7 McGhee needed to spend an extra year in high school and is now at Hargrave Military Academy (Va.).
On Friday night, McGhee went for 18 points and 11 rebounds in an easy win over St. Thomas More (Conn.).
"I just do what I do," he said. "Just rebound and finish around the rim, which I had a hard time doing. But that's what I try to do. And play good defense."
McGhee is very good in transition, running the floor well and finishing at the rim. He has very good athleticism, and actually showed some determination on Friday of playing with his back to the basket. McGhee has a good body, but he actually looked less bulky and overdeveloped as opposed to a couple of seasons ago.
He stands out due to his constant activity and good motor at both ends.
"That's what I do," McGhee said. "You can't go away from what you do, so that's what I stick to."
Murray State and Louisiana-Lafayette are coming at him the hardest, although he said Florida Gulf Coast, Ole Miss and Southern Mississippi have also offered.
McGhee is going to take visits after the school season.
"[I'm looking for] a school that plays my style of basketball because, no matter how long I'll be there, four years maybe, I want to be able to fit inside the program and play how they want you to play," he said.
The Georgia native was ranked No. 238 in the 247Sports Composite for the class of 2013.
Friday's top performers
Eric Paschall, 2014, St. Thomas More (Conn.): Fordham got an absolute steal in Paschall. He's extremely athletic and a strong finisher around the rim, and he's certainly doesn't shy away from contact. 21 points, five rebounds.
Isaac Fleming, 2014, Massanutten Military Academy (Va.): The Hawaii-bound guard went for 19 points and four assists, hitting four 3-pointers and racking up three steals. The lefty guard can get to the basket and pushes the ball in transition.
D.J. Clayton, 2014, Elev-8 Sports Institute (Fla.): Clayton got off to a hot start on Friday, knocking down 4-for-5 from 3-point range. He struggled handling the ball late, but he finished with 22 points and four assists. Western Kentucky commit.
Tremont Waters, 2017, South Kent (Conn.): Keep an eye on Waters in a few years. He's small, but he's fearless when driving to the rim and makes plays for himself and teammates. Also a pest defensively. Had 26 points.
Michal Cekovsky, 2014, Canarias Basketball Academy (Spain): At 7-feet tall with range to the perimeter, Cekovsky has a very high ceiling. He went for 12 points on just six shots, while also grabbing 10 rebounds.
Others:
Rashard Kelly, 2014, Hargrave Military Academy (Va.): 18 points, nine rebounds. Wichita State signee.
Donte Grantham, 2014, Hargrave Military Academy (Va.): 16 points. Clemson signee.
Robert Harris III, 2014, Fishburne Military Academy (Va.): 23 points, four rebounds, five 3-pointers. Kansas State signee.
Asa Duvall, 2014, Hargrave Military Academy (Va.): 16 points, four 3-pointers.
Keondre Dew, 2014, Elev-8 Sports Institute (Fla.): 18 points, 14 rebounds
Dusan Perovic, 2014, South Kent (Conn.): 19 points, 13 rebounds
Jabari McGhee, 2014, Hargrave Military Academy (Va.): 18 points, 11 rebounds
Miguel Dicent, 2014, Canarias Basketball Academy (Spain): 15 points
Bridges was mentioned in Friday's report, but has been cleared to be on the court

Miller may actually be owed $10 million if he fired for cause and $5 million if he is fired...

The Bearcats cling to a one-game lead in the AAC heading into Saturday
The second-ranked Spartans travel to Wisconsin for their regular season finale on Sunday vs....

Bagley has missed the last four games with a mild right knee sprain

Our advanced computer model simulated Saturday's Auburn vs. Florida game 10,000 times