NBA draft decisions will have huge implications for Kentucky, Syracuse
Burning questions for 2014-15: Will certain star players return to go pro? Will the NBA lure a coach or two? What about the new Big East?
• 5 min read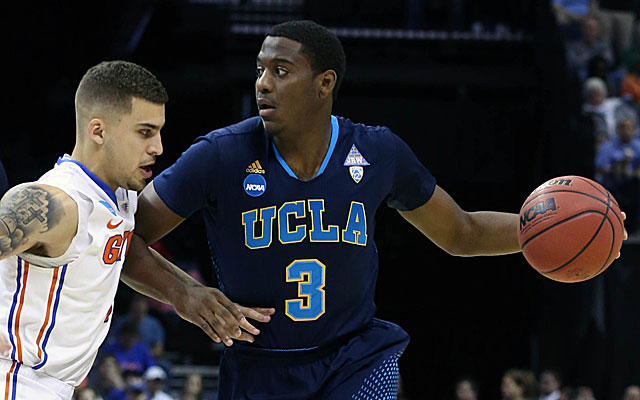 More: Draft coverage | Coaching changes | CBSSports.com All-America teams
1. Which players will bypass the NBA Draft and return to college?
The prognosis for several high-profile programs entering next season depends on some of the decisions that will be made by players over the next few weeks.
Kentucky is expected to lose Julius Randle, James Young and potentially Willie Cauley-Stein to the NBA. But if Andrew and Aaron Harrison opt to return to Lexington for their sophomore seasons, the outlook for the Wildcats will drastically change entering 2014-15.
Syracuse's Jerami Grant is another name to watch. The Orange took a hit when point guard Tyler Ennis decided to leave after his freshman season and now coach Jim Boeheim will likely have to lean on a first-year floor general in Kaleb Joseph to run his offense next season. That's an easier thing to deal with if you have an anchor like Grant to lean on.
Grant, a versatile forward, would be a legitimate ACC Player of the Year candidate if he returned to school for his junior season but he's a likely top 20 pick if he decides to enter the draft. Without Grant, Syracuse will be talented, but still unproven with wings like Tyler Roberson and B.J. Johnson inheriting Grant's minutes.
Two other teams that will be interesting to watch over the next few weeks? Michigan and UCLA. The Wolverines are likely going to lose Nik Stauskas, but Glenn Robinson III and Mitch McGary are both wild cards. John Beilein will have a top 10 team if both of those players return to Ann Arbor for their junior seasons.
The Bruins will again be one of the better teams in the Pac-12 as long as Jordan Adams returns for his junior season. The 6-foot-4 wing is one of the more under-appreciated players in college basketball and would be part of a terrific perimeter next year along with Bryce Alford, Norman Powell and Isaac Hamilton. Coach Steve Alford needs Adams back in Westwood to have a chance to compete for another league title.
2. Will a current college head coach bolt for the NBA?
It's a fair question considering the amount of speculation already surrounding Tom Izzo and John Calipari. Izzo has been linked to the Timberwolves and Pistons, while Calipari will always be a trendy name this time of year thanks to the job he's done at Kentucky since arriving in Lexington in 2009.
Iowa State's Fred Hoiberg and potentially UConn's Kevin Ollie are two other coaches who may have their name in the mix for professional jobs. The coaching carousel usually stops spinning in college basketball around early April, but if a blue-blood program loses a coach to the NBA, the domino effect will be significant.
3. Who will be this year's DeAndre Kane?
Fifth-year transfers have become major commodities for college programs and Kane was the biggest example of that this past season. An afterthought when he was at Marshall, Kane was a revelation for Iowa State and the driving force behind the Cyclones' run to the Sweet 16.
In addition to Kane, Josh Davis (San Diego State) and Lasan Kromah (UConn) are two other prime examples of fifth-year transfers who flourished for teams that played deep into the NCAA Tournament. It will be interesting to see which immediately eligible transfer has a chance to have a major impact next season in college basketball. 
4. Will the Big East improve in the offseason?
The new-look conference had a rocky first year after realignment and that's due to a number of different reasons. Providence lost its point guard (Kris Dunn) to injury and the likely rookie of the year in the league (Brandon Austin) to Oregon as a transfer, but the Friars still managed to win the Big East tournament and reach the NCAAs. If the Friars were at full strength, they might have had the ability to play into the NCAA Tournament's second weekend --- they were that talented before those defections.
St. John's clearly had the most talented roster in the Big East but failed to reach the field of 68 and has since lost two starters JaKarr Sampson (NBA) and Chris Obekpa (transfer). Xavier had all the makings of a Top 25 team but lost its best player -- Semaj Christon -- to the NBA.
The Big East didn't have a single team in the Sweet 16 and had two fewer  teams in the NCAA Tournament than the Atlantic 10, which had six. It will be interesting to see if any of the Big East programs can add personnel in the late signing period who will help the overall profile of the league.
Villanova is the clear favorite heading into next season and while the Wildcats will be a top 10 team nationally, everything else is a bit of a mystery.
Providence has a terrific recruiting class (Jalen Lindsey, Paschal Chukwu, Ben Bentil) coming in but will have to replace Bryce Cotton and Kadeem Batts. Creighton obviously takes a big step back after losing Doug McDermott, and Butler should be improved thanks to the healthy return of Roosevelt Jones, who missed all of last season due to a wrist injury. Kevin Willard brings in a dynamite freshman class at Seton Hall -- headlined by McDonald's All-American Isaiah Whitehead -- but the Pirates will still have to replace three solid veterans in Fuquan Edwin, Brian Oliver and Eugene Teague.
No one expected the Big East to resemble what it was prior to realignment but this conference needs to have a strong second season if it truly wants to maintain the perception that it's still a power conference.
5. Will the NCAA officially change the transfer rules prior to the start of fall practice?
I've repeated over the past few years that all transfers need to sit a year if they change schools and don't be surprised if you see that partially come to fruition in some form prior to next season. Multiple sources told CBSSports.com that there was a strong chance that the NCAA was going to pass a rule prior to the start of practice next year that would no longer allow transfers to apply for waivers so they could become immediately eligible without sitting out a full season.
However, it doesn't benefit college basketball to constantly have players changing programs and looking for waivers to be immediately eligible. Let's hope the NCAA gets it right and forces any player who transfers to sit out a year. Sources also told CBSSports.com that the only way a player would likely be immediately eligible was if he graduated and had a fifth year of eligibility. It will be interesting to see how this shakes out.
The Spartans finished the regular season with 12 consecutive wins

The Wildcats could look like a completely different team come Selection Sunday

Southern California also helped its NCAA Tournament selection hopes
The Cornhuskers, UCLA and NC State all look to improve their NCAA Tournament resumes

Our advanced computer model simulated Sunday's Wisconsin vs. Michigan State game 10,000 ti...

Knox dropped 21 points to lead the Wildcats to a win over Missouri