NBA players think Doug McDermott can translate to next level
There are some questions whether Doug McDermott's game can be successful at the NBA level. So we asked some NBA players for their opinions.
• 3 min read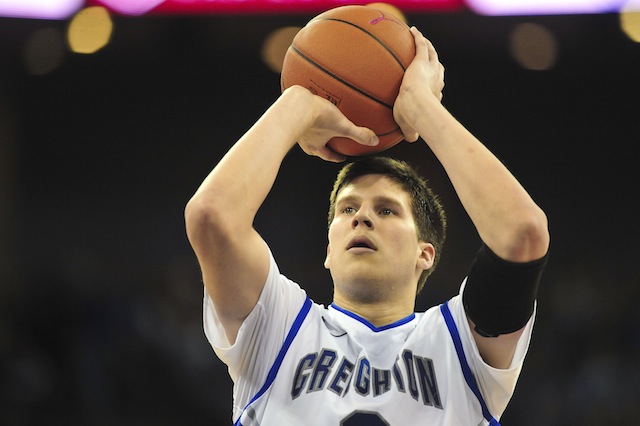 Harrison Barnes saw Doug McDermott long before any talent evaluators or scouts did. The Golden State Warriors forward played alongside McDermott at Ames High School (Iowa), as the duo won 53 straight games and back-to-back state titles.
As a result, Barnes isn't very surprised by the success McDermott has had at the college level.
"He was obviously a very skilled player," Barnes said. "And his growth at Creighton really shows the type of development he will continue to have."
But how does McDermott's game translate to the next level? There have been some questions  as to whether the 6-foot-8 forward can be consistently successful in the NBA. He averaged 23.2 points and 7.7 rebounds last season, being named to the All-American team for the second straight year – but that didn't change his stock too much for the NBA.
McDermott decided not to enter the NBA Draft, instead returning to the Creighton for his senior season. In early 2014 mock drafts, McDermott is only projected as a second-round pick by most services.
"There's always a place for a shooter," Barnes said. "He can make shots with the best of them."
Last week in Las Vegas, McDermott was one of two college players -- joining Oklahoma State's Marcus Smart -- to participate in the USA Basketball mini-camp, designed for the younger players and potential future stars for Team USA. According to onlookers, McDermott showed no fear going against the older, more experienced professionals.
"He's a confident player. He's a confident shooter, a confident scorer," New Orleans Pelicans forward Ryan Anderson said. "I think a college guy can come in here and be intimidated, but he wasn't. He accepted the challenge."
Anderson, while two inches taller and 15 pounds heavier than McDermott, is a decent comparison for McDermott. The former first-round pick is one of the better shooting forwards in the league, knocking down better than 38 percent from behind the arc. More than half his field-goal attempts for his career have been 3-point shots.
Can McDermott become that sort of player?
"He can shoot the shit out of the basketball," Detroit Pistons big man Andre Drummond said. "It's incredible. I was surprised he didn't come out for the draft this year, but he's going to make a lot of money the way he shoots."
"He's going to be a great shooter in this league," Golden State Warriors guard Klay Thompson added.
McDermott shot 49 percent from 3-point range last season, after making 48.6 percent of his shots as a junior. Back in the summer of 2011, when McDermott played with the U19 FIBA World Championships team, he led the team in 3-pointers made and 3-point percentage. This summer, McDermott participated in the World University Games -- and shot 40 percent from behind the arc.
Simply put, he has proven he can be a consistent 3-point shooter.
But he's more than that, as he showed with the USA team last week. McDermott also showed he could get good position and finish at the rim. He has very good footwork, and his touch enables him to make buckets in traffic.
"He did fine through the physicality," Detroit Pistons power forward Greg Monroe said. "He got to the rim a little bit. He definitely looked good."
There are some weaknesses, of course. He's not that long or athletic, and his lateral quickness would be a negative against faster combo forwards. Can McDermott create his own shot in a half-court set? That remains to be seen.
Anderson pointed out that McDermott's future position is also a question. Will he be a slower small forward, or a shorter power forward? No matter what he does during his final season at Creighton, McDermott will be an intriguing prospect heading into next June's NBA draft.
"I'm excited to see what happens to him and where he goes," Anderson said.
NBA scouts are in the same boat. 
Our advanced computer model simulated the rest of the 2018 NCAA Tournament 10,000 times

Everyone's brackets are up in flames, so we might as well try again

This is how the Las Vegas oddsmakers set the lines for Sweet 16 NCAA Tournament games
The bracket is a beautiful catastrophe -- so who comes after Villanova, Duke and Kansas?

March Madness continues to be off-the-wall insane. Check out scores and tip times from every...

Our advanced computer model gives says the Wildcats aren't worth 5/6 odds to win the South