NBA Wolves gig open; college coach (Donovan, Hoiberg, Izzo) may take it
Tom Izzo, Fred Hoiberg and Billy Donovan are among the candidates Minnesota is interested in hiring to replace Rick Adelman, who formally retired on Monday.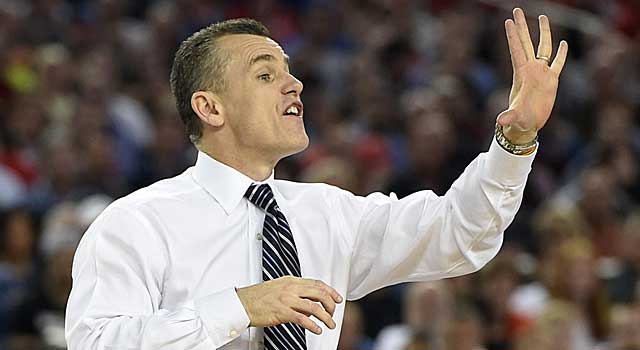 More: Wolves' Adelman retires | Interest in Donovan? | Knicks fire Woodson
At 11:04 a.m. ET on Monday, not long after the New York Knicks relieved their entire coaching staff of its duties, the Minnesota Timberwolves announced Rick Adelman is retiring from the NBA, at which point fans of Michigan State and Iowa State got anxious.
Or, at least, they should've got anxious.
Because within minutes of that announcement, Tom Izzo and Fred Hoiberg were mentioned as candidates in Minnesota, and, I can assure you, this isn't one of those deals where names are just being randomly tossed around. In other words, Rex Chapman isn't behind this. Izzo is close friends with Minnesota president of basketball operations Flip Saunders, and Hoiberg played for the Timberwolves before working in their front office (prior to taking the job at Iowa State in 2010). So there are some very real connections in play here, and sources have long told CBSSports.com that, if Adelman retired, Izzo and Hoiberg would be at or near the top of Saunders' wish list.
And now here we are.
And then there's this from ESPN.com's Marc Stein ...
Been discussing Izzo/Hoiberg for some time as candidates to replace Adelman, but here's a new name I'm told interests Wolves: Billy Donovan

— Marc Stein (@ESPNSteinLine) April 21, 2014
So perhaps Florida fans should be anxious, too?
Needless to say, luring Izzo, Hoiberg or Donovan to the NBA is no easy task, but it is possible for different reasons with each candidate -- especially Izzo, sources have told CBSSports.com. Is he definitely ready to bolt Michigan State after 19 seasons as the Spartans' head coach? No. And anybody suggesting otherwise is wrong. But Izzo is undeniably willing to listen, especially to a friend like Saunders, and when you combine the idea Izzo has become frustrated by the inner-workings of high-level recruiting with the fact Michigan State is losing three of its top four players from this season's team, the timing might be right, meaning it would be unwise to dismiss the possibility of Izzo leaving East Lansing.
As for Hoiberg, well, good luck finding anybody who doesn't expect him to coach in the NBA someday -- if not next season then the next season or the season after that. Eventually, the smart money has Hoiberg jumping from Iowa State to the league in which he played for a decade, and Minnesota makes sense because he's familiar with the organization and the city of Minneapolis. And he really likes Minneapolis, which is one of the reasons, according to sources, that Hoiberg genuinely considered accepting an offer last year to coach the Gophers before the school hired Richard Pitino.
And then there's Donovan, who is 11 years younger than Izzo but actually has been a Division I head coach longer than Izzo, since he was 28 years old to be exact, and at what point does he simply want a new challenge? Sources have told CBSSports.com that the Knicks job is the NBA job that's always intrigued Donovan, who is from New York. But there's no guarantee Donovan will ever be a serious candidate there as long as Phil Jackson is running the organization, which might give Minnesota a reasonable chance to pluck the 48-year-old who is, like Izzo, a future Hall of Famer.
Bottom line, the college coaching carousel could turn for a while longer.
I know Tennessee and Missouri are the only power-conference jobs currently open. But there's a real chance that Izzo, Hoiberg or Donovan -- or a college coach to be named later -- could make the jump to the NBA this offseason just like Brad Stevens did last offseason, and the subsequent dominos would likely take things well into the summer.
Gary Parrish and Matt Norlander spend some time on the SEC, too

Having shocked Kansas at Allen Fieldhouse, Duke legend Bobby Hurley is coaching the Sun Devils...

Jay Wright's undefeated Wildcats are now No. 1 in the Top 25 (and one)
Coach K's Blue Devils are the fourth preseason top-10 team to lose to a sub-75 KenPom team

TCU, which downed Nevada late Friday, continues to flourish under second-year coach Jamie...

The fans rushed the floor and celebrated after Taylor University scored its 10th point of the...