NBPA Top 100 Camp: Emptying the notebook
Time to clean out the NBPA Top 100 notebook, with 10 quick-hitting recruiting updates.
• 7 min read
More Recruiting: NBPA Top 100 Camp recap | Latest from 247Sports
Over the last week and a half, I've put up several posts from the NBPA Top 100 Camp in Charlottesville, Va.
Now it's time to empty the notebook. Here's 10 quick-hitters.
Deng Adel and Louisville?
Ranked No. 45 in the 247Sports Composite, Adel really blew up in April – and has become a sought-after recruit in the 2015 class. LSU, Louisville, Floirda, Connecticut, SMU, Virginia Tech, Georgia Tech and others are all on him.
"The recruiting process got tougher, that was the main change," Adel said. "I don't really want to get too involved with it and I forget about improving."
Louisville is the presumed leader, and Adel said the Cardinals are coming at him the hardest.
"Playing style," he said when asked what he likes about Louisville. "I like the coach, and I like the campus too."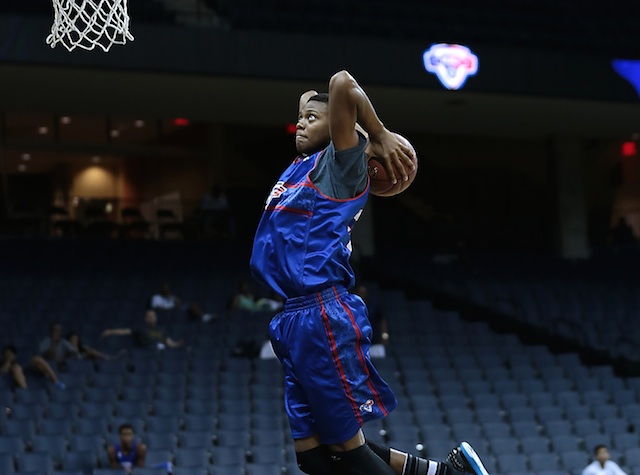 Ray Smith trims list again
Ray Smith was one of the fastest-rising players of the spring, moving into the No. 14 slot in 247Sports Composite rankings.
He had a list of 10, but recently released his final list of nine schools, including Arizona, Arizona State, Texas, Connecticut, Georgetown, Louisville, UCLA, USC and California.
Rayjon Tucker continues to improve
When it comes to motor and playing hard, Rayjon Tucker is one of the best in the class of 2015. He's constantly hustling and doing whatever he can to help his team win, and as a result, he's pushing for a top-100 spot in 2015.
Virginia Tech is coming at him the hardest.
"I love them," Tucker said. "I definitely love coach Buzz [Williams]. He acts just like my dad, so that's a place of interest right now."
Clemson, North Carolina State and VCU are also on his trail.
New schools enter picture for Terrance Ferguson
No. 10-ranked 2016 prospect Terrance Ferguson has his pick of schools, but a couple of new ones emerged earlier this month when coaches were allowed to contact players on June 15.
Louisville was the first school to call him at midnight, and then Wake Forest reached out the next morning. North Carolina also called recently.
With that said, the four schools coming at him the hardest are Arkansas, SMU, Oklahoma State and Baylor. Ferguson's parents went to Oklahoma State, but the recent rise of SMU and the commitment of Prime Prep (Texas) product Emmanuel Mudiay have made the Mustangs a solid option.
"I'm keeping them on my list at the top," Ferguson said. "Larry Brown is a Hall of Fame coach, can't turn that down."
Antonio Blakeney going through the process
There aren't too many guards in 2015 playing better than Antonio Blakeney over the past few months, as the Florida native has moved to No. 15 in the 247Sports Composite rankings.
Florida, Louisville, Kansas, North Carolina, Florida State, USC, Oregon and Missouri are all making a push for the 6-foot-4 shooting guard. He plans on trimming his list after the summer.
"A school with a real good relationship, a school with skill development, and a school with good history," Blakeney said. "Also a team that wins, because you can't get to the league if you're not winning."
Esa Ahmad discusses Big Ten schools
Shaker Heights (Ohio) forward Esa Ahmad has been considered an Ohio State lean, but even if he doesn't end up in Columbus, it seems he'll likely play in the Big Ten.
Ohio State, West Virginia, Maryland, Iowa, Iowa State and Cincinnati are making a push for him, and he plans on visiting Michigan and Michigan State next month.
On his visit to Maryland, Ahmad said: "Great experience. Meeting with the coaches, I'm really close with them. Just their program, coach [Mark] Turgeon gives those guys freedom to play their game and it shows."
Being from Ohio, Ahmad was excited to get an Ohio State offer back in May.
"I'm from Ohio, so you know, Ohio State, you grow up watching them," he said. "It was real big when I got that offer."
He plans on cutting his list to five or six next month, and possibly deciding in August.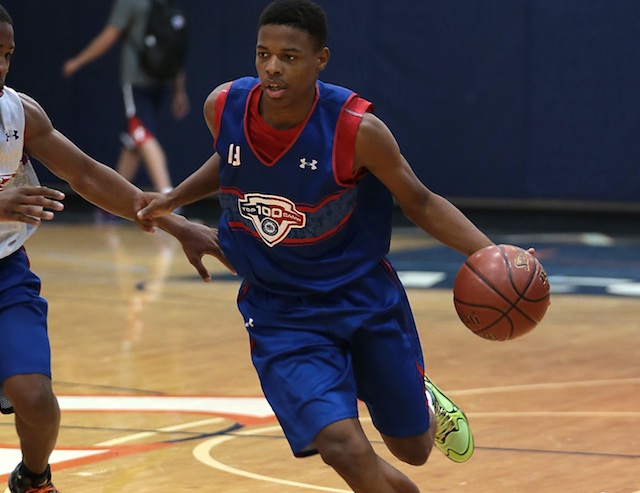 Dennis Smith Jr. becomes elite point guard in 2016
With the 2015 point guard class slightly down, rising junior Dennis Smith Jr. has emerged as the best point guard in the country regardless of class.
And he's being recruited like it.
Duke has been aggressive recently, Florida is on him, he has offers from Kansas and VCU, he visited North Carolina recently and picked up an offer, he has interest from Arizona and Michigan, while North Carolina State, Wake Forest and Miami are also in the mix.
Smith came up an NC State fan, but Duke has been making an impact lately.
"They have Coach K, he speaks for himself," Smith said. "It's one of the most prestigious programs in college basketball, he's coached pro and college players, so he knows what he's doing. He said he's not going to recruit a 2015 point guard, because he wants me to come in 2016 and play."
Brandon Ingram looking at different shades of blue
Brandon Ingram, the No. 21-ranked player in 2015, has a slew of schools in pursuit, but it could end up being a Duke vs. North Carolina battle for the Kinston (N.C.) product.
On Duke: "The coach knows everything about you. He explores everyone's talent. Puts them in the right position to succeed."
On North Carolina: "They make you a family. You go in as a freshman, and you know players from the 80s or the 90s. They just make you a family. Coach Roy is a great guy, a great person, he's not only teaching you basketball, he's teaching you how to be a man."
Jimmy Whitt looking in and out of state
When Kim Anderson took over the Missouri job in the spring, one of the first things people said he needed to do was make sure the Tigers are on the list of Jimmy Whitt, a top-50 prospect from Columbia, Mo.
And Missouri is still in the mix for Whitt.
"Being able to stay home is something you think about," Whitt said. "All the people that supported you since you were little. That's something to think about."
Arkansas, Illinois, Wisconsin, Wake Forest, Colorado, Creighton, SMU and Kansas State are in the mix, while Kansas head coach Bill Self is expected to watch him in July. North Carolina and Wake Forest have also reached out, and Indiana is on his list.
"Indiana is a basketball state to me," Whitt said. "The atmosphere up there in the gym, during games. They love IU basketball, and that's huge to be able to play in front of fans like that, I think that's really great."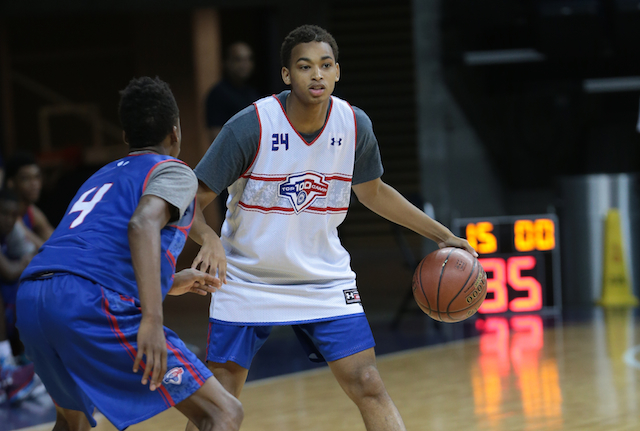 Eric Davis shows his scoring ability
With the rise of the scoring point guard, Eric Davis fits the bill perfectly. He's capable of running an offense, but he's also adept at scoring on his own -- as evidenced by his 32-point performance on the Thursday of NBPA Top 100 camp.
"Scoring point guard," Davis said on what he is. "But I can get my teammates involved, get them good looks. All the schools I'm talking to, they want the ball in my hands."
Kentucky has shown interest recently.
"It's a guard school," Davis said. "[Calipari] loves his guards, obviously, and he gets the top players. I'm real competitive, so I'm looking for that. Night after night, in practice, you have to bring it. It's going to make me better as a player. They want me to play more of a point guard. He doesn't want me to be one-dimensional, just passing the ball."
The Arthur Hill (Mich.) has been linked with Michigan State in the past, and North Carolina State made a run on his Crystal Ball recently. Michigan is also involved.
"We keep in contact regularly," Davis said of the Wolverines. "I talk to them every other day. Just keeping in contact, just developing relationships. All coaches, I just want to develop a relationship. And Michigan has been there."
Davis will cut his list after July.
The Big Ten Tournament is a week earlier than usual, so the regular-season schedule may look...

Arizona, Grand Canyon and Tulane are also in Barcelona and have reported to be accounted for...

The Kansas forward is no longer accused of walking out on an $88 tab
Cavaliers basketball coach tapes statement on behalf of his university and his city

Gary Parrish and Matt Norlander discuss all things Marvin Bagley and his immediate future

Which version of Grayson Allen will show up for Duke and other questions for every ranked...