NBPA Top 100 Camp: Seven takeaways, plus top performers
The NBPA Top 100 camp featured a very good mix of 2015 and 2016 prospects.
• 6 min read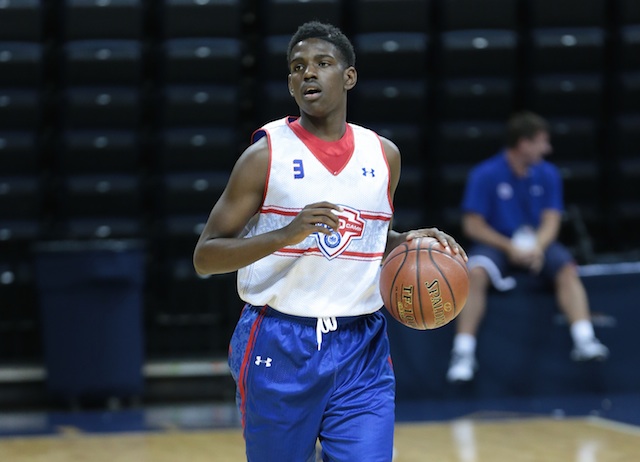 More Recruiting: Latest News | Player Rankings | Team Rankings
CHARLOTTESVILLE, Va -- The NBPA Top 100 camp is annually one of the best events of the spring, basically providing a bridge from the April and May AAU season to the busy July recruiting period. This year had a nice mix of prospects from the 2015 and 2016 classes, there were plenty of takeaways from the week. Here are a few things that stood out:
I still think Ben Simmons is the No. 1 player in the class. Along with Cheick Diallo, Simmons was the lone top-five rising senior to attend the camp -- but he did nothing that made me change my opinion that he's the best player in the class. He outplayed Thon Maker in their head-to-head battle, and also got the edge on Carlton Bragg in their Friday morning matchups. Simply put, I think he's developed a more complete game over the last year, and that's enabled him to take over the No. 1 spot. Simmons can knock down perimeter jumpers, he can handle the ball in the open court, and he's very good moving without the ball and finding teammates. There will be plenty of competition over the next few weeks, but I think Simmons should enter July as No. 1.
Dennis Smith Jr. is the best point guard, regardless of class. Smith was one of the hottest names in the spring, consistently impressing at various events. The 2016 prospect did more of the same in Virginia this week. He can essentially get into the lane whenever he wants, possessing an explosive first step and the strength and speed to get separation once he beats his man. There are very few players capable of staying in front of him, especially when his outside shot is falling. There are plenty of talented combo guards in both 2015 and 2016, but Smith is the best point guard. 
Where are all the marquee matchups? For a long time, one of the major appealing aspects of the top 100 camp was a chance to see the top players in the country -- regardless of shoe company and age -- go head-to-head with guys at their position. Michael Gilchrist vs. Harrison Barnes, Kyrie Irving vs. Brandon Knight, etc. Top-ranked players going against top-ranked players. Some games were even set up that way, so we had a chance to see it. This year, that was nowhere to be found. Ben Simmons and Thon Maker went up against each other for a few stretches, but Dennis Smith Jr. and Kobe Simmons were on opposite teams -- yet only guarded one another for one possession. Part of it was a lot of top players either having USA Basketball or simply deciding not to come, but the lack of hyped-up individual matchups was a bit disappointing.
If you have a motor, you'll get noticed at this camp. Because of the up-and-down nature of a camp setting, players that simply played hard consistently stood out. On Wednesday, Chris Clarke and Dwayne Bacon were two of the better performers – mainly because they ran the floor well, finished in transition, and didn't dog it at either end of the court. The same thing went for Rayjon Tucker, a versatile perimeter prospect who found ways to make plays due to his effort level. There are some questions on what position Tucker will play in college, but his motor is a bonus. And you can't talk about motor and energy without mentioning Bam Adebayo. The five-star 2016 prospect is a relentless rebounder, especially on the offensive end, and rarely ever stops moving. 
Jawun Evans was probably my favorite player. It got to the point where another recruiting writer looked back at me toward the end of one of Evans' games and asked, "Do you have any more adjectives you want to use for him?" Ranked No. 44 in the 247Sports Composite for the class of 2015, the 6-foot point guard was consistently impressive throughout the week. He has tremendous speed, but understands tempo. Evans could slow it down if necessary, but was excellent in transition and loved pushing the ball for easy baskets. He made great decisions with the ball in his hands, and also pressured the ball defensively. Recruiting-wise, Illinois has made a strong push for Evans and is squarely in the mix for him.
Questions continue to increase about guards in 2015. It was clear a couple of years ago that the class of 2015 wasn't going to be loaded at the guard positions. As we head into the summer, though, it continues to have more questions than answers at both point guard and shooting guard. The lack of true point guards is a major concern, and the inability of guys like Malik Newman (not at the camp) and Tyler Dorsey to move away from the score-first mindset has kept it that way. Antonio Blakeney was one of the biggest risers of the spring, but he settled for too many contested jumpers this week. Charles Matthews has stagnated somewhat; he is still a terrific athlete and brings certain abilities to the table, but he needs to improve his jumper. Austin Grandstaff was also up and down this week.
That has opened things up for some other guards to make moves in the rankings; we've already talked about Juwan Evans, but Jalen Coleman shot the ball very well from the perimeter. Eric Davis also had his moments.
Thon Maker will constantly be a main attraction. The 7-foot sophomore is constantly the talk of the recruiting world, due to any number of reasons. There is the debate about the ridiculous comparisons thrown around by people, with the two most common ones mentioned being Kevin Garnett and Kevin Durant. (Given that those two players aren't all that similar, that should tell you how accurate both comparisons are. For what it's worth, the Garnett comparison is better than the Durant one, but still not great.) Then there's his recruitment, which Maker remains tight-lipped about. Kentucky offered Maker last week, and the Wildcats joined a group that also includes Duke, Kansas, Louisville and others. Lately, the talk about Maker has also centered on the possibility of Maker reclassifying to the class of 2015. He's already 17 years old, meaning he wouldn't be out of place with the 2015 class. Maker played pretty well during the week, hitting some perimeter shots, finishing at the rim and making several highlight-reel blocks. 
Top performers not mentioned:
Derryck Thornton, 2016: When Thornton is running an offense and playing in the pick-and-roll, he's at his best. Can distribute with both hands and create for his teammates.
Brandon Sampson, 2015: He can score at all three levels, possessing range and confidence on his jumper, but also capable of scoring when going to the rim.
Udoka Azubuike, 2016: He's simply an intimidating force in the paint, using his strength to carve out space and then dunking on anyone in his general area. Can be dominant.
Braxton Blackwell, 2016: Blackwell has a smooth offensive game, pulling up in the mid-range or taking it to the rim. He also showed some toughness on the defensive end.
Ray Smith, 2015: Smith is excellent in transition, which made him perfect for this camp. But he also showed improved range and consistency on his mid-range and long-range jumper.
Damon Wilson, 2015: The Pittsburgh commit had a terrific stretch on Thursday night, racking up assists and showing great vision -- both in transition and in the half-court.
Daniel Giddens, 2015: His offensive game is still essentially non-existent outside of dunks, but he can be a dominant rebounder and shot-blocker. Still getting better.
Semir Sehic, 2015: He might not have the flash or ceiling as some other big guys in the class, but he's consistently productive. Always finds a way to grab boards and rack up points.
The Memphis transfer, who was already in Bill Self's doghouse, could be in trouble again

Cavaliers basketball coach tapes statement on behalf of his university and his city

Gary Parrish and Matt Norlander discuss all things Marvin Bagley and his immediate future
Which version of Grayson Allen will show up for Duke and other questions for every ranked...

Upon landing the nation's top recruit, Duke tops the list with other title contenders at the...

The presumptive No. 1 overall NBA Draft choice makes the Blue Devils 3/1 favorites to win it...