NC State's lofty preseason ranking not deserving; may be down the road
NC State was picked to finish first in the ACC. The Wolfpack were tabbed a Top 10 team nationally. They weren't ready for all the hype, but Tuesday night's victory against UConn was a major step in the right direction.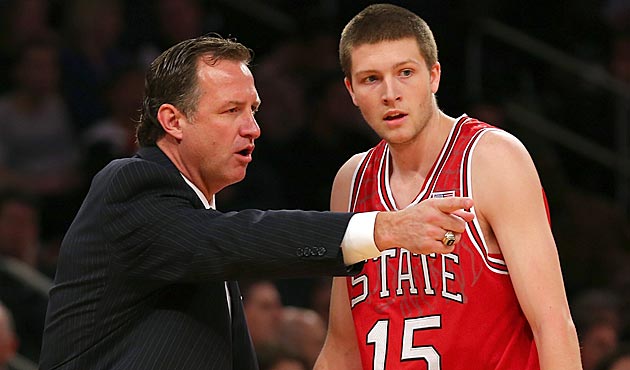 Mark Gottfried is trying to teach his Wolfpack that accolades are nice but success must be earned. (Getty Images)
NEW YORK -- There was the 20-point shellacking at the hands of Oklahoma State down in Puerto Rico and the setback to Michigan in Ann Arbor. Mark Gottfried's N.C. State Wolfpack was running out of chances, opportunities to prove that it was deserving of the preseason hype bestowed upon the program.
N.C. State needed this win against the UConn Huskies. Badly.
It may not be one that the NCAA tournament committee is blown away by come March, but the Wolfpack had to have this one for its psyche, it's swagger. A loss to an unranked and underwhelming UConn team Tuesday night in Madison Square Garden could have been devastating. It would have meant that Gottfried & Co. went 0-3 in resume-building games entering ACC play -- which should be ultra-competitive in the top half of the league with the likes of Duke, North Carolina, Maryland, Miami and maybe even Florida State -- if the 'Noles can get it together.
We all seemed to forget that this team, one that has both veteran and youthful talent, didn't do anything to deserve its preseason accolades beyond win a couple of wins against San Diego State and Georgetown last March. This was a group that snuck into the NCAA tournament last season with a 9-7 league mark and dropped four consecutive games in February.
These guys certainly look the part. They have all the pieces, but have a long way to go. Lorenzo Brown hasn't proven himself as an elite point guard yet and has been up and down thus far. C.J. Leslie is still a work in progress. The freshmen are talented, but erratic -- especially on the defensive end of the floor.
"We've got a chance to be really good, but we aren't there yet," Gottfried said. "We have to blend these new guys. ... We're just OK right now."
Gottfried kept saying it in the offseason while everyone continued to heap praise on his guys. Their ceiling was high, but they hadn't really done much to deserve the Top 10 preseason ranking -- and being tabbed to win the ACC over national powers Duke and North Carolina.
"We finished great, but we weren't a great team," Gottfried said. "Yet we were ordained a great team."
And that might have been the worst possible scenario for this group. They read all about how great they were in the preseason publications, heard about it everywhere they went from the rabid, hungry Wolfpack fans that have been begging for a nationally relevant team. Final Four hopes returned to Raleigh.
"They were definitely drinking the Kool-Aid," Gottfried said. "And they needed a little humble pie."
A year ago, Brown, Leslie, dead-eye shooter Scott Wood and Richard Howell were playing with experienced veterans C.J. Williams, Alex Johnson and DeShawn Painter. They all knew what to expect from one another. Now the older guys are frustrated at times as the talented frosh -- T.J. Warren, Rodney Purvis and Tyler Lewis -- all adjust to college basketball.
Warren, who entered Tuesday night averaging a team-high 15.3 points per game, had his worst game of his young career against UConn with more fouls (4) than points (2). Brown had more turnovers (6) than assists (5) and Howell didn't have a single rebound in the first 20 minutes against a lackluster UConn frontline. However, Howell and Leslie both played like men down the stretch by dominating in the paint and pulling away from Kevin Ollie's Huskies in the final couple of minutes. N.C. State had 11 offensive boards in the second half and Howell and Leslie combined for nine of them.
Both Gottfried and Leslie said that they weren't overly concerned with the pressure of coming to Madison Square Garden and having to beat UConn, that it's still early and there will be no shortage of chances in the ACC this season. However, you never quite know how this team, one that hasn't experienced a ton of winning together, would react to falling to 4-3 overall and coming up empty in the three toughest games thus far.
Gottfried wants more leadership from this group, is hoping for more consistency out of Brown -- and improved defense from the freshman.
"We're going to get good," he said. "But it's going to take time."
N.C. State fans aren't known for their patience, but they have waited this long. They can wait another month or two.
Oklahoma and Arkansas are new additions to Sunday's Top 25 (and one)

Gary Parrish and Matt Norlander discuss a wild Saturday of college basketball

Ball left the program earlier this month and has since signed with a Lithuania professional...
Sooners beat third-ranked Shockers while Florida and FSU lost in upset fashion to unranked...

The Hoosiers grow up before our eyes, and Miller has his first signature victory as Indiana...

Trae Young, a freshman and the nation's top player, has a 21-point first half at Wichita S...