NCAA hands out reprimands to Bill Self, Marshall Henderson
One of college hoops' most famous coaches (Kansas' Bill Self) and one of its most famous players last season (Ole Miss' Marshall Henderson) were dressed down for their behavior during the 2013 NCAA tourney.
• 1 min read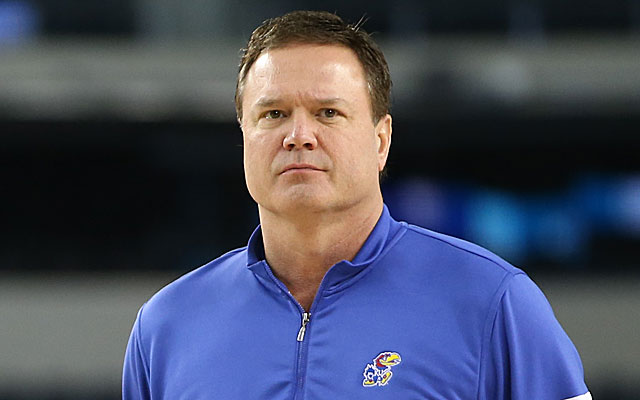 NCAA to Bill Self: scoreboard.
No, seriously. Scoreboard. The organization on Wednesday publicly reprimanded the Kansas coach -- and fined him -- for "misconduct" during the 2013 NCAA tournament. Self smashed his hand against the scorers table during the team's Round of 32 game against North Carolina, and in doing so damaged the LED table.
Kansas won that March 24 game 70-58.
The NCAA's succinct release on the issue came down Wednesday.
"NCAA guidelines define misconduct as 'any act of dishonesty, unsportsmanlike conduct, unprofessional behavior or breach of law, occurring from the time the championship field is announced through the end of the championship that discredits the event or intercollegiate athletics,'" according to the release.
Ron Wellman, Wake Forest athletic director and the new chair of the NCAA tournament selection committee, said in the statement, "Coach Self's actions were out of line with the committee's expectations that championship participants act in a manner that represents the highest standards of sportsmanship,"
The amount of the fine was not disclosed. Fortunately, Self can move on with his life by preparing to coach one of the greatest collegiate talents of the past decade.
The committee didn't stop with Self, also targeting college basketball's most polarizing player, Marshall Henderson of Ole Miss. The Rebels star was publicly reprimanded for "an inappropriate gesture toward the crowd following Mississippi's third round contest against La Salle."
"A point of emphasis with the committee over the last several years continues to be ensuring that championship participants act in a manner that represents the highest standards of sportsmanship," Wellman said. "Mr. Henderson's actions failed in this regard."
The third and final subject of NCAA public reprimand was Wichita State senior associate athletics director Darron Boatright, who confronted Staples Center security before the Shockers' Sweet 16 game against La Salle.
Josh Nagel has almost two decades of handicapping experience and locked in a play for Monday's...

The Wildcats stumbled to an 0-2 record this week and fell out of the top 25

Gary Parrish and Matt Norlander also get into Trae Young's 48 points on 39 shots at Oklahoma...
The Wildcats had been ranked for 68 consecutive weeks

The Wildcats and Sooners have lost their last two games and drop in Jerry Palm's latest br...

Irving is impressed with what he saw and heard from the No. 3 player in the nation