NCAA modifies Myck Kabongo's suspension to 23 games
Texas sophomore Myck Kabongo can play this season after all. The Canadian point guard, who was found to have accepted impermissible benefits and lied to the NCAA, has been given a 23-game suspension instead of a season-long penalty.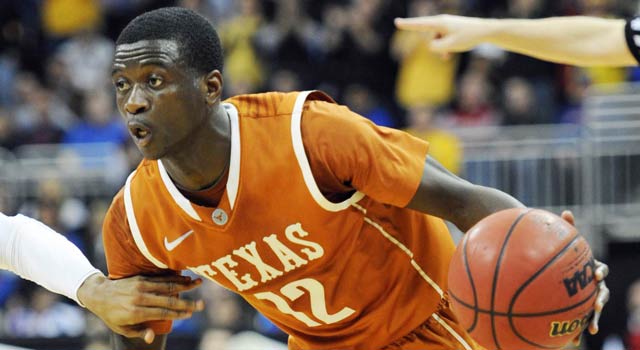 Texas sophomore Myck Kabongo will miss 23 games due to the NCAA's modified suspension.
(US Presswire)
Texas sophomore Myck Kabongo has been hit with a 23-game suspension by the NCAA for accepting impermissible benefits and providing false statements during two separate internal meetings with university officials.
The NCAA announced the decision Friday, two days after Yahoo! Sports reported Kabongo wasn't honest regarding how he paid for a trip to Cleveland this past summer and would be hit with a season-long suspension. The Division I Committee on Student-Athlete Reinstatement modified the decision after hearing the university's appeal Thursday.
The Canadian point guard had developed a relationship over the last few years with agent Rich Paul, who recently split from Leon Rose and CAA. Paul also represents Kabongo's close friends, Tristan Thompson and Cory Joseph, who both played at Texas.
Kabongo, according to the NCAA, accepted airfare, personal training instruction and then provided false and misleading information during two separate interviews with university officials.
As a result, Kabongo will miss 23 games and repay $475 in impermissible benefits to a charity of his choice.
Kabongo has already missed the first 11 games of the season and won't be eligible to play for Rick Barnes and the Longhorns until Feb. 13 against Iowa State in Austin. That will allow him to play the final eight regular-season contests.
Bagley is still recovering from a knee injury he suffered during the Blue Devils' loss to...

Izzo was emotional as he coached the seniors on their final home game in East Lansing

The Shockers look to build on their four game winning streak as they return home to face T...
De'Anthony Melton is leaving the Trojans program and will look to jump up to the professional...

Kenny White used to set the lines for the biggest casinos. Now, he's dishing out advice at...

In a heartwarming moment, a team manager got an opportunity to play on the floor