NCAA stays firm on long-term punishments for Saint Mary's
The Gaels and their coach, Randy Bennett, appealed a March ruling by the NCAA -- and lost. Let's again look at the punishments.
• 1 min read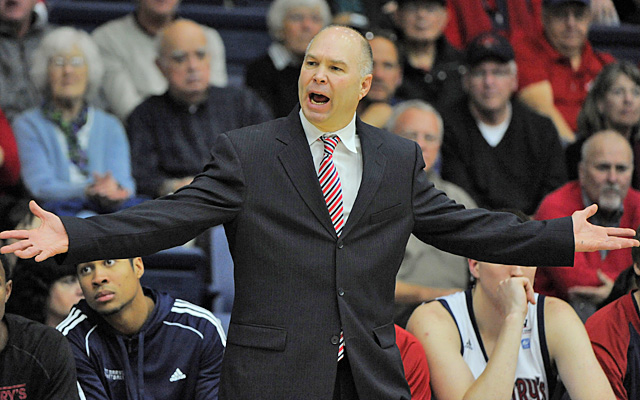 Saint Mary's coach Randy Bennett will still have to miss five games this season, including a critical one against Gonzaga.
The NCAA's independent review panel took under consideration the appeal by the school, only to come to the same conclusion as the committee on infractions did in March. SMC was hit with a failure-to-monitor charge after it was uncovered that a former Gaels assistants provided plane tickets, transportation and lodging to prospects.
"The former assistant coach knowingly committed violations during the recruitment of three prospects," according to the NCAA's release in March. "When warned by the California Interscholastic Federation twice about the activities of the former assistant coach, the college did not proactively investigate the recruiting activities. Additionally, the men's basketball team received impermissible training and coaching sessions from trainers not employed by the school."
Bennett's five-game suspension will be served starting on Dec. 30, meaning he'll be out for games against Pacific, Gonzaga, Portland, William Jessup (not a D-I program) and Santa Clara. Other punishments include a ban on off-campus recruiting all season for Bennett; a four-year probationary period for SMC; a two-scholarship cut for 2014-15 and 2015-16; no overseas trips until 2017; and no participation in early season, November/December exempt tournaments until 2015.
It's a heavy dose of penalizing, but the most important matter is Bennett was not handed a show-cause penalty (unlike the former assistant) and the program was not given a postseason ban.
"While the College is disappointed with the decision, we respect the NCAA appeals process and will comply fully with the penalties given to our athletics program," the school said in a statement.
Their season gets underway Nov. 8 with a home tilt against Louisiana Tech.
LaVar argued with the CNN host over why he came off as ungrateful and why he didn't thank Mr....

The voter has Northwestern seven spots ahead of undefeated Texas Tech, which just blasted the...

The 7-foot-1 center is the No. 3 prospect in the Class of 2018, according to 247Sports
Alabama enters the top 25 while Northwestern drops out after a rough week

Four years ago, Bryant told Jimmy Kimmel that he'd have picked UNC

Dates, start times and streams of LaVar Ball's interview with CNN