NCAA Tournament: 10 mid-major stars ready to break out
Who's going to be the next C.J. McCollum? We have a few ideas.
• 2 min read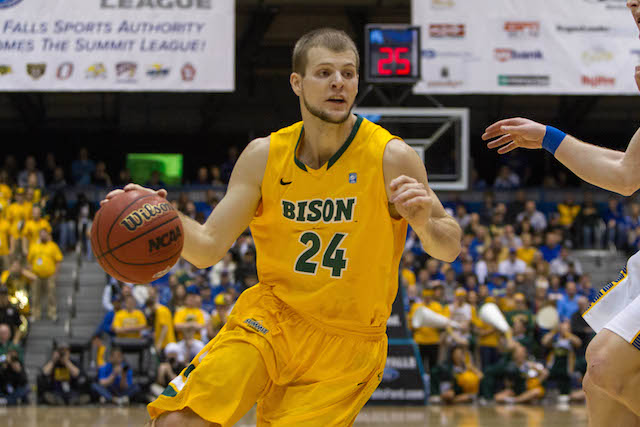 More NCAA hoops: Tournament bracket | Complete coverage of NCAAs | Latest news
Stephen Curry. C.J. McCollum. Even Harold "The Show" Arceneaux.
All three of those players were stars in college, but all three really burst onto the scene in the NCAA Tournament. Monster performances and upset wins were enough to vault those three players into tournament lore -- and they're not alone. Norfolk State's Kyle O'Quinn did it two years ago, everyone in "Dunk City" did it last year. People are just waiting for small-conference stars to emerge in the NCAA Tournament.
Who are the best candidates this season?
1. Taylor Braun, North Dakota State: Braun is so difficult to handle for most defenders, as he can score off the bounce while also shooting 44 percent from 3-point range. He could be a name eveyone knows by the weekend.
2. Elfrid Payton, UL-Lafayette: He's got first-round NBA talent, and his all-around production and ability is good enough to carry the Ragin' Cajuns in the NCAA Tournament. Creighton won't be able to keep him out of the lane. 
3. Wesley Saunders, Harvard: The Ivy League Player of the Year is one of the best two-way players in the mid-major ranks. He can score effectively inside the arc, but is also an elite perimeter defender. 
4. Langston Hall, Mercer: The senior point guard won't be fazed in the NCAA Tournament. He's a poised and calm leader, but he's also a terrific playmaker. Has scored at least 20 points five times since early February.
5. George Beamon, Manhattan: Beamon stays in attack mode. He's not a lights-out shooter from the perimeter, but he's improved from behind the arc -- and he also gets to the rim at will and either finishes or draws contact.
6. Jarvis Threatt, Delaware: Michigan State is a very difficult draw for the Blue Hens, but Threatt will impress onlookers with his ability to get to the rim and get fouled or make a play. Forms a talented trio with Devon Saddler and Davon Usher.
7. Jeremy Ingram, North Carolina Central: NC-Central has a chance to knock off Iowa State, and Ingram is one of the main reasons. He averages more than 20 per game, gets to the foul line consistently, and hit at least 25 points six times in his last nine games.
8. David Brown, Western Michigan: If you're looking for a 14-seed with a good draw, it could be Western Michigan. Brown is the guy to watch. He had 32 points in the MAC title game, and is capable of scoring in multiple ways. 
9. Daniel Mullings, New Mexico State: The size of New Mexico State gets most of the attention, but Mullings is the guy who makes them go offensively. In his last two games, he's 16 of 25 for 39 points. 
10. Desmond Haymon, Stephen F. Austin: SFA is a disciplined and defensive-minded unit, but Haymon can ball. He had 47 points in the two games prior to the Southland final, and can be a difference-maker for the Lumberjacks.
Others: Davion Berry, Weber State; Aaric Murray, Texas Southern; Jordan Aaron, Milwaukee; Glenn Cosey, Eastern Kentucky; Karl Cochran, Wofford
The 10th-ranked Jayhawks end a four-game Morgantown losing streak with a big second half

Gary Parrish, after being questioned, explains why he writes the Poll Attacks each Monday

The Blue Devils looked like a team in need of a reboot against Miami, then they morphed into...
Providence's Ed Cooley suggests to the refs that vampires, not contact, made his player bl...

The Big 12 reprimanded WVU player Wesley Harris for hitting a Texas Tech fan who rushed the...

'History in the Astrodome: UCLA vs Houston 1968' looks at the game that changed college ba...