NCAA Tournament: Friday slate's huge; Miller Bros. highlight Thursday
Which teams will join Arizona, Wisconsin, Florida and Dayton in the Elite Eight?
More NCAA hoops: Tournament bracket | Complete coverage of NCAAs | Latest news
MEMPHIS, Tenn. -- Are you still trying to get ready for Friday night? Or did you miss anything Thursday night? Lucky for you, you've landed in the proper place.
Let's look ahead, and review.
Here's everything you need to know about Friday evening and the past 24 hours ...
With all due respect to Thursday, Friday night has looked better on paper all week, and odds are it'll be more interesting, if only because three of the four matchups are projected to be one-possession games. The schedule looks like this:
You need some winners? Take Michigan, Iowa State, Kentucky and Michigan State straight-up and against the spread. Then sit back, enjoy the games and stack that paper.
One more (Friday) thing: The marquee game of the night is obviously Kentucky-Louisville because those schools represent the past two national champions, and because they're in-state rivals coached by men who claim to be friends but aren't really friends at all. But the game I'm looking forward to most, I think, is Michigan State vs. Virginia because that's the Big Ten tournament champions against the ACC tournament champions, and I believe the winner of that game is going to the Final Four regardless of Sunday's opponent.
It's Tom Izzo's now mostly healthy team vs. Tony Bennett's team that has been consistently awesome since mid-January, and it really could go either way. So if you like storylines, by all means, spend Friday on CBS with the Cardinals and Wildcats. But if you dig high-level basketball teams that've really been operating at a high level lately, then TBS is probably the place to be -- although your best bet, obviously, is to just have two TVs in front of you.
Looking back at Thursday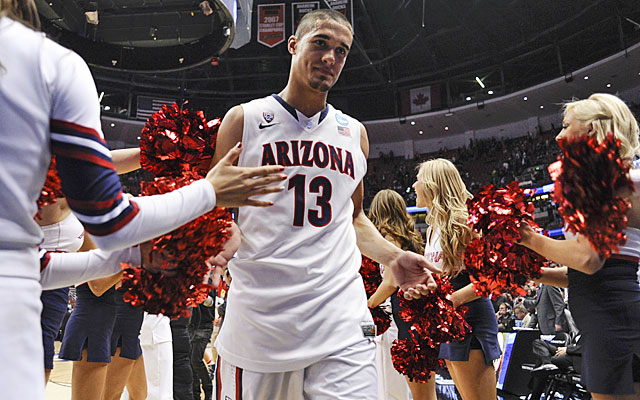 Best game: Sean Miller's top-seeded Arizona Wildcats trailed San Diego State by four points at the half, were tied with less than six minutes remaining, and in a one-possession game in the last minute. So this West Coast affair between West Coast teams (in the West Region) was by far the most competitive of Thursday night's action, if only because it's the only game that didn't have a final margin of at least 10 points. "One of these days, we're going to get to a Final Four," SDSU coach Steve Fisher said following the 70-64 defeat. Given how many improbable things Fisher has already achieved with the Aztecs, I wouldn't bet against him. But, either way, it won't happen in this calendar year.
Best player from Thursday: Frank Kaminsky got 43 points in the fourth game of this season, and that might be his career high forever. But what the Wisconsin junior did in a 69-52 win over Baylor was just as impressive and way more important given the stage and stakes. He took 11 shots, made eight and finished with 19 points, four rebounds and six blocks. Now Bo Ryan is just one win away from his first Final Four. "I'd be honored to be a part of that," Kaminsky said.
Best moment from Thursday: That had to be John Miller, father of Sean and Archie, standing in a hallway here at FedExForum -- just after watching Archie's Dayton Flyers record an 82-72 win over Stanford and just before watching Sean's Arizona Wildcats handle San Diego State. "It really is crazy," John Miller told me, and I just nodded my head in agreement.
Best business-like performance from Thursday: Let's go with Billy Donovan's top-ranked and top-seeded Florida Gators, who won for the 29th consecutive time to reach the Elite Eight for the fourth straight year. Even though UCLA hung around for most of the 40 minutes, there was never a time when it felt like Florida would lose a game it ended up winning 79-68. These Gators are really tough, man. They might not win the national championship. But, at this point, it's pretty clear they aren't going to beat themselves.
Three notable numbers from Thursday night
10: That's the number of shots Arizona's Nick Johnson missed to start the game before making his final two that helped the senior guard finish with 15 points, 10 of which came from the free throw line. All 15 of Johnson's points came in the second half.
15: That's the number of 3-pointers UCLA missed in its loss to Florida. The Bruins made only three, which means they shot 16.7 percent from beyond the arc. In all, seven UCLA players attempted a 3-pointer, but only two -- David Wear and Jordan Adams -- made one.
34: That's the number of points Dayton got from its bench in its win over Stanford that pushed the Flyers to the Elite Eight for just the third time in school history. How many points did Stanford get from its bench, you ask? Two. The Cardinal got just two points on zero field goals in 36 minutes from their reserves.
So Saturday's schedule is now set this way
Florida (-10) vs. Dayton in Memphis at 6:09 p.m. ET.
Arizona (-3) vs. Wisconsin in Anaheim at 8:49 p.m. ET.
Larry Hartstein is a perfect 5-0 picking for or against the Utes and locked in a play for...

Huggins wasn't fined but was reprimanded after pointing out the disparity in free throws in...

UCLA travels to fellow bubbler Utah and Washington also hits the road in Pac-12 bubble act...
Bagley's knee problem is worth worrying about, but Allen has suddenly found his All-American...

The university blasted the MEAC for 'vindictive sanctions' in a lengthy news release

Our advanced computer model simulated Thursday's San Diego vs. Gonzaga game 10,000 times