NCAA Tournament Observations: Big differences in Zona-SDSU rematch
Arizona and San Diego State are set to face off again in the Sweet 16. The teams might be the same, but the differences are glaring from when they met earlier in November.
Latest in hoops: NCAA Tournament | Expert Brackets | Coaching Changes
1. Arizona and San Diego State are both completely different from when they played in November.
You can say that about most teams who meet early in the regular season and then face off again in the NCAA Tournament, but in this case especially it's the utmost truth. The Wildcats got 25 minutes, six points, and six rebounds out of Brandon Ashley in their 69-60 win over the Aztecs at Viejas Arena on Nov. 14 and he has since been lost for the season with a foot injury that he suffered in January. Dwayne Polee, meanwhile, didn't play in that game for San Diego State and has become Steve Fisher's secondary offensive threat behind Xavier Thames, scoring in double figures in each of his last four games.
You may hear lots of chatter about this game being a rematch and that's true on paper, but it's truly a colossal showdown between two teams that are different than they were early in the season. Arizona has more of a spread look on offense right now without Ashley and will need a big game out of Gabe York to advance past the Aztecs and into the Elite Eight. The 6-foot-3 York is averaging 10.0 points in the NCAA Tournament but has shot just 3-of-9 from beyond the arc in his last two games.
2. Florida's chemistry, balance, and cohesiveness are reminiscent of the Gators' national championship teams.
There's nobody remotely close to Corey Brewer, Al Horford or Joakim Noah on this team, but Florida's overall togetherness and willingness to sacrifice is similar to what Billy Donovan had when they won back-to-back national titles in 2006 and 2007. Those Gators were one of the more balanced teams college basketball had seen in quite some time and had three pros up front along with a seasoned floor general in Taurean Green and a lethal sharpshooter in Lee Humphrey.
This team is different, but also similar. Much like those teams that won back-to-back titles, Florida is exceptional defensively and possesses an unbelievable will to win because it simply doesn't care who gets the credit. If you're a basketball purist, you'll love the Gators. Honestly, it's hard not to.
3. Bryce Alford has quietly had a productive freshman year for UCLA.
Many wondered how Steve Alford would handle coaching his son at arguably the most fabled program in college basketball, and quite frankly, the first-year point guard has been a major reason for the Bruins' run to the Sweet 16. A smart, heady floor general with great instincts, Bryce Alford has been rock solid in two NCAA Tournament games, averaging 8.0 points and 4.0 assists while only committing a combined three turnovers. It will be interesting to track this father-and-son duo over the next three seasons in Westwood.
4. The evolution of Naz Long has been an underrated reason for Iowa State's success.
The sweet-shooting sophomore has made a major jump from his freshman to sophomore year and gives the Cyclones the type of glue guy they desperately needed to replace Chris Babb, who graduated after last season. Long has good size at 6-4 and has made several timely shots in big spots, including a game-tying 3 in Sunday's 85-83 win over North Carolina. After only burying five deep shots last year as a freshman, Long has converted 63 3-pointers heading into Friday's Sweet 16 matchup with UConn. Long is averaging 7.1 points and shooting 40.9 percent from three-point range.
5. Eron Harris' decision to transfer drastically changes the outlook of West Virginia heading into next season.
I had the Mountaineers pegged as a top 15 team assuming that Harris returned and his decision to leave Morgantown severely alters the perception of Bob Huggins' squad moving forward. A potent scorer with good size at 6-3, Harris averaged 17.2 points while making 89 3-point shots and shooting 42.2 percent from long distance. Without Harris -- who will be one of the more highly sought after transfers on the market -- West Virginia will have a much different feel entering next season. The Mountaineers now feel like a top 30-35 team instead of a top 15 team.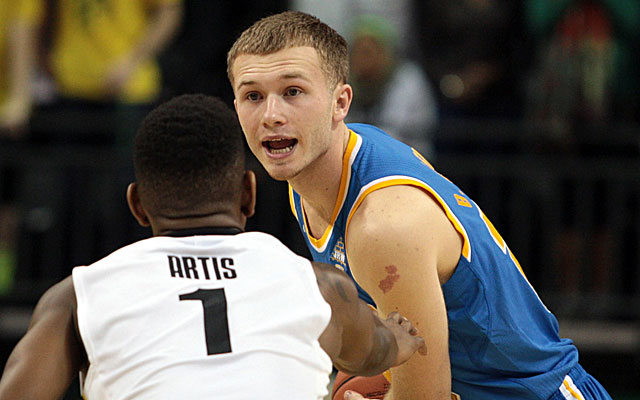 Pitino appeared on ESPN to discuss his ousting and the lie detector test he passed

The subpoenas are related with the FBI's ongoing investigation into corruption within the...

College basketball's recruiting scandal rocks Louisville again
Pitino was fired from his post as Louisville coach for helping funnel money to players

The seats of the winners who cut corners are hotter than the losers who do it right.

Good news for Huskies, Bonnies, Aggies, Tigers, Sooners and more.