NCAA Tournament Observations: Kentucky on a roll, much like 2011
Three years ago, Kentucky struggled in SEC play but got it together in the postseason for a run to the Final Four. Does that sound familiar?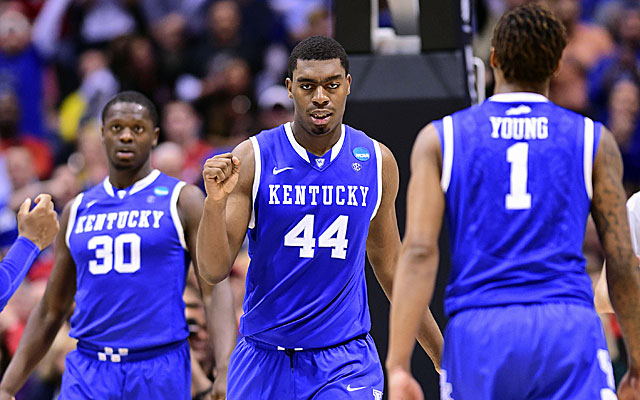 More NCAA hoops: Tournament bracket | Complete coverage of NCAAs | Latest news
1. Kentucky is on the same type of trajectory as it was in 2011 when it reached the Final Four with Brandon Knight, Doron Lamb and Terrence Jones.
Three years ago the Wildcats struggled throughout the SEC portion of the schedule and lost several games on the road but peaked during the NCAA Tournament when it played teams on a neutral court. The same thing is happening with this team. John Calipari's squad has now beaten Wichita State and Louisville in back-to-back games and is one win away from reaching the Final Four for the third time in four years. That's an incredible accomplishment considering how this team was struggling a few weeks ago. Calipari is the best recruiter in the history of college basketball but he's showing again that he's one hell of a coach, too. Kentucky's come-from-behind win over Louisville on Friday night in the Sweet 16 will go down as one of the best wins of Calipari's career. The Wildcats had five freshmen on the floor the majority of the game and didn't get anything out of Willie Cauley-Stein because he left the game early with an ankle injury. Kentucky plays Michigan on Sunday in the Elite Eight. 
2. Michigan State will play a virtual road game against UConn on Sunday in the Elite Eight at Madison Square Garden.
The Spartans survived Friday night against a very good Virginia team but Sparty will be severely tested on Sunday against UConn in what will be almost equivalent to a road game. The Huskies are always well represented by their fans at the World's Most Famous Arena, and that will again be the case Sunday. Michigan State will have a distinct advantage in the frontcourt but UConn's two dynamic guards -- Shabazz Napier and Ryan Boatright --- pose a serious matchup problem for the Spartans. This will be a heavyweight battle between two of college basketball's bluebloods for a chance to go to the Final Four.
3. Zak Irvin adds a different dimension to Michigan when produces off the bench.
And that's exactly what happened Friday night against Tennessee. The 6-foot-6 freshman scored 9 points in 11 minutes in the Wolverines' 73-71 win over Tennessee. Irvin completely extends the defense with his shot making ability. Michigan's staff has told me all season that Irvin has the "emerald green light" when he gets on the floor, and it's easy to see why when he gets in a rhythm. The Indiana native is a typical John Beilein style wing with terrific length and deep range. Irvin has made 58 3-point shots this season and is shooting better than 40 percent from long range.
4. A trip home to New York brought out the best in UConn freshman Terrence Samuel.
The Huskies' first-year floor general had a big hand in his team's 81-76 win over Iowa State on Friday at Madison Square Garden. Samuel -- who attended South Shore High School in Brooklyn -- played 23 minutes against the Cyclones and tallied 10 points, 2 assists, and no turnovers in 23 minutes off the bench. Napier and Boatright combined for 35 points against Iowa State, but Kevin Ollie's team wouldn't have advanced to the Elite Eight without Samuel.
5. It's hard to see Zach LaVine having an impact next year in the NBA when he couldn't have an impact in the NCAA Tournament.
The 6-5 combo guard has limitless potential and he displayed that various times throughout his freshman season at UCLA. But let's be honest here, the facts are the facts. LaVine scored a total of 6 points in the Bruins' two NCAA games and only tallied double figures twice during March. NBA scouts love LaVine's upside but his present would be best served by spending next season in Westwood instead of leaving college early for the NBA. I'm well aware that it's very difficult to pass up guaranteed money if you're a first-round pick, but the prognosis for LaVine beyond his first NBA contract is very much up in the air after this decision.
A revamped Erwin Center is part of a $4.25 million upgrade to the Longhorns' hoops facilit...

Nov. 10 will be here before you know it so here's what you need to know

The league would be wise to treat that series like the ACC treats Duke-North Carolina
Pacific is penalized after the NCAA found academic rules were broken

Arizona, for no good reason, doesn't have to play at USC or UCLA this season

We look at the 'Major 7' leagues and give you the best of what's to come in conference play...