NCAA tournament viewing guide for Friday
There is plenty of action to give you another 12 jam-packed hours of hoops on Friday.
• 4 min read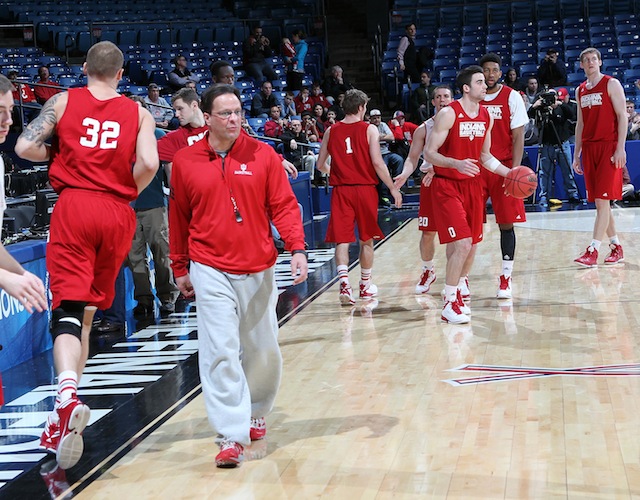 Thursday got off to a fairly slow start, with only a couple of must-watch games during the early hours. However, as the first day of the Round of 64 progressed, we saw two No. 12 seeds win their first games -- as well as No. 14-seeded Harvard get its first-ever NCAA tournament win. What does Friday have in store? Hopefully the momentum of the evening and night games will carry over.
Here's a look at the when, where and what to watch:
Albany vs. Duke, 12:15 p.m. ET (CBS), Philadelphia -- Will we see the Blue Devils lose to a No. 15 seed for the second year in a row? It's doubtful, but congrats to the Great Danes on going from a No. 4 seed in the America East tourney to an NCAA bid. 
Ole Miss vs. Wisconsin, 12:40 p.m. ET (TruTV), Kansas City -- I couldn't think of two more different entities than Wisconsin and Marshall Henderson, and they'll be going against each other on Friday. What does Bo Ryan have up his sleeve for Henderson? 
Temple vs. NC State, 1:40 p.m. ET (TBS), Dayton -- Khalif Wyatt is going to get his on the offensive end, but he will have to be efficient against NC State. Meanwhile, which NC State team shows up? If the Wolfpack are to win, they need to bring it defensively.
Pacific vs. Miami, 2:10 p.m. ET (TNT), Austin -- Bob Thomason didn't want to end his career in the Big West tourney, so the Pacific head coach has at least one more game. Miami could use a solid game from Reggie Johnson to get his confidence back.
Cincinnati vs. Creighton, 2:45 p.m. ET (CBS), Philadelphia -- Two completely different teams go at it. Cincinnati will try to grind it out and rely on its defense, while Creighton looks to outscore teams. Whichever team wins the tempo battle could get the win.
La Salle vs. Kansas State, 3:10 p.m. ET (TruTV), Kansas City -- La Salle put on a clinic against Boise State on Wednesday, but Kansas State is a completely different animal. Can the Explorers continue their hot-shooting performance from the perimeter?
James Madison vs. Indiana, 4:10 p.m. ET (TBS), Dayton -- James Madison has been on a roll lately, but that likely won't matter against Indiana. The Hoosiers are arguably the most complete team in the tournament, and start their march to the Final Four.
Colorado vs. Illinois, 4:40 p.m. ET (TNT), Austin -- A popular 10-over-7 upset pick, a lot will depend on what Illinois gets from Brandon Paul. If he goes off, the Illini will win. Colorado can counter with several weapons, namely Spencer Dinwiddie and Askia Booker.
Florida Gulf Coast vs. Georgetown, 6:50 p.m. ET (TBS), Philadelphia -- We've seen Georgetown get bounced early in recent NCAA tournaments, but a 15-over-2 would be another level. FGCU has beaten Miami already this year, though.
Iona vs. Ohio State, 7:15 p.m. ET (CBS), Dayton -- Iona is another No. 15 seed that has some solid talent, but Ohio State is on a roll and could have another Final Four run in it. The battle between Momo Jones and Aaron Craft should be interesting to watch.
Villanova vs. North Carolina, 7:20 p.m. ET (TNT), Kansas City -- Both teams play with only one true big man, so the individual matchups in this one could be fun. Look for the freshman point guard showdown between Marcus Paige and Ryan Arcidiacono to be a factor.
Northwestern State vs. Florida, 7:27 p.m. ET (TruTV), Austin -- As long as Florida doesn't get into a close game, the Gators might be the best team in the country. Northwestern State is fun to watch, but it doesn't have the athletes to compete with Florida.
Oklahoma vs. San Diego State, 9:20 p.m. ET (TBS), Philadelphia -- The Mountain West really struggled on Wednesday/Thursday, going 1-3, so San Diego State will look to regain some respect for the league. Oklahoma was going the wrong direction down the stretch.
Iowa State vs. Notre Dame, 9:45 p.m. ET (CBS), Dayton -- This one should be fun. Notre Dame has the size edge down low, but Iowa State will look to bring Jack Cooley away from the basket. On the other side, the Cyclones need to knock down their 3-pointers.
Western Kentucky vs. Kansas, 9:50 p.m. ET (TNT), Kansas City -- No. 1-seeded Kansas, playing in Kansas City against a team that went 10-10 in the Sun Belt -- yeah, this won't be pretty. It will be interesting to see how Ben McLemore plays in his first tourney game, though.
Minnesota vs. UCLA, 9:57 p.m. ET (TruTV), Austin -- Does the loser of this one last until the end of the month? Shoot, does the winner? Both Ben Howland and Tubby Smith are fighting for their coaching lives, and both are facing issues: Minnesota has lost 11 of its last 16, while UCLA lost second-leading scorer Jordan Adams. 
Northern Colorado will be on probation through 2020 due to academic and recruiting violati...

You might not see a projected NCAA Tournament bracket quite like this one anytime soon

The Wildcats, once written off after a three game skid, appear poised to enter Pac-12 play...
The Ducks are riding a three game winning streak yet are slight underdogs against the Bulldogs...

The Hurricanes are one of only a handful of unbeaten teams left in college hoops

The Bearcats are fresh off a convincing win over previous unbeaten Mississippi State