New Faces, New Places: Chris Collins, Northwestern
The Wildcats of Northwestern have a new coach, former Duke assistant and Chicago native, Chris Collins. Is an NCAA tourney bid finally near?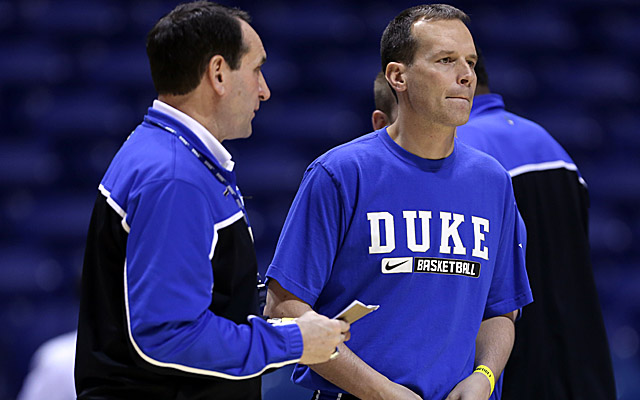 This is the sixth in a three-week-long series taking a look at the biggest coaching changes this offseason. PREVIOUS: Andy Enfield, USC | Steve Alford, UCLA | Eddie Jordan, Rutgers | Craig Neal, New Mexico | Joe Dooley, Florida Gulf Coast
Why he's here: Bill Carmody couldn't get the Wildcats to the NCAA tournament for the first time in program history. He got close, but wasn't able to get over the hump. Northwestern went to four consecutive NIT's before finishing 13-19 last season and 4-14 in Big Ten play. That was enough for the administration to decide to go in a different direction. Carmody left with a 192-210 overall record.
Vital Info: NU's Chris Collins
Age: 39
Terms of contract:Seven years, $10 million
Previous head coaching experience: N/A
Record as head coach: N/A
NCAA tournament appearances: N/A
What's gone: Northwestern lost its leading scorer from last season in senior guard Reggie Hearn (13.4 ppg) and also fifth-year senior forward Jared Swopshire, who averaged 9.7 points and 6.7 rebounds after transferring in from Louisville. Wildcats senior guard Alex Marcotullio (5.2 ppg) also graduated.
What's left: Drew Crawford returned despite being courted by other programs to play his final season. The senior forward averaged 13.5 points through the first 10 games a year ago before suffering a season-ending torn labrum. His return will be a major boost to Collins in his first season at the helm. Collins will also get JerShon Cobb back after the 6-foot-5 wing missed all of last season due to academics. The Wildcats also have a veteran point guard in junior Dave Sobolewski, 7-footer center Alex Olah, who started 29 games as a freshman and averaged 6.1 points and 4.1 boards, sophomore combo guard Tre Demps -- who started nine games last season and averaged nearly eight points per contest -- and reserve forward Kale Abrahamson.
New faces: Collins is smart. He hasn't taken guys just to fill out his roster. He'll honor the commitment of skilled 6-foot-7 shooter Nate Taphorn, who committed to Carmody. But that's the only new face coming into the program for the 2013-14 campaign. He's saving his scholarships in an attempt to get guys who help him take the program to the next level, rather than just grabbing bodies at this late date.
Staff: Collins retained Tavaras Hardy, who played at the school from 1998-2002 and did a nice job helping Carmody land quality talent in his eight seasons on the staff. He also hired another former player at Northwestern in Patrick Baldwin, who was a standout point guard in the 1990s and spent the last two seasons as an assistant under Paul Lusk at Missouri State. He was also an assistant at Loyola-Chicago for seven years, and like Hardy, has strong ties in Chicago and throughout the Midwest. The final hire is expected to be Brian James, who coached Collins at Glenbrook North High years ago and has spent 13 seasons as an NBA assistant coach, many of them alongside Collins' father, Doug.
How they'll play: Faster. More wide-open. Tougher. The Princeton offense is history, and now Collins will focus on trying to bring a tough, hard-nosed mentality to Northwestern. He'll tailor the system to his personnel, but expect the Wildcats to get out, attack and run more.
Program resources: The support doesn't stack up with the elite programs, in terms of financial resources and facilities. Many would argue that the facilities are at the bottom of the league. However, Collins can obviously sell academics, playing time and the Big Ten. Another huge key for Collins will be drumming up student support in order to help fill the 8,500-seat arena.
Why it could work: Collins has deep roots in the Chicago area, has been coached and tutored by arguably the best coach in the history of the game, and fits the academic profile of Northwestern after his time playing and coaching at Duke. Collins also wants to be in Evanston. He'll bring a breath of fresh air into the program, will get out in the community, is a strong recruiter and should be able to take advantage of his background -- both locally and as a player/coach under Mike Krzyzewski.
Why it might not: No one has taken the program to the NCAA tournament. There have been some pretty good coaches that have come through Evanston. Bill Foster was 54-141, Tex Winter left with a 44-87 mark, the late Ricky Byrdsong was 34-78 and Kevin O'Neill departed with a 30-56 record. In fact, 11 straight coaches have left with a losing mark. It's a difficult job, due to a lack of tradition, difficult academic standards and a lack of support -- from fans and the administration.
Prognosis for success: I loved this hire. Collins gets it and should end Northwestern's 75-year streak of not getting to the NCAA tournament. Remember, he doesn't have to beat Michigan State, Indiana or Ohio State to go dancing. He needs to find a way to get into the sixth spot or even seventh spot -- and that means finishing in front of the Penn State's, Nebraska's, Purdue's, Minnesota's and Iowa's. That's certainly reasonable -- and should happen with Collins at the helm.
Southern California also helped its NCAA Tournament selection hopes

The Cornhuskers, UCLA and NC State all look to improve their NCAA Tournament resumes

Our advanced computer model simulated Sunday's Wisconsin vs. Michigan State game 10,000 ti...
Knox dropped 21 points to lead the Wildcats to a win over Missouri

SportsLine's advanced computer model simulated Sunday's Tulsa vs. Cincinnati game 10,000 t...

Graham was so good on Saturday vs. Texas Tech, he's got a case for Big 12 Player of the Ye...