New Faces, New Places: Craig Neal, New Mexico
After being Steve Alford's right-hand man, Craig Neal is taking over the New Mexico program with Alford going to UCLA.
• 5 min read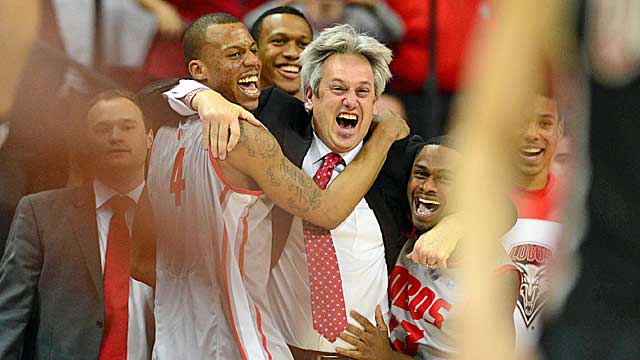 This is the second in a three-week-long series taking a look at the biggest coaching changes this offseason. PREVIOUS: Joe Dooley, Florida Gulf Coast
-- Why he's here. Neal's longtime friend, Steve Alford, doubled back on his commitment to New Mexico. Less than two weeks after agreeing to a 10-year contract to stay on as Lobos coach, Alford took the UCLA job. That opened up the opportunity for Neal (nicknamed "Noodles"), who many saw as the natural, no-brainer pick to succeed Alford.
-- What's gone. Transfer-wise, the Lobos lose Demetrius Walker, who's graduating and seeking fifth-year transfer eligibility, and Kory Alford, Steve's son, who's naturally making the move with dad to UCLA. The big hit will be Tony Snell, a junior forward and athletic freak who's entered his name into the NBA Draft.
Vital Info: New Mexico's Craig Neal
Age: 49
Terms of contract: Five years, $3.75 million (with incentives)
Previous head coaching experience: None
Record as head coach: N/A
NCAA tournament appearances: 0
NCAA tournament record: 0-0
-- What's left. This was a big short-term benefit to bringing Noodles in. As the associate head coach in recent years at UNM, he's been vital in recruiting. The guys on the team know him well, and he's built the foundation with them. So getting Kendall Williams back, as a senior, will be huge. Hugh Greenwood will be a junior guard with impact, and 7-footer Alex Kirk -- who had a breakout season in 2012-13 -- will fit in as the third big piece. Cameron Bairstow, who started every game last season, will also be in the fold -- and be a senior.
-- New faces. Two transfers that sat out 2012-13 will be in the mix next season. Merv Lindsay is a sophomore tweener from Kansas who averaged 0.9 ppg while with Bill Self. He's listed at 6-7, so that alone should signal good things. New Mexico's thrived with longer players in recent years. Devon Williams is the other redshirt, but a freshman, who will see the floor next season. Also listed at 6-7, he's rangy and has athleticism. Deshawn Delaney committed in early May, and he was arguably the top junior college player left on the board.
-- Staff:
Lamont Smith. What Neal was to Alford, Smith will be to Neal. Only with Noodles, he directed the offense. Smith runs the defense, and Neal told me we can expect different styles on that end next season (which could get interesting because UNM was stout on that end last season). The 37-year-old coach will be coming over from the University of Washington. He's also previously served on benches at Arizona State, Santa Clara and St. Mary's.
Drew Adams. Adams, 28, played at Iowa -- which is where he got to know Alford and Neal. He's in his third year at New Mexico, getting promoted to assistant last season after his first year with UNM as director of basketball ops. That came on the heels of working a few years at Tennessee and Indiana as a grad manager and video coordinator, respectively. Adams is the guy who will be go-to for scouting reports and detail on opponents; he has an impressive background in it as is.
Craig Snow. In his first year as an assistant with New Mexico, the 34-year-old Snow is now the lead recruiter for the Lobos. He played at Evansville under Jim Crews in the '90s/early 2000s, then had a turn in Europe playing pro ball. When he graduated, he was top-30 all-time in the Missouri Valley in points, field goals, field goal attempts and field goal percentage.
-- How they'll play. The offensive styles will be the same in large part because Neal ran the offense in recent years for the program. UNM played 88.4 percent of its possession in the half-court, according to Synergy Sports data. More than anything, the team looks for spot-up jumpers, accounting for really half of the team's points/possessions. UNM was streak with its shooting last year, though. Some tweaks might have to be made if the Lobos have any shot of coming close to that No. 3 seed accomplishment again. For example, Kirk got better, and I think post options on the block should be prevalent next year. On defense, Smith will be implementing more trapping schemes and presses, Neal said. Expect the Lobos to toss chaos into the equation a little more next season.
-- Program resources. Within the Mountain West, New Mexico is set up pretty well. The Pit had a massive overhaul/renovation two years ago that was a much-needed improvement. If you were to power-rank out the league in terms of overall appeal, strength and opportunity, New Mexico is a top-two job, no question.
-- Why it could work. Neal is an affable, eager and smart guy who seems the perfect fit for this program. We have no idea if the Lobos will find the same/better success under him the next five years as it had the previous five under Alford, but Neal seems a guy that could be satisfied with making this job his only one as a head coach. He could be there the next 15 years so long as the program wins in the big picture.
-- Why it might not. Neal is the 20th head coach in program history, and any time you've got a program that's hired at least 20 coaches, that signals some uncertainty in historical terms. It's not a bad thing -- it's just pragmatics. And the league is tough. New Mexico's a good program that makes the league better whenever it's in the mix for an NCAA tournament bid, but it feels like the Mountain West is entering a vicious cycle of really good basketball that could prevent any one program from lording over the rest.
-- Prognosis for success. I think New Mexico remains relevant and makes the NCAA tournament three out of the next five years under Neal. This was the right hire. He deserves the shot, the players love him, and he'll be a change of pace for that program that, frankly, might have been needed.
Neither the Bearcats nor the Bruins have a top-60 KenPom win, but that will change Saturda...

Northern Colorado will be on probation through 2020 due to academic and recruiting violati...

You might not see a projected NCAA Tournament bracket quite like this one anytime soon
The Wildcats, once written off after a three game skid, appear poised to enter Pac-12 play...

The Ducks are riding a three game winning streak yet are slight underdogs against the Bulldogs...

The Hurricanes are one of only a handful of unbeaten teams left in college hoops