New Faces, New Places: Eddie Jordan, Rutgers
There's a mess to clean up at Rutgers, and new head coach Eddie Jordan might be the man to do it.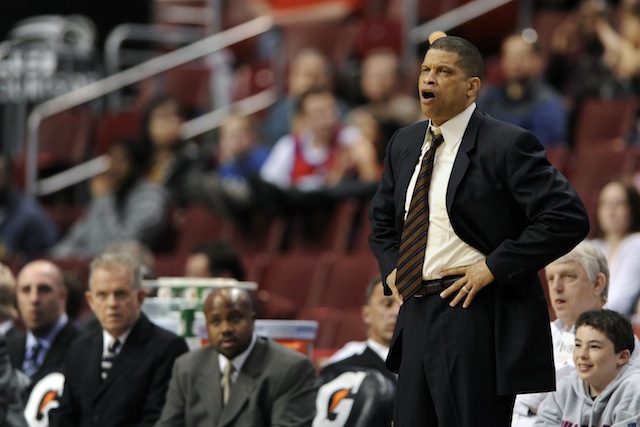 This is the third in a three-week-long series taking a look at the biggest coaching changes this offseason. PREVIOUS: Joe Dooley, Florida Gulf Coast | Craig Neal, New Mexico
-- Why he's here: Former Rutgers coach Mike Rice was fired after a video aired of him hurling basketballs at his players in practice. There was also verbal abuse. Rice was let go, and then athletic director Tim Pernetti was also forced out. After Rutgers couldn't persuade Dan Hurley to leave Rhode Island after just one season, "Fast Eddie" was brought back to campus. 
Vital Info: Rutgers' Eddie Jordan
Age: 58
Terms of contract: Five years, $6.25 million
Previous head coaching experience: Sacramento Kings (1996-98), Washington Wizards (2003-09), Philadelphia 76ers (2009-10)
Record as head coach: 257-343 (NBA)
NCAA tournament appearances: N/A
NCAA tournament record: N/A
-- What's gone: There was a mini-exodus following the dismissal of Rice. Five players transferred, including sophomore guard Eli Carter, who landed at Florida. Jerome Seagears is headed to Auburn, Mike Poole to Iona and two more guys who rarely played -- Derrick Randall and Vincent Garrett -- are also history. So are seniors Dane Miller and Austin Johnson. It'll be interesting to see if the kids who left are allowed to play immediately due to the circumstances of their departure. 
-- What's left: The 58-year-old Jordan still has a few quality pieces, led by guard Myles Mack, who averaged 13.6 points per game. He also has a couple of big men in Wally Judge and Kadeem Jack. Judge is a former highly touted recruit who has failed to live up to expectations, and averaged 7.1 points and 5.4 rebounds last season. Jack is a developing front-court guy who put up 5.7 points and 4.7 boards last season in about 18 minutes per contest. 
-- New faces: Jordan and his staff will bring in former Bishop O'Connell power forward Junior Etou, the cousin of Oklahoma City Thunder big man Serge Ibaka. Jordan also signed former UTEP point guard D'Von Campbell, who spent last season at Hutchinson Community College, and also re-recruited junior college wing Craig Brown -- who had committed to Rice. 
-- Staff: Jordan, who helped lead Rutgers to the Final Four way back in 1976 as the team's star point guard, retained both David Cox and Van Macon.
Cox had been the associate head coach for Rice since 2010 and also made stops at Georgetown and Pittsburgh. His strength is in the D.C./Maryland area dating back to his time as an AAU coach with D.C. Assault.
Macon's ties are primarily in the New York area. He came to Rutgers three years ago after nine seasons as an assistant at Hofstra.
Jordan still has to hire one more assistant, and don't be surprised if it's not someone with NBA experience. 
-- How they'll play: Jordan has said he's not quite certain yet what style he'll use, but expect Princeton principles to be in the equation. He's also familiar with pick-and-roll offense from his time in the NBA and played up-tempo back when he was known as "Fast Eddie" as a player for the Scarlet Knights. 
-- Program resources: They certainly don't stack up to most of the schools in the Big Ten. Not in terms of budget. The fan support is there, even when the program is just mediocre. In fact, the RAC -- a facility that opened in 1977 and holds about 8,000 -- is one of the better home-court advantages around. 
-- Why it could work: Normally, I'd be skeptical about a former NBA head coach coming to the college ranks -- especially one who hasn't been at this level for so long. However, Jordan played at Rutgers and also realized how difficult the task at hand was when he signed up. I'm not certain he'll be a grinder, but what he can sell is what every kid wants these days: Playing time and the NBA. Rutgers has immediate playing time available for recruits, and Jordan can position himself as someone who knows what it takes to play at the highest level. 
-- Why it might not: There's not much recent evidence to suggest that Rutgers is a program that can compete nationally. The last time the program went to the NCAA tournament was 1991. Kevin Bannon, Gary Waters, Fred Hill and Mike Rice all failed to get Rutgers back to the NCAA tourney. Jordan's task isn't easy with the recent public issues that the program has dealt with, along with the fact that the New York metropolitan area just hasn't produced talent in recent years as was the case in the past. The school is also headed to the Big Ten -- and Jordan will have to deal with the likes of Michigan State, Indiana, Michigan, Ohio State, Wisconsin, etc. 
-- Prognosis for success: Jordan will certainly improve the program. Then again, it's at rock bottom. Rice was 44-51 in his three seasons at the helm, but he did a decent job of recruiting. The issue, though, is that Rutgers has a steep hill to climb -- especially in the Big Ten. Can it compete with the Nebraskas, the Penn States of the league?  Sure, but that still makes you irrelevant nationally. 
Neither the Bearcats nor the Bruins have a top-60 KenPom win, but that will change Saturda...

Northern Colorado will be on probation through 2020 due to academic and recruiting violati...

You might not see a projected NCAA Tournament bracket quite like this one anytime soon
The Wildcats, once written off after a three game skid, appear poised to enter Pac-12 play...

The Ducks are riding a three game winning streak yet are slight underdogs against the Bulldogs...

The Hurricanes are one of only a handful of unbeaten teams left in college hoops