New Faces, New Places: Joe Dooley, Florida Gulf Coast
After FGCU said farewell to Andy Enfield, the Eagles look to Kansas assistant Joe Dooley as his successor.
• 4 min read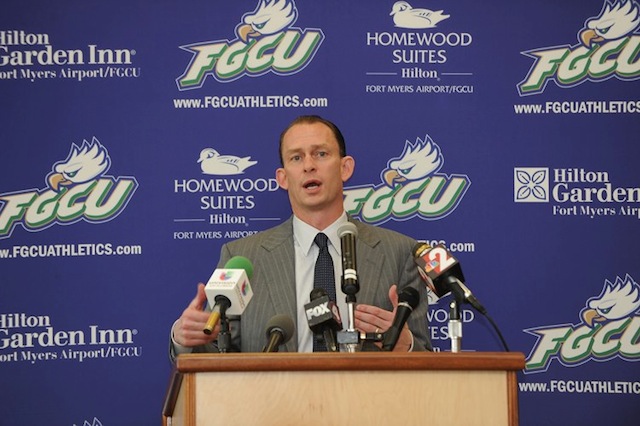 This is the first in a three-week-long series taking a look at the biggest coaching changes this offseason. 
-- Why he's here. Andy Enfield made a Sweet 16, USC came calling, and so there we go. Dunk City needed a new mayor, and Joe Dooley was the dude who got on the dial. 
-- What's gone. The graduating player that will leave a big hole to fill: Sherwood Brown. He was among the Atlantic Sun's best last season and helped lead the charge in March to the Sweet 16.
Vital Info: FGCU's Joe Dooley
Age: 47
Terms of contract: Five years, $1.25 million (with incentives)
Previous head coaching experience: East Carolina (1995-1999)
Record as head coach: 57-52
NCAA tournament appearances: 0
NCAA tournament record: 0-0
Brown and Eddie Murray -- who was a leader in the locker room -- are the only seniors who move on. But the coaching change did lead to two transfers, both of them guards. Alex Blessig left for Rollins College, while Christophe Varidel is going way west, out to D-II Chaminade, in Hawaii. 
-- What's left. Lots. Point guard Brett Comer will be a junior, and he's vital. Bernard Thompson, Chase Fieler and Eric McKnight are all starters coming back. The depth of this team from last season will ease the transition for next.
-- New faces. FGCU will have two redshirt transfers that will make an impact. Nate Hicks, formerly of Georgia Tech, is a big man with good touch and is set up to succeed at this level. Former Marquette guard Jamail Jones should step in and contribute right away now as well. Jones is 6-foot-6 and, like Hicks, tailor-made to succeed at this level. 
-- Staff:
Marty Richter. The 36-year-old Richter specializes in talent evaluation. He actually took time between coaching jobs to cover and scout high school players for ESPN.com, from 2009 through 2011. Richter was named the interim coach while FGCU conducted its search that led to Dooley.
Michael Fly. Fly, who will be 30 at the end of the month, is in his third season with FGCU. He specializes in scouting, having previously done video coordinating for three season at Florida State, before going to FGCU in 2011. The FGCU staff -- as is the case at a lot of smaller schools -- is comprised of younger guys.
(Dooley is still waiting to name a third assistant.)
-- How they'll play. All that fun 'n' gun 'n' dunk that made FGCU's Sweet 16 run so memorable will return, for the most part. Dooley said he's not going to deny the players on this team that had success playing in Enfield's style to be stifled with a complete change of pace. FGCU scored in transition on more than 20 percent of its possessions last year. That's a big number. It might take a small dip, but nothing too massive. Defensively, it was a different scenario in that FGCU didn't invite the constant up-and-down tempo. They like to lock teams in a 35-second-shot-clock game, and so that's probably going to remain pretty consistent with Dooley taking over.
-- Program resources. Amazingly, Dooley told me other coaches in the league consider FGCU to be a top-three job in the Atlantic Sun. Reminder: Gulf Coast joined the A-Sun in 2007. It's been quite a rise. There's room right now, too. The team has three open scholarship spots for next season, but Dooley's going to intentionally redshirt two of those because he wants to have fresh and experienced bodies two years down the road, when the current crop graduates.
-- Why it could work. This is a takeover job; it's not a complete overhaul of the program. Dooley will use what worked last year and incorporate a lot of the success he had/learned from Bill Self at Kansas for the past 10 years, which led to 15 Big 12 titles, whether regular season or conference tournament.
-- Why it might not. Dooley has been a head coach before, going 57-52 in four years at East Carolina, back when he was a younger guy in the late '90s. And FGCU has no proven history of being able to win long-term. This remains a good story and Dunk City now has a brand, a TV appeal that will last for a while, certainly.
-- Prognosis for success. I think it's a tough call. I think Dooley was smart to take the job, I think in the short-term we could see FGCU continue to roll, and at the very least have two more seasons of 20 wins or more. Beyond that, it's a matter of how the program can take being a targeted big fish in a little pond of a league. It's a fool's errand to predict any small-league school to consistently make NCAA tournaments, but put it like this, if Dooley coaches FGCU so well that it lands him a bigger job, it's a clear-cut success. I think the chances of that are above 50-50.
CBS Sports HQ Daily Newsletter
Get the best highlights and stories - yeah, just the good stuff handpicked by our team to start your day.
Please check the opt-in box to acknowledge that you would like to subscribe.
Thanks for signing up!
Keep an eye on your inbox for the latest sports news.
Sorry!
There was an error processing your subscription.
Gary Parrish and Matt Norlander discuss the Top 25 (and one) and latest NBA Mock Drafts

Konate's defiant defensive artistry should keep the Mountaineers near the top of the Big 1...

Maye averaged 16.9 points and 10.1 rebounds as a junior for the Tar Heels last season
Louisville must turn over all documents related to its self-imposed 2016 postseason ban

Detroit, Delaware State and Chicago State have been without a permanent person in charge of...

Villanova, which is expected to lose four starters, is No. 7.