New Faces, New Places: Richard Pitino, Minnesota
Minnesota fired Tubby Smith and replaced him with Rick Pitino's son, Richard Pitino. Will the gamble pay off?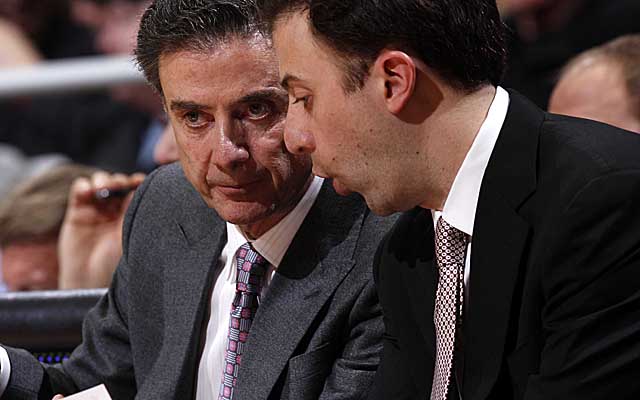 This is the seventh installment of a three-week-long series looking at the biggest coaching changes. PREVIOUS: Andy Enfield, USC | Steve Alford, UCLA | Eddie Jordan, Rutgers | Craig Neal, New Mexico | Joe Dooley, Florida Gulf Coast | Chris Collins, Northwestern
Why he's here: It became clear, when Minnesota hired athletic director Norwood Teague from VCU in April 2012, that Tubby Smith would be in trouble at some point, and probably sooner rather than later. Teague, you see, had a history (and good track record) of hiring young up-and-comers, most notably Shaka Smart, and common sense suggested he'd want to try to at Minnesota, too. So it wasn't that big of a surprise when Teague fired Smith in March, after a trip to the Round of 32 of the NCAA tournament, and settled on a young head coach. Richard Pitino wasn't the first choice. But he was the final choice.
What's gone: Pitino inherited a roster set to lose Trevor Mbakwe and Rodney Williams, no matter what, because both seniors have exhausted their eligibility. That's a combined 20.1 points and 13.7 rebounds out the door. But another blow came last week when the school announced Joe Coleman, a 6-foot-4 guard with two seasons of eligibility remaining, will transfer, because that means the Gophers will now be without three of their top five scorers (and three of their top four rebounders).
What's left: Andre Hollins and Austin Hollins -- both of whom are from Memphis (but completely unrelated) -- each return, which will give Pitino one of the best backcourts in the Big Ten. The better of the two is Andre Hollins, who averaged 14.6 points, 3.7 rebounds and 3.4 assists this season while shooting 41.6 percent from the field, 41.8 percent from 3-point range and 80.6 percent from the free throw line. The other Hollins is the son of Memphis Grizzlies coach Lionel Hollins. He averaged 10.7 points, 3.2 rebounds and 2.6 assists per game while shooting 40.5 percent from the field.
New faces: Pitino got the Minnesota job and was able to lure his second-leading scorer from Florida International -- Malik Smith. The 6-foot-2 guard averaged 14.1 points per game this season for the Sun Belt school and will be eligible immediately. That's big ... but it won't solve any of Minnesota's problems in the frontcourt, especially considering the other two signees -- Deandre Mathieu and Daquein McNeil -- are both also guards.
Staff:
Dan McHale: This Kentucky graduate once worked for Rick Pitino at Louisville, which explains the connection between he and Richard Pitino. More recently, McHale was on Kevin Willard's staff at Seton Hall for the past three seasons. He's also worked at Iona.

Kimani Young: This UTEP graduate is the one full-time assistant Pitino brought with him from FIU. Young has strong ties to the New York area and has done a nice job rebuilding his reputation after a felony drug arrest detoured his life more than a decade ago. Teague, among others, deserves credit for trusting and allowing Pitino to bring Young to Minnesota even though he knew he'd have to answer questions about the assistant coach's background.

How they'll play: How would you expect Rick Pitino's son's team to play? Granted, the style won't exactly duplicate Louisville's style, if only because Pitino doesn't have the proper personnel. But his Gophers will play faster than Smith's Gophers ever played, which will be a welcomed adjustment by the Minnesota fans, I'm assuming.
Program resources: There's good enough talent in the state for Pitino to excel if he capitalizes, point being that Class of 2014 in-state stars Tyus Jones and Rashad Vaughn could be program-changing guards. Either way, Minnesota needs a facilities upgrade. Smith literally talked about this after what ended up being his final game at Minnesota, telling TwinCities.com "we have to do the things we need to do to compete with everybody else. That's for certain." So, yeah, the coach has changed. But the need for a practice facility has not. Pitino must at least be able to show recruits a bulldozer on campus that's building something as nice as what other Big Ten programs have already built.
Why this could work: The best reasons to be optimistic revolve around believing in Teague's track record of good decisions, and in Pitino's pedigree. These are two smart men, and one of them thought enough of the other to pull the trigger on this outside-of-the-box hire. So trust that. Long as Pitino recruits well enough, particularly in the state, he'll do well, I think.
Why this might not work: On some level it must be intimidating to be just 30 years old and realize you're coaching in the same league as Tom Izzo, Bo Ryan, John Beilein, Thad Matta and Tom Crean. So while some will point to Brad Stevens and Shaka Smart as examples of other young guys who have flourished, it should be noted they weren't thrown into the Big Ten at this age. The challenges facing Pitino are more daunting, and it's easy to envision a scenario where a young coach gets overwhelmed.

Prognosis for success: Regardless of the uncertainties, let the record show, I'm for this hire and think the possible reward outweighs any supposed risk. Smith is a good man and a fine coach, but the program had no buzz with him at the helm. Simply put, it was time for a change. And once you considered Smart wasn't coming to Minnesota -- and neither was Iowa State's Fred Hoiberg, who was also offered the job -- then Pitino makes as much sense as anybody. Now it's just a matter of getting the right players into place and turning Minnesota into a consistent threat in the top half of the Big Ten.
It appears he's more than happy to pay up, given the circumstances

Lithuania seems ready for the Ball era to begin

The Sun Devils make a big jump and the Jayhawks slide after ASU pulls the big upset
Arizona's big man from the Bahamas balled out against two talented teams

Coach Shaka Smart doesn't expect him to be out for an extended period of time

Jackson isn't showing the Sun Devils much respect after beating KU