New Faces, New Places: Steve Alford, UCLA
After firing Ben Howland, UCLA will turn to Steve Alford to bring the glory back to Westwood. Can he do it?
• 5 min read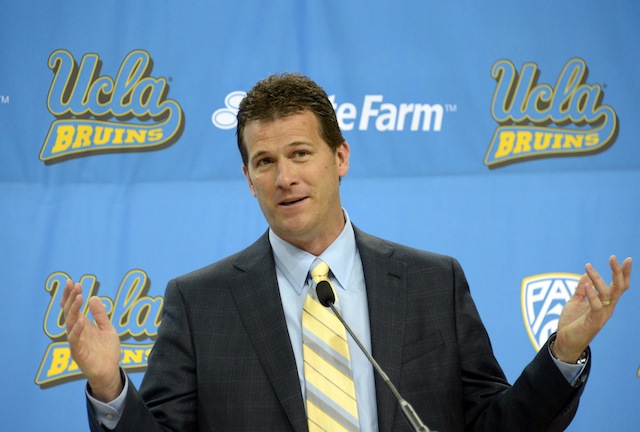 This is the fourth in a three-week-long series taking a look at the biggest coaching changes this offseason. PREVIOUS: Joe Dooley, Florida Gulf Coast | Craig Neal, New Mexico | Eddie Jordan, Rutgers
Why he's here: To the surprise of basically no one, UCLA fired Ben Howland after 10 seasons with the Bruins. He reached three straight Final Fours from 2006 to 2008, but the writing was seemingly on the wall for most of the season. Athletic director Dan Guerrero started a national search that included names like Shaka Smart and Brad Stevens being thrown around. Steve Alford had recently signed a 10-year deal with New Mexico -- but he couldn't turn down UCLA.
Vital Info: UCLA's Steve Alford
Age: 48
Terms of contract: Seven years, $18.2 million
Previous head coaching experience: Manchester (1991-95), Southwest Missouri State (1995-99), Iowa (1999-2007), New Mexico (2007-13)
Record as head coach: 463-235
NCAA tournament appearances: 7
NCAA tournament record: 5-7
What's gone: It starts with the loss of the team's leading scorer, freshman forward Shabazz Muhammad. He was the Bruins' primary offensive weapon, but he decided to leave Westwood for the NBA -- where he will likely be drafted in the lottery. Point guard Larry Drew II had something of a rebirth at UCLA, and there aren't any true point guards left to replace him. Allerik Freeman was part of a very good incoming recruiting class, but he decided to decommit and head to Baylor instead.
What's left: There is still plenty of talent at the top of the roster. Rising sophomores Kyle Anderson and Jordan Adams will be the focal points next season, with Anderson as a matchup problem and playmaker and Adams as the main scorer. Travis Wear and David Wear are both back in the frontcourt for their final seasons, too. Norman Powell has developed into a good defender, and he will see an increased role. Tony Parker also returns after pondering a transfer.
New faces: Zach LaVine highlights the incoming class. The 6-foot-4 combo guard is a very good scorer with deep range on his jump shot. He also has the ability to handle the ball, so he could be the de facto point guard in the lineup. Freeman would have helped on the perimeter, but he won't be in Westwood next season. Bryce Alford, the coach's son, can make shots and will see minutes off the bench. Noah Allen is versatile.
Staff:
Ed Schilling. Schilling is known as one of the best workout guys in the country, and he should certainly pay dividends in that department. He spent the last four seasons at Park Tudor High School (Ind.), where he coached Indiana's Yogi Ferrell and four-star junior Trevon Bluiett. He also has coached the Adidas Nations team and has plenty of relationships around the country. Schilling has coached under John Calipari at Massachusetts, Memphis and with the New Jersey Nets. He also was the head coach at Wright State from 1997-2003.
Duane Broussard. Broussard worked at New Mexico for the last five of Alford's 10 seasons there, the first three as the operations guys and the last two as an assistant coach. He was previously an assistant for six seasons at Bradley. He will provide some stability and familiarity for Alford on the coaching staff.
David Grace. Grace will spearhead the effort to keep the West Coast's best talent at home in Westwood. He comes to UCLA after spending five seasons at Oregon State, where he did a solid job of getting quality prospects from southern California and other locales. Grace has ties to various AAU programs, especially the Los Angeles-based Compton Magic. He has coached at different levels, including high school, AAU and then at Sacramento State and San Francisco. 
How they'll play: One of the biggest knocks on Howland was that he didn't play an up-tempo style -- until last season, when the Bruins ranked No. 30 nationally in tempo. If Alford's time at New Mexico is any indication, he certainly won't play faster. During six years with the Lobos, they never ranked higher than No. 122 in tempo -- including last season, when they were just No. 222. Alford's teams play very good halfcourt defense and rely offensively on getting to the free-throw line. They rebound and also knock down 3-pointers consistently.
Program resources: The Bruins obviously have one of the greatest legacies in the sport, winning 11 championships and going to 18 Final Fours. Pauley Pavilion was renovated recently and reopened at the start of last season. It now holds almost 14,000 people. There's support within the administration and the school, of course, but with that comes expectations. The fan base expects Alford to come in and win. 
Why it could work: Alford is set up to succeed in Westwood. He is familiar with the West Coast's recruiting scene, having recruited several players from southern California while he was at New Mexico. He has the name factor, and players know his game. Also, AAU and high school coaches have relationships with him, which obviously helps on the recruiting trail. No one has really questioned Alford's coaching acumen or ability to handle the pressure and limelight, so it's going to come down to getting players. And California certainly has a ton of them.
Why it might not: The two biggest knocks on Howland's latter years were his style of play and that he didn't make any noise in the NCAA tournament (after going to three straight Final Fours, of course). Alford hasn't exactly been too successful in the big dance, either, going 5-7 all-time and not making a Sweet 16 since he did it with Southwest Missouri State in 1999. As we mentioned earlier, he doesn't play an attractive, up-tempo style, either. Alford also got off to a rough start, dealing with a past incident involving former player Pierre Pierce. 
Prognosis for success: I think it's going to be hard for Alford not to succeed at UCLA. Do I think he's a better coach than Howland? Probably not. But Alford will be able to consistently get talent from southern California to stay home and become a Bruin, which is something that Howland failed to do on a regular basis. Moreover, there was too much attrition during Howland's latter years. Alford will find ways to get talented recruits into the fold -- and then keep them on the roster. He's a good coach, and he has proven he can win at various places. UCLA is obviously a step up, but Alford will win in Westwood, too. 
Cavaliers basketball coach tapes statement on behalf of his university and his city

Gary Parrish and Matt Norlander discuss all things Marvin Bagley and his immediate future

Which version of Grayson Allen will show up for Duke and other questions for every ranked...
Upon landing the nation's top recruit, Duke tops the list with other title contenders at the...

The presumptive No. 1 overall NBA Draft choice makes the Blue Devils 3/1 favorites to win it...

Commitment to Duke is the first step, but the next one is the biggest; here's what you need...