New Faces, New Places: Tubby Smith, Texas Tech
Texas Tech made a splash when it hired Tubby Smith as its next head coach -- but will Smith make an impact in Lubbock?
• 5 min read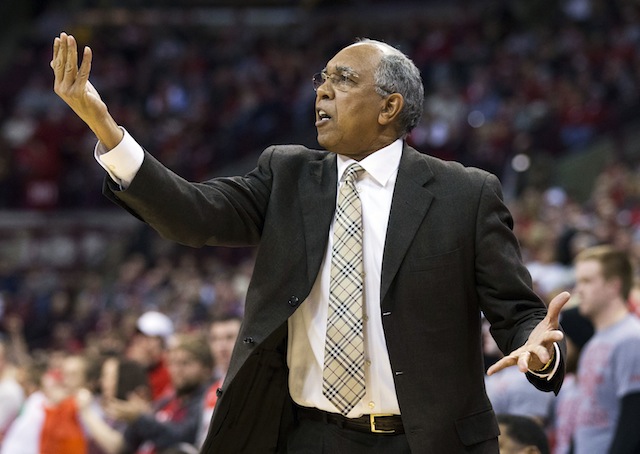 This is the seventh installment of a three-week-long series looking at the biggest coaching changes. PREVIOUS: Andy Enfield, USC | Steve Alford, UCLA | Eddie Jordan, Rutgers |Craig Neal, New Mexico | Joe Dooley, Florida Gulf Coast | Chris Collins, Northwestern | Richard Pitino, Minnesota
Why he's here: It was a combination of two things. First, former head coach Billy Gillispie resigned in September for "medical reasons." However, allegations surfaced in early September regarding Gillispie's mistreatment of players, coaches and other people in the program. Chris Walker was named the interim head coach, but he wasn't given the full-time job. The Red Raiders had an opening. Enter Tubby Smith. Smith was fired from Minnesota after getting bounced in the Round of 32 by Florida. He will be the fourth head coach at Texas Tech, since Bob Knight stepped down in 2007.
What's gone: The Red Raiders bring back most of their rotation, although starting guard Josh Gray decided to transfer to Odessa Junior College. He led the team in assists and steals, and was third in scoring. Another guard, Trency Jackson, decided to leave after 12 games and ended up transferring to Western Kentucky. Ty Nurse was the lone senior on the roster this past season.
What's left: Although Texas Tech struggled last season, it does bring back plenty of players who could be ready to increase the win total in Lubbock. Forwards Jaye Crockett and Jordan Tolbert lead the way, and they're a good starting point. They combine with Dejan Kravic down low to form a very solid frontcourt group. The backcourt does lose some parts, but Dusty Hannahs does return after averaging nearly seven points. Finding a consistent point guard will be key, with Daylen Robinson the main returnee at that position. Jamal Williams Jr., Toddrick Gotcher and Kader Tapsoba are also back.
New faces: Tubby has picked up two signees since taking the job. His first signee was guard Robert Turner, who averaged 9.8 points for New Mexico Junior College last season. He's a native of Georgia and can play two seasons for the Red Raiders. Smith also brought in Alex Foster, who committed to play for him while at Minnesota. Foster is a solid forward from Chicago who should find some minutes. Forward Aaron Ross redshirted last season after tearing his ACL in September. He hasn't played yet for Tech.
Staff:
Alvin "Pooh" Williamson: He was the first assistant coach brought onto the staff by Smith. Williamson was also the first recruit of Smith when he was the head coach at Tulsa. He was at TCU last season, SMU the season before -- and has also spent time at Texas A&M, Wichita State, Tulane, Illinois State and Washington State. Williamson has been an assistant at each of those stops, although he was the interim head coach for Tulsa during the second half of the 2004-05 season. He has plenty of ties in the Texas area, and won't be afraid to dive into junior colleges.
Joe Esposito: Esposito follows Smith from Minnesota, where Esposito was the director of basketball operations since 2007. Prior to that, Esposito was the head coach at Angelo State – a Division-II school in Texas. He knows the area well, and knows different aspects of the coaching position. Esposito, a New York native, has also been at Tennessee State and Assumption College.
Smith hasn't hired a third assistant yet.
How they'll play: Based on his past coaching stops, Smith's troops won't push the tempo much. At Minnesota, the Gophers ranked in the bottom half of Division-I in pace each of his six seasons. He was slightly faster at Kentucky, but not much. His teams are efficient at both ends of the floor, crashing the boards on the offensive end and sharing the ball. Defensively, they guard inside the arc effectively and protect the paint.
Program resources: The Red Raiders play in the 15,020-seat United Spirit Arena -- but they only averaged 7,853 fans at their home games in 2012-13. They have been up and down throughout most of their history, although James Dickey led them to a couple of good seasons, as did Bob Knight. They haven't made the NCAA tournament since Knight left, finishing below .500 in four of the last five seasons. Smith will need to renew enthusiasm. 
Why it could work: Smith is certainly a veteran coach who knows how to win -- he has yet to finish below .500 in any of his 22 seasons as a head coach. He's a well-known name nationally, and will bring some pedigree to the job. Smith has been able to win with lesser talent than league peers, and should be able to get players to buy in. Moreover, he has a national title under his belt and has won more than 500 games. 
Why it might not: Texas Tech is not an easy job. The Red Raiders are not known for getting elite recruits to Lubbock, and Smith isn't known as a grinder on the recruiting trail. Texas Tech has done a solid job of getting junior college players in the past; is Smith really going to start wading in the junior college waters on a consistent basis? There's a ton of talent in Texas, but Texas, Houston, SMU, Baylor and Texas A&M -- and national schools -- have all done a better job of getting those players.
Prognosis for success: First, I think Texas Tech did a good job in getting Smith. He's a national name and has a winning reputation -- there aren't many candidates the Red Raiders could have gotten who were better than Smith. With that said, I don't foresee too many winning seasons for Smith in Lubbock. It's a very difficult rebuilding job. He wasn't overly effective at getting top-notch prospects to Minnesota, even in-state ones, and I don't think it will change at Texas Tech. It's just not easy to get players to Lubbock. Given the fact that Smith isn't much of a recruiting grinder, that probably won't change in the next couple of years. 
The Blue Devils improved to 4-0 in an easy win vs. Southern.

If LiAngelo Ball didn't come from a famous family, we might think differently of him

Ball significantly downplayed President Trump's role in helping get his son back to the U....
Discussing the one-and-done rule -- plus Michael Porter Jr.'s injury and Billy Preston's c...

Even though he's scheduled to graduate in December, the NCAA still won't let Hayes play

The Wisconsin resident wasn't happy with how the Musketeers handled their win in Madison