New Year's resolutions: Requests for college hoops in 2013
It's time to shake off the hangover, get your life together and embrace the new year. There are things that need changing, trends that need reversing and disturbing habits that can no longer go unchallenged. I'm talking about college hoops, people.
• 7 min read
It's time to ask for a bunch of promises we're not sure can be kept. (AP)
It's time to shake off the hangover, get your life together and embrace the new year. There are things that need changing, trends that need reversing and disturbing habits that can no longer go unchallenged.
I'm talking about college hoops, people. It has been a good -- not great -- season so far. We've had a few surprises, but this sport could use a few promises made and kept. So let's play along with the spirit of the new year and toss out some resolutions that should be invoked and then honored. Your humble author does not consider himself above reproach, so I'll mix in a few declarations of my own. And chances are you can do a thing or two to improve things as well.
As happens with most resolutions, a majority of these will prove futile. Truth be told, I just hope we can make it to Jan. 10 with half of these.
Suggested resolutions:
•  The SEC should resolve to stop being so awful. The league is littered with bad non-con losses (Troy, Alabama A&M, Elon, Rhode Island, Winthrop, Marist, Youngstown State, Southern, Mercer) and also on the verge of falling to No. 9 in conference RPI. It's not going to be as bad as the Pac-12 of two years ago -- because the teams at the top (Missouri, Kentucky and Florida) are good. But in general the SEC is shaping up to be as bad in hoops as it is good in football.
•  NCAA president Mark Emmert should resolve to make good on thinning out the NCAA rule book and not make us wait another 365 days to do so. Chop, chop, already.
•  The four schools where Rick Majerus coached -- Marquette, Ball State, Utah and Saint Louis -- should resolve to schedule one another next season in memory of the man.
•  The Big 12 should resolve to do something about the Jayhawks winning the league every year. Sunrise, sunset, Kansas as Big 12 champs. It's enjoyable, but predictable. A little shakeup wouldn't hurt.
•  The Mountain West should resolve to send at least four teams to the 2013 NCAA tournament, because it has the horses to do just that. For those who haven't noticed yet, this is the trendy league for 2013.
•  Ben Howland should resolve to keep swallowing his pride and let this UCLA team play with the loose style it leans toward in order to keep winning.
•  Syracuse's Michael Carter-Williams should resolve to be the best player in the Big East -- because he'll probably wind up being the best pro out of the Big East this season.
Michael Carter-Williams has had a strong sophomore campaign so far. Can it get better? (US Presswire)
•  Louisville should resolve to never letting up on that pressure defense. The beautiful interruption that is Rick Pitino's press has made the Cardinals even more fun to watch this season. And with Russ Smith's untamed play and an improved offense, there's never a dull moment when tuning in for this team.
•  Russ Smith should resolve to remain true to himself. Only good things can come from that.
•  Butler should resolve to keep being Butler. You all know what I mean.
•  Duke should resolve to find some way to engage with the sports public again and become hateable. Is it me, or does it seem like since Duke wormed its way to that 2010 title, the team hasn't been all that disagreeable? (Austin Rivers doesn't count, since members of Duke's own team didn't exactly embrace him.) Also, Seth Curry -- stop being so adorable.
•  Lehigh, Creighton, Harvard, Indiana and Duke should resolve to continue lobbing bombs. These are, respectively, the five best 3-point shooting teams in the country.
•  All coaches who find themselves on the verge of a stroke should resolve to tone it down. Passion's fine. Passion is good. But blind rage toward others -- or the scorer's table -- in the throes of a game is, frankly, embarrassing.
•  Kentucky fans should resolve to take it easy should the Wildcats find themselves finishing third in the SEC, with a four seed, and failing to make the Sweet 16. I'm not saying that will or should happen. I'm just saying downward trends happen to most programs at some point. And the batch-of-freshmen experiment can work in most years, but 30-win seasons and Elite-Eights-or-better are not guaranteed to anybody.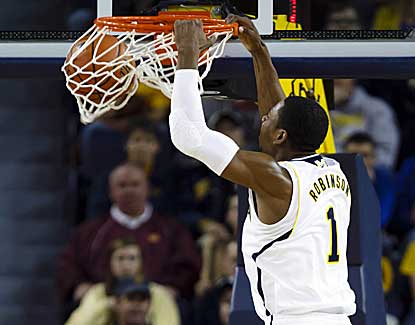 Glenn Robinson Jr. and Michigan have Final Four potential. (US Presswire)
•  Michigan should resolve to make a good storyline out of an anniversary year and make it to the Final Four this season, 20 years after Chris Webber's timeout killed the Wolverines' chances in the final seconds against North Carolina.
•  The NCAA basketball rules committee should resolve to eliminate live-ball timeouts and consider reducing the number of timeouts from five per half to three (two fulls and a 30). It's not that the game takes too long; it's that coaches should have to actually plan their breaks better and not be allowed multiple breathers in the final minutes of play. The worst thing about college and pro ball is how drastically different and micromanaged the game becomes if it's close and there are 90 seconds remaining.
•  The Missouri Valley should resolve to do better for its league and try to arrange a TV contract that puts its teams on our screens more often. Doug McDermott is having a fantastic season, and you're going to see him three times -- if you're lucky -- before the MVC title game.
•  The Catholic 7 should resolve to create a league that abides by what prompted them to leave the Big East to begin with. Keep it about basketball. That means a 10-team league, a true round-robin conference schedule with 18 games. It has worked for the Valley and the Pac-12 and now with the Big 12.
•  Jim Calhoun should resolve to step further and further away from the UConn program now that Kevin Ollie has his long-term deal.
•  UC Riverside should resolve to dedicate more practice time to shooting free throws. It's the worst team from the stripe in college hoops, shooting 51.7 percent. Vanderbilt needs the same dedication; its 58.6 clip is the worst among major-conference teams.
•  With it being the last true year of "Big Monday" as we know it, the Big East and Big 12 should resolve to give us another couple of classic doubleheaders.
•  The Big East tournament should resolve to give us something in the same vein, as this year signals the virtual end of that championship.
•  Gonzaga should resolve to not let us down in the NCAA tournament again and actually play its way to at least the Elite Eight. (It's only made it that far once, in 1999.)
•  Officials should resolve to only listen to the people who matter: their bosses. Refereeing is a tough gig, and refs get it right most of the time. Error is part of the game.
•  I should resolve to stop thinking fans will ever accept the statement above as reality.
•  Old Dominion's Blaine Taylor should resolve to grow his mustache back. While we're at it, so should Temple's Fran Dunphy. And Xavier's Chris Mack might as well, too.
•  Deniz Kilicli, you know where we stand.
•  Student sections should resolve to come up with new rhymes and chants other than the beyond-played-out "blank-blank-blank-blank" *clap, clap, clap-clap-clap* style, which is even worse than the "Seven Nation Army" plainsong cry. They should also resolve to never use "O-ver-ray-ted!" again. That taunt actually dumbs down the accomplishments of the team that you're rooting for.
•  I should resolve to not care so much about what college kids who aren't wearing basketball uniforms do with their spare time. I'm working on it; I've long since stopped caring about "court-storming rules" and the like.
•  Finally, we all should resolve to remember: This is just a game. And these are just kids playing it. They'll never get it all right, but sometimes perfection is found in between the flaws. That's why we love college hoops, isn't it?
---
For more college basketball news, rumors and analysis, follow @EyeOnCBB on Twitter, subscribe to our RSS Feed and college hoops newsletter. You can follow Matt Norlander on Twitter here: @MattNorlander.
Lithuania seems ready for the Ball era to begin

The Sun Devils make a big jump and the Jayhawks slide after ASU pulls the big upset

Arizona's big man from the Bahamas balled out against two talented teams
Coach Shaka Smart doesn't expect him to be out for an extended period of time

Jackson isn't showing the Sun Devils much respect after beating KU

One AP voter must not know ASU is undefeated with wins over the Jayhawks and Musketeers