Night Court: ACC and Big Ten play to a 6-6 tie
Wisconsin is playing some of the best basketball in the country -- and the Badgers showed that in their win over Virginia.
• 6 min read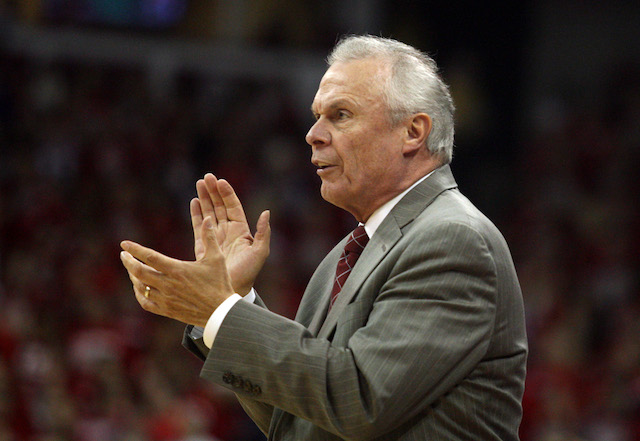 Here's everything you need to know from college basketball's Wednesday …
Game of the Day: Wasn't the prettiest game of the day, but Wisconsin beat Virginia, 48-38.
This was certainly not a game to remember on the offensive end. Wisconsin shot only 28.8 percent from the field – but held Virginia to 22.4 percent shooting and 1-for-11 from 3-point range. Frank Kaminsky had another solid effort, going for nine points, 12 rebounds and three blocks, while Josh Gasser had 11 points and held Virginia's Joe Harris to 1-for-10 shooting and two points.
Wisconsin is playing some of the best basketball in the country, bar none. The Badgers had been clicking offensively heading into Wednesday, but went back to their defensive roots to beat Virginia. Going forward, though, they have the weapons to contend for a Big Ten title. As for Virginia, the Cavaliers are somewhat underachieving given their talent level. Tony Bennett has plenty of good players, but they're not utilizing their athleticism or depth all that effectively. One bright spot has been freshman point guard London Perrantes: he had a 4:1 assist-to-turnover ratio heading into Wednesday. He went for eight points on Wednesday.
That's a good win: North Carolina continues confusing everyone by beating No. 1 Michigan State on the road.
Last five games for the Tar Heels: lose at home to Belmont, beat Richmond, beat Louisville, lost at UAB, win at Michigan State. No, that's not normal. But that's what North Carolina is this season. The Tar Heels aren't predictable, but they're certainly talented and are going to be a team no one wants to play for most of the season. On Wednesday night, North Carolina worked its transition game once again, beating Michigan State down the floor -- and the Spartans looked gassed (and injured) at various times. Michigan State got behind early, and began to take quick shots and didn't attack the rim enough. A couple of interesting trends for UNC: after averaging almost 20 points per game for the first three games of the season, James Michael McAdoo is averaging 8.0 points on 12-for-41 shooting in the last four games. Meanwhile, Kennedy Meeks averaged 14.0 points, 9.5 rebounds and 4.0 assists against Louisville and North Carolina -- but only puts up 5.6 points, 5.2 rebounds and 0.4 assists in his other five games. Weird.
What else we'll be talking about in the morning: Ohio State is among the elite teams in the country.
The Buckeyes aren't getting as much hype as some of the other top teams, but they should be included in the discussion. Defensively, they're fantastic, as Aaron Craft and Shannon Scott might be the best defensive backcourt in the country. On Wednesday, they completely suffocated a Maryland team that is essentially playing without a point guard. The Terrapins had six assists on its 25 field goals – plus 14 turnovers. They sorely miss Seth Allen right now. On the other side, we saw why LaQuinton Ross could be the key for Ohio State going forward. He had 12 points in the first five minutes of the game, and provided a matchup problem for Maryland throughout the game. 
Sam Thompson got after it, too.
And that's a bad loss: Well, kind of. In itself, Boston College losing on the road at Purdue isn't bad. The Boilermakers were the favorite on Wednesday night, after all. But the Eagles have been a disaster this season, and the 88-67 defeat at the hands of Purdue magnifies that sentiment. For a team that was supposed to be an ACC sleeper, they are now 3-5 on the season -- with the three wins coming against the three worst teams on their schedule. Boston College simply can't defend anyone: it doesn't force turnovers, it doesn't guard 3-pointers effectively, it doesn't rebound -- and it constantly gets torched by opposing guards off the dribble. Purdue's Terone Johnson was the latest beneficiary, scoring 18 points. Despite having a very good inside-outside duo in Ryan Anderson and Olivier Hanlan, it's going to be a long season for Steve Donahue. The Eagles are a sneaky-big disappointment. 
ACC and Big Ten split 6-6: The ACC/Big Ten Challenge ended in a 6-6 tie after Nebraska defeated Miami, 60-49. 
Players with impact:
Ya Ya Anderson has an awesome name -- and also hit nine 3-pointers and scored 33 points for Radford against Central Penn. 
Toledo vs. Detroit saw a couple of big-time individual performances. Toledo's Rian Pearson went for 30 points and eight boards, while Detroit's Evan Bruinsma had 25 points and 14 rebounds.
Twenty-eight points, eight rebounds and seven assists -- plus 14 free throws -- for Navy's Tilman Dunbar. 
Grant Mullins hit six 3-pointers and scored 28 points for Columbia, which defeated Army.
Fairleigh Dickinson saw its winning streak snapped against Stony Brook, but Sidney Saunders Jr. had 28 points, eight rebounds and six assists. 
Numbers to figure:
3: That's the number of overtimes it took Drexel to beat Alabama on Friday -- and also the number of overtimes it took Drexel to beat Cleveland State on Wednesday.
0: Despite scoring 83 points against Marist, Iona didn't get a single basket or free throw from a bench player. 83 total points, 83 points from the starters.
1993-94: Wisconsin is off to its best start since the 1993-94 season, when the Badgers were 11-0 before losing. 
#Purdue is going to win its 5th straight #B1GACC Challenge game -- longest streak between the two leagues. #BoilerUp

— Chris Forman (@ChrisForman12) December 5, 2013
Other outcomes of note:
Louisville put five guys in double-figures, led by Montrezl Harrell's 14 points, to cruise past UMKC 90-62. See more below. 
Dayton didn't look great in its first game as a top-25 team, but the Flyers still managed to beat Delaware State by 10. 
Villanova followed up its Battle 4 Atlantis championship with a 77-54 win over Pennsylvania. The Wildcats pulled away behind 19 points from Darrun Hilliard.
Harvard continued its charge through the non-conference season with a 72-64 victory against Northeastern, which is only 2-6 despite having a win over Georgetown. 
New Mexico is heading into a tough five-game stretch -- but the Lobos got off to a good start, winning on the road at New Mexico State. The rematch will come in The Pit on December 17.
Notebook:
-- Couple interesting tweets from the Louisville game.
Rick Pitino says Russ Smith came to him and said start Chris Jones because Smith had a bad practice.

— Jody Demling (@jdemling) December 5, 2013
Smith told Pitino sitting him would "send a message" to the team. He said they need to get that team thing back.

— Jody Demling (@jdemling) December 5, 2013
-- Where does George Washington fall in the A-10 pecking order? The Colonials followed up their impressive Wooden Legacy showing with a 93-87 victory against Rutgers. They're a much-improved middle-of-the-pack team right now.
-- Charlotte was on a five-game winning streak that included a win over Michigan -- but lost at home to Davidson on Wednesday. 
-- Chris Collins' return to Tobacco Road didn't go so well, as T.J. Warren scored 22 points to lead North Carolina State to a 69-48 win over Northwestern.
-- Antoher Big Five battle: Temple 77, Saint Joseph's 69.
-- Wake Forest didn't get to play in the Big Ten/ACC Challenge this season, but the Demon Deacons got themselves a win against Tulane. 
-- Iona gets the first conference win of the season, beating Marist, 83-74. 
-- Toledo is now 7-0 after beating Detroit. 
Here's how the top teams are trying to stay elite as recruiting heats up

There's never been anything like Wednesday night's LaMelo Ball-Zion Williamson showdown

The best basketball player in the world showed up too late to the biggest game in Las Vega...
Thousands of fans were turned away (even LeBron!) from the LaMelo Ball-Zion Williamson sho...

"Four Sides of the Story" also takes a look at Tiger Woods' first PGA tournament and the role...

Indiana's Archie Miller and Mizzou's Cuonzo Martin have been killing it on the recruiting...