Night Court: Andrew Wiggins' layup lifts Kansas past Texas Tech
Villanova and Kansas both escaped on Tuesday, with Andrew Wiggins' layup the highlight of the night.
• 5 min read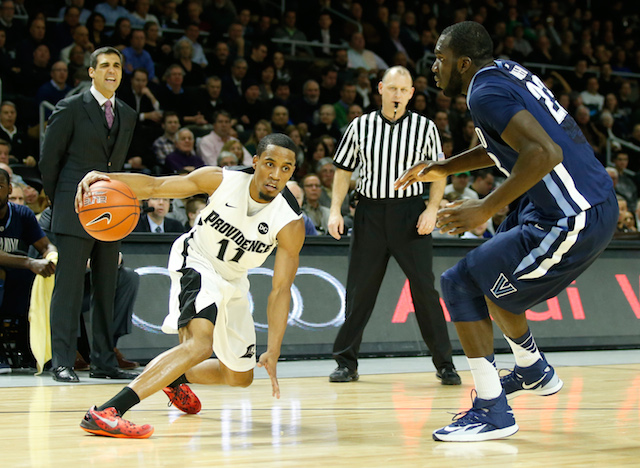 Here's everything you need to know from college basketball's Tuesday …  
Game of the Day: Villanova takes down Providence in two OTs, puts a dent in Friars' at-large hopes.
It seemed like déjà vu twice for Villanova, as the Wildcats had chances to beat Providence at the end of regulation, the first overtime and the second overtime – and ran the same play three times. Ryan Arcidiacono missed a 3 in regulation, missed a layup at the end of the first overtime, but finally finished at the rim in the final seconds of the second overtime to give Nova an 82-79 victory. Arch finished with 21 points and six assists, while Jayvaughn Pinkston had 20 points and six boards.
It's a heartbreaking loss for Providence, which has now lost four of five and is seeing its at-large hopes slip away. Bryce Cotton had 22 points, seven rebounds and nine assists, but he struggled shoot the ball, and LaDontae Henton went just 1-for-7 from the field. The Friars likely need to go 3-1 down the stretch to stay in the mix.
What else we'll be talking about in the morning: Kansas escapes Texas Tech on Andrew Wiggins' shot with 1.7 seconds left.
Tubby Smith has done a very good job in his first season with Texas Tech, and he was about to get a truly marquee win over Kansas – but Andrew Wiggins picked up a loose ball and laid it in with 1.7 seconds remaining to give the Jayhawks a one-point lead. Wiggins finished with 19 points and six rebounds, while Joel Embiid had 18 points and eight rebounds in his return from injury. Texas Tech had five players in double-figures.
It was key for Kansas to emerge with the win, as it keeps the Jayhawks in the hunt for a No. 1 seed. A loss to a team like the Red Raiders would be a big black mark on the profile. As for Texas Tech, a win would have vaulted Tubby to the front of the Big 12 Coach of the Year race; as it stands, he has done a terrific job and will get consideration.
That's a good win: Iowa State takes care of business at home against Texas.
What makes Iowa State a threat in March is the fact it has three players who can carry the offense in a big game. On Tuesday, the Cyclones got a combined 67 pints from the trio of Melvin Ejim, DeAndre Kane and Georges Niang as they defeated Texas, 85-76. Iowa State had 21 points on its 30 field goals, and it was able to get the win despite shooting just 33 percent from behind the arc. Texas now drops two games back of Kansas in the Big 12 standings, while Iowa State is only one game behind the Longhorns.
Players with impact
Anthony Beane led Southern Illinois to a win over Bradley after going for 27 points, eight rebounds and four steals.
Nice battle between Isaiah Taylor and Melvin Ejim. Taylor had 26 points, seven rebounds, eight assists – while Ejim had 25 points and eight boards. But Ejim's Iowa State team got the win over Texas.
South Florida got rolled by Louisville, but Victor Rudd went for 27 points and 10 rebounds in the loss. 
Numbers to figure
3: Villanova has lost three games this season. The Wildcats have also played an overtime game in each of the three games immediately following a loss. And won all three.
23.6: Louisville has won its 11 AAC games by an average of 23.6 points.
1980-81: That's the last time Virginia started 13-1 in the ACC.
Julius Randle of @KentuckyMBB 25 pt, 13 reb, 85.7% FG, 92.9% FT. Only 1 other player in last 15 years did that: DeJuan Blair (PITT '08-09)

— Jason McCallum (@ESPNJMac) February 19, 2014
Other outcomes of note:
Louisville blew out yet another AAC foe on Tuesday, handling South Florida by 26 points. Russ Smith led the way with 19 points for the Cardinals.
Hancock just dunked on somebody! https://t.co/mQ8SmsIOeS

— Rodney Hines (@WhoaDur_ItsZulu) February 19, 2014
George Washington needed to solidify its resume, Richmond needed to prove it was an NCAA tournament team. GW got what they wanted, getting a solid road win behind 14 points and nine rebounds from Isaiah Armwood.
Duke got 16 points and 14 rebounds from Jabari Parker in a relatively easy win over Georgia Tech.
There was no trap game for San Diego State. The Aztecs easily handled Utah State in their final tuneup before a trip to New Mexico this weekend.
Ole Miss could have used a marquee win; Kentucky had other ideas. Julius Randle finished with 25 points and 13 rebounds as the Wildcats rolled, 84-70. Marshall Henderson was 5-for-17 from the field.
Virginia avoided a terrible loss at Virginia Tech, pulling away in the final minute. The Cavaliers could be a darkhorse to win the ACC regular-season title; they should enter a home game with Syracuse with just one loss. A win there, and they should be the champions.
St. John's outscored Butler by 28 points in the second half en route to yet another Red Storm win. They have now won six in a row and nine of 10.
Tennessee handled its business against Georgia on Tuesday, getting a must-win for their bubble hopes. Georgia is still in third in the SEC standings, but it's not an at-large threat right now. Jarnell Stokes had 20 points, 11 rebounds and three blocks for the Vols.
Both Clemson and North Carolina State needed a win on Tuesday to keep at-large hopes alive; the Tigers dominated the second half and came out with the 73-56 victory. Rod Hall picked up the slack with 20 points for Clemson.
Boise State kept its faint at-large hopes alive with a road win at Colorado State to move to 7-6 in the Mountain West. The Broncos may have dug themselves too big a hole, though.
If Maryland had won at either Virginia or Duke last week, the Terrapins could be in the at-large hunt. They moved to 7-7 in the ACC after beating Wake Forest, as the Demon Deacons have now lost six in a row. 
Notebook:
-- Tuesday's scheduled matchup between Iowa and Indiana was postponed to an undetermined later date after a piece of metal fell from the ceiling at Assembly Hall.
-- This is amazing.
-- VCU forward Terrance Shannon left the program due to personal reasons. He transferred from Florida State in the summer, and has no eligibility remaining.
-- St. John's center Chris Obekpa will miss 10-14 days after injuring his ankle in practice on Monday.
-- This focuses on the Atlantic 10, but it gets me excited for the conference tournaments, which gets me excited for the NCAA tournament. Cool video either way.
The Wildcats have had a dramatic season off the court; without Trier, their Final Four chances...

Porter Jr. is a projected top 10 pick but has played just two minutes all season

Our advanced computer model simulated Friday's IUPUI vs. Wright State game 10,000 times
Dawn Staley was accused of promoting an atmosphere that induced racial slurs toward Mizzou...

KU can clinch at least a share of its 14th straight Big 12 title with a win Saturday over Texas...

Larry Hartstein is a perfect 5-0 picking for or against the Utes and locked in a play for...