Night Court: Arizona bounces back, Cincinnati continues to roll
Cincinnati is playing some of the best basketball in the country, while LSU suffered a bad loss. Arizona also bounced back.
• 5 min read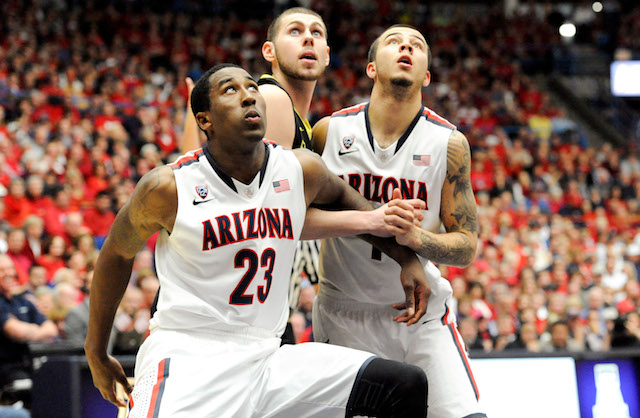 Here's everything you need to know from college basketball's Thursday …  
Game of the Day: Arizona comes back to beat Oregon and avoid two-game losing streak.
It wasn't the best performance from Arizona, but the Wildcats were able to come back in the final few minutes and survive with a 67-65 win. It was their first game without Brandon Ashley, but late-game injuries to T.J. McConnell and Aaron Gordon could be something to keep an eye on moving forward. The Wildcats needed freshman forward Rondae Hollis-Jefferson to step up in a big way, and he certainly did, finishing with 14 points and 10 rebounds. Nick Johnson had 18 points and five assists.
As for Oregon, this was a win the Ducks really could have used. They are now just 3-7 in the Pac-12, and really need to take care of business moving forward. Five of their final eight games are in Eugene, which is a plus, but they need to start boosting the resume immediately. Joseph Young was hot early in the second half, finishing with 14 points, but he struggled down the stretch.
What else we'll be talking about in the morning: Cincinnati continues to churn out wins, knocking off UConn to move to 11-0 in the AAC.
The Bearcats are one of the hottest teams in the country right now, beating the Huskies for their 15th straight win. Connecticut hit shots early and was able to get to the rim more effectively than expected, not settling for outside shots. With the Huskies also defending inside the arc and keeping Cincinnati off the offensive glass, Kevin Ollie's crew was able to keep it close. However, Sean Kilpatrick was the difference for the Bearcats. He had 26 points, 12 rebounds and six assists in the 63-58 victory. Justin Jackson also had 15 points and six rebounds. Shabazz Napier had 16 points for Connecticut, but it took him 19 shots to get there.
Saturday's Cincinnati-SMU battle should be an absolute war. Both teams are terrific defensively, defending 2-point shots and protecting the rim as well as anyone in the country. Kilpatrick needs to be the difference again. UConn's loss drops the Huskies to 5-4 in the AAC, and they have some work to do in order to finish higher than fifth in the standings.
That's a bad loss: LSU falls to Georgia, 91-78.
LSU was starting to get some momentum as the third-best team in the SEC, winning four of its last five games – including victories over Kentucky, Arkansas and Missouri. On Thursday, though, the Tigers fell back to the pack with a loss at Georgia. The Bulldogs were on a three-game losing streak and had just lost to Auburn. However, Georgia never trailed against LSU and got 17 points and six rebounds from Nemanja Djurisic. LSU star Johnny O'Bryant was held to nine points and two rebounds in just 15 minutes before fouling out. The Tigers have to bounce back against Auburn and Texas A&M in the next two games.
Players with impact
Southeast Missouri State's Tyler Stone had the best line of the night, with 37 points and eight rebounds on 19 shots.
Terrific all-around line for UT-Arlington's Lonnie McClanahan: 31 points, 11 rebounds, seven assists.
On the other side was Shawn Long of Louisiana-Lafayette. He finished with 31 points, eight rebounds and three 3-pointers.
Thirty points and eight assists for Northwestern State's Jalan West. The Demons have now won five in a row.
Murray State's Cameron Payne has been one of the best mid-major freshman this season; he had 29 points, four rebounds and five assists on Thursday.
Oral Roberts' Shawn Glover went for 27 points, eight rebounds and eight blocks.
Numbers to figure
54.3: Arizona's 54.3 percent from the free-throw line was the lowest for them (min. 30 attempts) since Jan. 31, 2003.
279: This.
JORDAN BACHYNSKI SETS THE PAC-12 BLOCK RECORD. Congrats Jordan!

— ASU Men's Basketball (@SunDevilHoops) February 7, 2014
11: LIU-Brooklyn's Jason Brickman dished out 11 assists on Thursday night, moving into 11th place on the all-time career assists list, passing Gary Payton. 
29: Cleveland State and Oakland combined to make 29 3-pointers on Thursday, with record-holder Travis Bader hitting 10 3-pointers for 35 points and Charlie Lee knocking down six en route to 31 points.
29: Stephen F. Austin's win over Nicholls State was the Lumberjacks' 29th straight home win, tied for the nation's longest streak with Duke.
Other outcomes of note:
Adreian Payne had 12 points in his return, and Michigan State beat Penn State by 15 despite not having Keith Appling due to a wrist injury. Kenny Kaminski had five 3-pointers and 19 points.
Arizona State picked up a must-win over Oregon State in overtime. Jermaine Marshall's second-half performance (25 points for the game) was huge for the Sun Devils, which have now won four of their last five. Up next are two more home games: Oregon and Arizona. Jahii Carson had 23 points, six rebounds and six assists on Thursday.
SMU has won seven of its last eight after beating Temple on Thursday. The Mustangs got 14 points and nine rebounds from Markus Kennedy. They play Cincinnati this weekend.
VCU made quick work of Rhode Island, getting out to a 20-point halftime lead and winning 68-52 despite going nine and a half minutes without a field goal. Juvonte Reddic had a double-double.
Utah snapped a three-game losing streak by beating Washington; now the Utes have to beat Washington State and likely split with the Los Angeles schools next week.
Georgia State could be an upset possibility in March – the Panthers have won 14 in a row after beating UALR to move to 10-0 in the Sun Belt.
Another 10-0 team in conference play is Stephen F. Austin, which cruised past Nicholls State in Southland action. 
Belmont held on to beat Murray State in the final seconds, taking outright control of the Ohio Valley. J.J. Mann and Blake Jenkins each had 25 points for the Bruins. 
Chattanooga is getting more attention in the Southern this season, but Davidson is now 9-1 in the league with a win at Samford.
Louisiana Tech stayed within striking distance of the Conference-USA lead by beating Tulsa, 66-61. Jaron Johnson had 18 points. 
Some Big West action: UC-Irvine took down Long Beach State, and UC Santa Barbara got a key road win at Hawaii. The two winners are now tied for first. 
BYU and Saint Mary's both won in the WCC, meaning BYU gets to stay on the bubble some more. SMC still has work to do. 
Robert Morris remained first in the NEC, while Florida Gulf Coast kept pace with Mercer in the Atlantic Sun.
Notebook:
-- Murray State guard T.J. Sapp might have had the dunk of the night.
The five-star forward put on a dunking and blocking clinic in high school's state quarterfinal...

Pitino dug in and maintained he ran a 'clean program' after the NCAA stripped UL of its 2013...

Bagley is still recovering from a knee injury he suffered during the Blue Devils' loss to...
Izzo was emotional as he coached the seniors on their final home game in East Lansing

The Shockers look to build on their four game winning streak as they return home to face T...

De'Anthony Melton is leaving the Trojans program and will look to jump up to the professional...