Night Court: Arizona stays unbeaten, UCLA rolls past Cal
The Pac-12 was the headliner on Sunday, as Arizona needed a late run against Utah, while UCLA beat California.
• 5 min read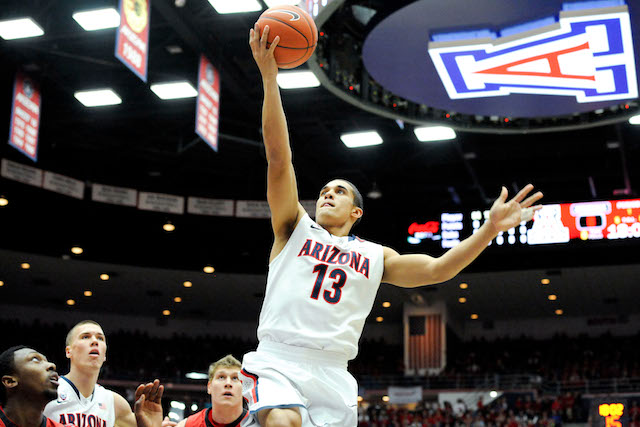 Here's everything you need to know from college basketball's Sunday …  
Game of the Day: Utah throws a scare into Arizona, but the Wildcats pull out the win to move to 20-0.
This wasn't an easy one for No. 1 Arizona. The Wildcats struggled early, going down 12-2 and not scoring their second basket until seven and a half minutes into the game. Utah didn't go away either, taking a 49-47 lead in the second half -- before Arizona went on a 14-2 run and came out with a 65-56 victory. Nick Johnson was again the big-play man for Arizona, finishing with 22 points and four rebounds. Aaron Gordon struggled from the field (3-13) and the free-throw line (4-10), but he still managed to get a 10-point and 12-rebound double-double. Delon Wright had 19 points, six rebounds and four assists for Utah. This is probably one of the worst games we'll see Arizona play all season -- and the Wildcats still beat a capable Utah team by nine. However, a loss could be coming in the next week; Arizona has to travel to Stanford and California.  
What else we'll be talking about in the morning: UCLA stakes its claim as second-best team in the Pac-12, handling California.
After Arizona, the Pac-12 is relatively wide-open. However, UCLA and California had essentially seprated themselves into a second-tier of teams battling for second-place. After Sunday, the Bruins have the edge. UCLA won 76-64, behind a career-high 18 points from David Wear. Kyle Anderson continued his outstanding all-around season, finishing with 17 points, 12 rebounds and five assists. California struggled to get anything going consistently on the offensive end, shooting 19 percent from 3-point range and getting just two points from Tyrone Wallace (0-8 from the field). Wallace was the team's second-leading scorer entering the week, but he has shot 2-for-18 for a combined seven points in the last two games.  
UCLA now heads on the road for three straight games, with the Oregon/Oregon State swing coming up next before facing USC. California welcomes the Arizona schools -- and the Golden Bears could be the ones to give Arizona its first loss.
North Carolina extends streak: North Carolina beats Clemson, is now 57-0 against the Tigers in Chapel Hill.
If there was a time for Clemson to come close to ending the streak, it should have been Sunday. The Tigers were 4-2 in the ACC, had already beaten Duke this season, and North Carolina had been completely unpredictable this season. Well, that didn't happen. The Heels jumped out to a 16-point halftime lead en route to an 80-61 victory. James Michael McAdoo had 22 points and seven rebounds, while Marcus Paige went for 15 points and five assists. There are some winnable games coming up for North Carolina: at Georgia Tech, vs. North Carolina, vs. Maryland. This could be a momentum-starter for the Tar Heels.
That's a good win: Indiana beats Illinois by 10; what does this mean for both teams?
It's not even that good of a win, but I needed an excuse to discuss both the Hoosiers and Fighting Illini. Indiana looked like it picked up some momentum back when it beat Wisconsin two weeks ago, but the Hoosiers followed that up with losses to Northwestern and Michigan State. They needed to beat Illinois to stay in the NCAA tournament hunt. An important three-game stretch is coming up: at Nebraska, vs. Michigan, at Minnesota. Two wins is key. As for Illinois, it might be time to forget about NCAA tournament plans unless John Groce turns things around in a hurry. That's six straight losses for the Fighting Illini – with games against Iowa and Wisconsin up next. If Illinois can get a couple of marquee wins, we'll discuss again.
And that's a bad loss: Minnesota follows up its win over Wisconsin with a loss at Nebraska.
I was just looking for some consistency from the Golden Gophers. Minnesota has alternated wins and losses over its last six games, and a four-point loss at Nebraska keeps that trend going. The Gophers have beaten Ohio State and Wisconsin in the past two weeks, but they are also just 1-3 on the road in Big Ten play. Minnesota is certainly in the NCAA tournament discussion going forward, but it needs to show some road moxie in February. They have a week off before playing Northwestern at home, although Andre Hollins is still doubtful with his ankle injury.
Players with impact
Canisius' Billy Baron is absolutely ballin' this season. He went for 38 points against Marist on Sunday; he averaged 34.5 points this week.
Terran Petteway was huge in Nebraska's win over Minnesota, going for 35 points and six rebounds.
It was in a losing effort, but Temple's Dalton Pepper had 33 points and eight 3-pointers.
Numbers to figure
2: That's the number of unassisted field goals (out of 25) Memphis made against South Florida. The Tigers rolled by 32.
57: I know I mentioned it above, but it deserves saying again: North Carolina is 57-0 against Clemson in Chapel Hill.
Other outcomes of note:
Cincinnati is now 8-0 in the AAC after winning its 12th straight game, 80-76, over Temple. Sean Kilpatrick continued his stellar season, with 29 points and eight boards.
Massachusetts bounced back after its mid-week loss with a 90-52 win over Fordham. Chaz Williams had 18 points and eight assists.
Oregon snapped its five-game losing streak, blowing out Washington State on the road. Jason Calliste had 20 points off the bench.
Five wins in a row for SMU, which won at Houston on Sunday. The Mustangs welcome Memphis to town next weekend.
Green Bay is 7-0 in the Horizon, beating Detroit behind 22 points and eight rebounds from Keifer Sykes.
Stanford has won four of its last five after beating USC in overtime. The Cardinal are now 4-3 in the Pac-12. Five plays scored in double-figures.
T.J. Warren's bucket in overtime gave North Carolina State an 80-78 win over Georgia Tech. Warren had 20 points.
Nice win for Quinnipiac on the road over Manhattan. Zaid Hearst had 25 points and 10 boards.
Notebook:
-- Sad news for the college basketball world: former La Salle legend Tom Gola passed away on Sunday. He was a four-time All-American. 
-- Cincinnati played most of Sunday's game without Justin Jackson, who injured his ankle after six minutes. His status for Thursday's game at Louisville is unknown.
-- Mississippi State head coach Rick Ray apologized for using an expletive at Marshall Henderson in Saturday's game. 
-- Speaking of apologies, Marcus Smart tweeted one for his performance and behavior in Saturday's win over West Virginia. 
FBI investigation suggests Quinerly received improper benefits from a Wildcats assistant c...

Meet the mid-major coach who refused to vote for the teams involved in the recruiting scan...
The player, now at the University of Portland, says he was injured during a workout which broke...

Please don't start with the 'Being preseason No. 1 didn't work out so well for Duke last season!'...

A look at some of the biggest name coaches in new places in 2017