Night Court: Arkansas wins thriller, Indiana upsets Wisconsin
Arkansas won on a dunk in overtime, Indiana gave Wisconsin its first loss, and Kansas State and George Washington made statements.
• 6 min read
Here's everything you need to know from college basketball's Tuesday …  
Game of the Day: Arkansas beats Kentucky in overtime in Michael Qualls' two-handed putback dunk with 0.2 seconds left. 
It was one of the highlights of the season so far, Qualls catching the ball at its peak and just rifling it through the net to give Arkansas an 87-85 win. Aside from the fantastic ending -- and whistle-themed foul-fest that preceded the first three hours of the game -- this is a big win for Arkansas. The Razorbacks will find their way to the NCAA bubble at some point this season because of their ability to win in the confines of Bud Walton Arena. Florida was able to escape with a win over the weekend, but Kentucky couldn't do the same. Arkansas just takes it to a different level at home; but can the Razorbacks do damage on the road? That's been their problem in recent years, and considering they lost by 16 to Texas A&M in their one true road game, it might be an issue again. 
Rashad Madden and Qualls each had 18 points for Arkansas, which also forced 17 turnovers. For Kentucky, James Young led the way with 23 points. Julius Randle was a beast for a long stretch in the second half, finishing with 20 points and 14 rebounds.
What else we'll be talking about in the morning: Wisconsin falls from the ranks of the unbeaten, losing at Indiana.
I wrote about this earlier tonight, right after the game. While the Badgers losing their first game of the season will probably get more attention, it's a bigger deal for Indiana, which absolutely needed a marquee win on its ledger. Going forward, are the Hoosiers suddenly a Big Ten title contender? Absolutely not -- but this does put them in far better position to be in the at-large hunt come March. The Hoosiers will still need to hold serve at home for most part, and that includes getting wins against Ohio State and/or Iowa when those two teams come to town. They also need to sneak out a couple of wins on the road. Wisconsin has a home game against Michigan this weekend to bounce back.
That's a good win: George Washington takes down VCU in an Atlantic 10 clash.
Jon Rothstein was there, so we'll link his piece from the game. As Rothstein stated, George Washington had the look of an NCAA tournament team. The Colonials turned it over 21 times, but they managed to weather most of the storms that VCU's Havoc creates. Patricio Garino had 25 points and seven rebounds off the bench, and Kevin Larsen had 22 points and seven rebounds for George Washington. VCU struggled to make shots, and the perimeter jumpers just weren't falling on Tuesday. Moreover, Juvonte Reddic wasn't a dominant presence on the inside; in VCU's four losses this season, he is only putting up 7.5 points and 4.3 rebounds.  
Another good win: Kansas State bounces back from blowout at Kansas by beating Oklahoma.
It wouldn't be that big of a surprise to see both Kansas State and Oklahoma on the bubble come March. Both teams are a notch below the top-four of the Big 12, but both will have enough quality wins to warrant NCAA tournament consideration. On Tuesday, Kansas State took a slight edge with a head-to-head win over the Sooners, 72-66. The Wildcats have now won 11 of their last 12, with the lone loss coming this past weekend at Kansas. Bouncing back to get a win over a good Oklahoma team was impressive, especially considering the Sooners had just defeated Iowa State. Marcus Foster had 18 points for Kansas State, while Oklahoma shot just 33 percent from the field -- Cameron Clark and Jordan Woodard combined to shoot 2-for-14 from the field. Ryan Spangler had 21 points and 14 boards, though.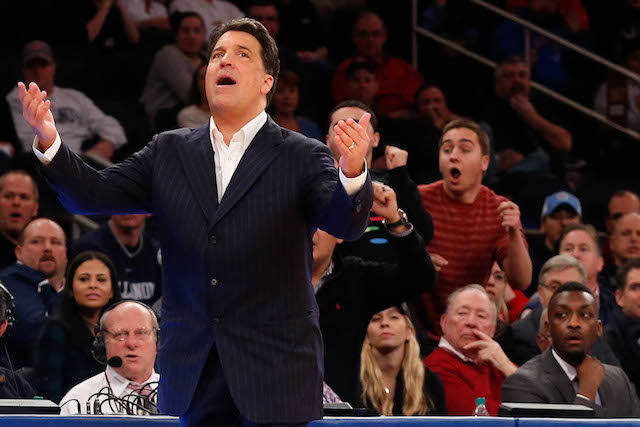 But that's a bad loss: St. John's drops to 0-4 in the Big East after losing to DePaul.
Heading into the season, St. John's was expected to be a major factor at the top of the Big East. Maybe not the preseason favorite, the Red Storm had the most talent and athleticism in the conference -- and that should have translated to a fairly successful season. In fact, I thought they were the team outside the Top 25 with the highest ceiling. If all that talent meshed, it could beat anyone. Well, not so much. St. John's lost at DePaul on Tuesday night, 77-75, dropping to 0-4 in the Big East. D'Angelo Harrison had 24 points to lead St. John's, but that wasn't enough to get their first conference win. They are one of the most disappointing teams in the country.
Players with impact
Jerrelle Benimon had a terrific all-around game for Towson on Tuesday, finishing with 27 points, 13 rebounds and seven assists.
Teammate Marcus Damas also filled up the scoreboard for Towson, knocking down four 3-pointers en route to 26 points.
For a while, it looked like Doug McDermott was going to outscore Butler by himself. He didn't play much of the second half, though, eventually ending up with 28 points in 27 minutes.
Another nice game for Southern Illinois' Desmar Jackson: 19 points, 11 rebounds, four assists, three blocks. 
Numbers to figure
14: Number of consecutive possessions Creighton scored during the first half of its win over Butler. Creighton extended its lead from 12-7 to 45-24 over the 8:39 stretch.
25: Florida won its 25th straight home game on Tuesday, setting a school record.
Jan. 31, 2007: That's the last time Indiana beat Wisconsin.
2007-08: That's the last time DePaul won back-to-back conference games. The Blue Demons won at Butler last Thursday. 
Other outcomes of note:
Wichita State remained undefeated, dominating Bradley by 28 points. Fred VanVleet continued his stellar play, going for 22 points and seven rebounds.
No Casey Prather, a couple of banged-up starters – and it didn't matter. Florida cruised past Georgia, 72-50, as Michael Frazier finished with 21 points.
In a battle of new Big East teams, Creighton absolutely annihilated Butler. The Bluejays scored 53 points in the first half, winning 88-60. Ten players scored for Creighton. Butler is now 0-5 in the league.
Pittsburgh is one of just six one-loss teams remaining, as the Panthers beat Georgia Tech, 81-74, behind 22 points and nine rebounds from Talib Zanna. They are now 16-1 on the season.
Cincinnati moves to 5-0 in the AAC after winning its ninth in a row – 69-58 over Temple. Justin Jackson had 15 points, 10 rebounds and six blocks.
That's now six straight wins for Michigan, which beat Penn State, 80-67, to move to 4-0 in the Big Ten. A road trip to Wisconsin awaits on Saturday.
Towson went on the road and beat a banged-up Drexel team by 12 in CAA action. Chris Fouch and Frantz Massenat combined for 49 points for the Dragons, but it took them 46 shots to get there. Looks like Towson and Delaware battling for the CAA.
Nevada dropped its first Mountain West game of the season, falling at home to Boise State, 74-65. Derrick Marks had 21 points, eight rebounds and five assists.
Notebook:
-- Florida fans are getting annoyed at the NCAA's lack of update on the status of freshman forward Chris Walker.
Students wearing "free Chris Walker" t-shirts at O'Dome. McDAA frosh pf still not cleared by NCAA. pic.twitter.com/uIMkzVXoeT

— Kevin Brockway (@gatorhoops) January 14, 2014
-- Colorado received more bad news on Tuesday, losing backup wing Tre'Shaun Fletcher for up to two months with a knee injury.
-- Missouri State lost leading scorer Marcus Marshall indefinitely with a torn meniscus.
-- P.J. Hairston will be playing for the Texas Legends in the NBDL. 
(video via GIFD Sports)
If LiAngelo Ball didn't come from a famous family, we might think differently of him

Ball significantly downplayed President Trump's role in helping get his son back to the U....

Discussing the one-and-done rule -- plus Michael Porter Jr.'s injury and Billy Preston's c...
Even though he's scheduled to graduate in December, the NCAA still won't let Hayes play

The Wisconsin resident wasn't happy with how the Musketeers handled their win in Madison

There's a change to the way teams are picked and selected for the NCAA Tournament