Night Court: Baylor's inconsistency appears once again
The Jimmy V Classic was the headliner on Tuesday, but there were crazy comebacks and disappointing losses to talk about as well.
• 6 min read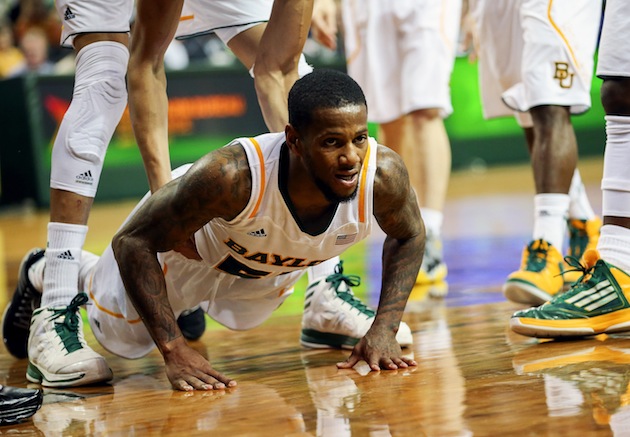 Pierre Jackson and Baylor fell down early in the second half against Northwestern -- and were upset at home. (US Presswire)
Here's everything you need to know from college basketball's Tuesday night …
Game of the Night: NC State pulls out win over Connecticut at Jimmy V Classic.
First of all, it seems like North Carolina State should be in the Jimmy V Classic every season, but maybe that's just me. Anyway, the Wolfpack dominated the backboards in the second half and made plays down the stretch in a 69-65 win over Connecticut on Tuesday night. C.J. Leslie went for 16 points and 13 boards, while Richard Howell pitched in with 13 points and 10 rebounds. Connecticut simply couldn't handle the Wolfpack down low.
Connecticut got out to an early lead, but North Carolina State responded with a run of its own to take a halftime lead. The second half featured several ties and lead changes, but six straight points by Leslie and Howell gave the Wolfpack a six-point lead with 4:16 remaining that the Huskies couldn't overcome. It looks like NC State could be starting to come together, while UConn will need more interior help in order to be a factor.
What else we'll be talking about in the morning: Texas is bad. Really bad. Myck Kabongo wouldn't have saved them against Georgetown.
Heading into the season, Texas vs. Georgetown at Madison Square Garden looked like a lot of fun. Then Myck Kabongo wasn't cleared by the NCAA. Then the Longhorns lost to Chaminade and USC at the Maui Invitational. Then came Tuesday, when Texas shot a miserable 29 percent from the field and lost to Georgetown, 64-41. The Longhorns turned it over 21 times, made just two 3-pointers, shot 52.4 percent from the free-throw line – they were simply terrible. Even when Kabongo comes back, this team has tons of issues offensively. On the bright side, Texas does play solid defense and has a lot of young pieces, so Rick Barnes can turn it around. Based on Tuesday, though, the Longhorns have a long way to go.
That's a good win: Wyoming stays undefeated with crazy comeback against Illinois State.
With 13:04 left, Illinois State was leading Wyoming, 58-42. The Redbirds seemed to have a win wrapped up. Over the final 13-plus minutes, though, Wyoming outscored Illinois State – on the road – 39-9 en route to a final score of 81-67. The Cowboys moved to 9-0, but this was their best win of the season. While it still might be too soon to call Wyoming the "real deal," it's clear the Cowboys are going to be a tough out in the Mountain West. As for Illinois State, this was a heartbreaking loss. To lead by as many as 19 at home – and then lose – is brutal, especially on the heels of a tough defeat to Louisville over the weekend. Big man Jackie Carmichael was held to five points.
But that's a bad loss: Baylor follows up Kentucky win with loss at home to Northwestern.
On Saturday, Baylor went into Kentucky and knocked off the Wildcats. Meanwhile, Northwestern was busy losing to Illinois-Chicago. As a result, not many people expected the Wildcats to beat Baylor in Waco on Tuesday. But an 11-1 run to open the second half helped Northwestern push its lead to as many as 18 in the second half – before barely hanging on for a 74-70 victory. Consistency continues to be a problem for Baylor. The Bears have losses to Northwestern, Charleston and Colorado – but they have the talent to beat nearly anyone. Freshman Isaiah Austin had just eight points and four rebounds; that needs to change.
Players with impact
Arkansas' Marshawn Powell is showing no ill effects of his knee surgery. He had 33 points against Oklahoma on Tuesday.
Mike Muscala continues to put up great numbers for Bucknell. He had 27 points, six boards, three assists and two blocks as the Bison beat Kent State, 76-60.
Charleston Southern had two big-time performances. Arlon Harper had 30 points, while Saah Nimley went for 20 points and 12 assists.
Many pegged Murray State's Ed Daniel as a breakout player. He had 23 points and 14 boards in an easy win over Bethel (Tenn.).
Numbers to figure:
1987: The 41 points scored by Texas on Tuesday night were the fewest the Longhorns have scored since a 52-37 loss at TCU on Jan. 19, 1987.
0-9: Before Tuesday, San Francisco had never defeated a Big East team. That changed when the Dons beat St. John's. (Previous wins over Georgetown, DePaul, Notre Dame, St. John's came before teams were in the Big East.) 
49: Arizona and Southern Miss combined for 49 turnovers in the Wildcats' eight-point win on Tuesday. The 27 turnovers for Arizona were its most since 1999, when it had 30 against Washington. Interestingly, the Wildcats were also ranked No. 8 then – and also won that game.
77: Georgetown has allowed a total of 77 points in the last two games. The last time the Hoyas allowed so few points was 2006, when Towson and Winston-Salem combined for 73 in back-to-back contests.
6: With its win over Boston College on Tuesday, Harvard has won six straight games against teams from the ACC. Yes, five of those games were against Boston College.
41-3: The top six teams in the Mountain West are a combined 41-3 so far (via @JeffEisenberg).
Other outcomes of note:
Trey Burke continues to get better and better. Against Western Michigan, Burke had 20 points, seven assists and zero turnovers in a 73-41 victory.
Arkansas seemed to be in control for most of the game against Oklahoma – but a Steven Pledger 3-pointer with 20 sceonds left gave the Sooners a one-point. BJ Young responded immediately with what would end up being the game-winning bucket. Arkansas won, 81-78.
Missouri looked to be on upset alert against Southeast Missouri in the first half, going down by 10 at halftime. But the Tigers turned it around after halftime, scoring 46 points in the final 20 minutes to win by 16.
It wasn't easy for No. 13 Illinois, but D.J. Richardson hit back-to-back 3s in the final five minutes to give the Illini a close win over Western Carolina.
Wisconsin has now won its last two games by 71 points after the Badgers dispatched of Nebraska Omaha, 86-40.
There was certainly no upset alert when Louisville visited Charleston. The Cardinals forced 27 turnovers en route to an 80-38 win.
Will Clyburn struggled for Iowa State, but the Cyclones made up for it with Korie Lucious getting 17 points and nine assists to beat Florida Gulf Coast.
Kentucky snapped its two-game losing streak with an easy win over Samford. Willie Cauley-Stein had 12 points, 12 boards, three steals and four blocks. 
Notebook:
-- Sad and scary news from Utah State: junior forward Danny Berger collapsed during practice and is in stable, but critical condition.
-- South Dakota State star Nate Wolters didn't play against Minnesota due to an ankle injury. Minnesota ended up winning by 24.
-- UNLV forward Mike Moser missed Tuesday's game against Portland with a left hip injury.
-- Speaking of UNLV, the Runnin' Rebels just seem out of sync. They were able to go into Portland and overcome a halftime deficit to beat the Pilots -- but they still have some things to work out. Moser definitely would have made a difference, but their dribble-drive defense and interior defense have been poor. Offensively, for all the talent UNLV has, most of its offense derives from getting to the free-throw line or on the offensive glass. To be honest, they might not hit their strides for a couple months. 
-- Steve Lavin's homecoming to San Francisco didn't go so well. He brought his Red Storm team there because that's where he grew up and that's where his father played – but the Dons spoiled the fun with a 16-point win. St. John's has plenty of athletes, but the Red Storm are certainly a work in progress. 
Discussing the one-and-done rule -- plus Michael Porter Jr.'s injury and Billy Preston's c...

Even though he's scheduled to graduate in December, the NCAA still won't let Hayes play

The Wisconsin resident wasn't happy with how the Musketeers handled their win in Madison
There's a change to the way teams are picked and selected for the NCAA Tournament

Gamecocks coach Dawn Staley says the she only wants an invite to the NCAA Tournament

Goodwin is making the most of his chance at Florida Gulf Coast after he was forced to leave...