Night Court: Brandon Paul steals the show yet again
Saturday was jam-packed with hoops, highlighted by a couple of undefeated showdowns on opposite coasts.
• 8 min read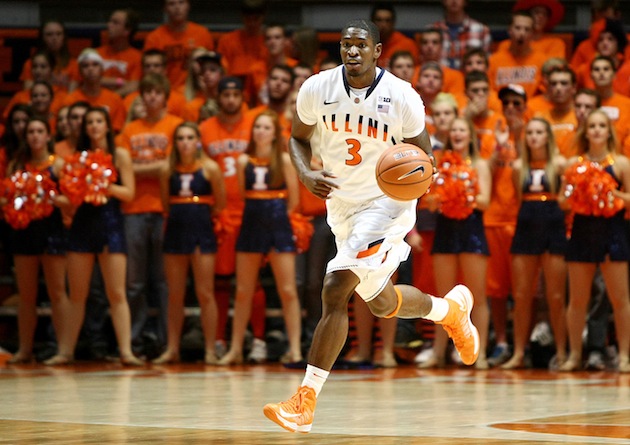 Illinois guard Brandon Paul went for 35 as Illinois knocked off Gonzaga on the road. (US Presswire)
Here's everything you need to know from college basketball's eventful Saturday … and Norlander helped out with some of the early games.
Game of the Night: Illinois overcomes early deficit to beat Gonzaga at the Kennel.
When Gonzaga got out to an 11-point lead early on, it looked like staying in on a Saturday night to watch this game would be a terrible idea. The Bulldogs were doing whatever they wanted on the interior, and Illinois didn't seem to have an answer. Then Brandon Paul woke up, and the rest of his teammates followed suit. Paul finished with 35 points to help lead the Fighting Illini to an 85-74 win. Illinois is now 10-0 on the season, and this win proves the Illini are no Maui fluke.
As for Gonzaga, are we now going to switch back to "this is the same old Gonzaga" narrative after the loss? We'll see. Stay tuned for Gary Parrish's on-site column from the game.
What else we'll be talking about in the morning: Kansas runs Colorado off the court from the opening tip.
Winning at Kansas is no easy task of course, but Colorado showed some colors Saturday in how it didn't really look ready for a real test. Kansas had 22 of its 43 first-half points off turnovers. After getting a lot of love for the first three weeks of the season, maybe we should be looking at the Buffaloes as merely a good team, plain and simple. As for the Jayhawks, it looks like they could be hitting their stride a little bit. Ben McLemore could be growing into his role as a go-to-guy, as he finished with 24 points.
That's a good win: Duke absolutely hammers Temple on a neutral court.
Just because Duke is the No. 2 team in the country doesn't mean it can't have a good win. The Blue Devils went into the Izod Center against fellow unbeaten Temple – and simply dominated from start to finish. They had terrific ball movement and spacing, and the Owls couldn't rotate out to Duke's shooters. Defensively, Temple couldn't get Khalif Wyatt and Scootie Randall going, with the two players combining for just 12 points. If Seth Curry is healthy and Quinn Cook continues to play like he has been all season, Duke is a title contender. I also wrote about Rasheed Sulaimon in my game column.
Bragging rights plus a good win: Marquette dominated the paint en route to a 60-50 win over in-state rival Wisconsin. The Golden Eagles got 18 points from Junior Cadougan and 17 from Vander Blue – as well as 36 points in the paint. Wisconsin is now 6-4 on the season. We always give Bo Ryan the benefit of the doubt, and deservedly so, but this team has a lot of work to do to be a top 25 team at the end of the season.
But those are bad losses: Eastern Michigan and Illinois-Chicago have gaudy records, but Purdue and Colorado State should have won those games. 
Congrats to Eastern Michigan (6-2) and Illinois-Chicago (8-1), both of which are off to better-than-expected starts. With that said, those games that Purdue and Colorado State need to win if they want to be in NCAA consideration come March. The Boilermakers are now below .500 on the season, after their 47-44 loss to the Eagles. Purdue had a chance to tie the game in the final seconds, but Dru Anthrop turned it over. Colorado State has dropped two in a row since its 6-0 start – and the Rams' troubles away from home seem to have carried over from last season. 
Players with impact
We mentioned Brandon Paul above, but he deserves another shoutout. The guard went for 35 points, four rebounds, three assists, three steals and two blocks in the win over Gonzaga. Last season, Paul went for 43 points in an upset of Ohio State.
Michael Carter-Williams continues his breakout season for Syracuse. The sophomore guard had 15 points, four blocks, five steals – and 16 assists. Wow. The Orange rolled over Monmouth.
Someone from Central Connecticut State went for 40 points against No. 1 Indiana on Saturday – and it wasn't Kyle Vinales. Junior guard Matt Hunter dropped 40 on the Hoosiers in a 100-69 loss.
Louisville's Russ Smith put together a heckuva complete game in an easy win over UMKC. He had 31 points, seven rebounds, five assists and five steals.
Jordan Bachynski notched the first-ever triple-double in Arizona State history on Saturday, going for 13 points, 12 boards and 12 blocks in a win over Cal State Northridge.
Numbers to figure:
30: That's the number of assists North Carolina had against East Tennessee State – on 31 field goals.
11: That's the number of blocks St. John's freshman Chris Obekpa had against Fordham, setting the school record.
7:38: That's how long Clemson's drought was in the second half, eventually enabling Arizona to pull away with a 20-2 run down the stretch.
2006-07: That's the last time Maryland won eight straight games. The Terrapins won their eighth in a row on Saturday, beating South Carolina State.
Other outcomes of note:
We almost put this in the "good win" category – but the jury is still out on Virginia Tech despite its hot start. Anyway, West Virginia's Juwan Staten essentially drove to the rim uncontested in the final seconds to hand Virginia Tech its first loss.
Michigan is off to its best start in 24 years -- when it won a national title. It was John Beilein's 100th win at Michigan. Arkansas brought a fight but Michigan is clearly a top-five team nationally right now. So many weapons being used the right way.
Ole Miss suffered its first loss of the season, as Middle Tennessee's Kerry Hammonds hit a jumper with 40 seconds left to give the Blue Raiders the 65-62 win. That's two years in a row for Middle Tennessee beating Ole Miss.
Ohio State just romped Long Beach State. Beach just overmatched (is it doing more harm than good?) with its ambitious non-con scheduling. 89-66. Deshaun Thomas with 18 points (and only four rebounds).
N.C. State ran all over an overmatched Cleveland State team, 80-63.
Kentucky played at home against Portland, and that's a good way to get right. Ryan Harrow looked as good as he has so far in any game this season, dishing six assists and just one turnover in 25 minutes. Noel had seven blocks. 74-46 final. 
Texas and UCLA battled in a game between two disappointments – and UCLA came out on top by two points after a late comeback. Texas completely collapsed down the stretch. Myck Kabongo will walk through that door eventually, but he's not enough.
New Mexico improved to 10-0 with a 65-52 win over Valparaiso. The Lobos forced 23 turnovers and had a balanced effort offensively. I was down on New Mexico in the preseason, but it's proving me wrong.
We left Cashmere Wright out of our top 50 point guards in October, but he had 20 points, nine assists and just one turnover in an easy win over Maryland-Eastern Shore. The Bearcats continue to fly a bit beneath the radar despite their 9-0 record.
Michigan State was down at the half to Loyola (Chicago), but the Spartans pulled away in the second half. I think we're all still waiting for Michigan State to hit its stride, given its inconsistency so far this season. They have talent and Tom Izzo; it will come.
Other top-25 winners: Missouri (Tennessee State), Oklahoma State (Missouri State), Notre Dame (Brown), Wichita State (Northern Colorado) and Minnesota (USC).
Butler picked up a nice road win over Northwestern, the same team that just went into Baylor and knocked off the Bears. 
Notebook:
-- Funny video – Rick Pitino answers a reporter's phone during the press conference, and proceeds to make drink plans.
-- What is Georgetown's deal? Good wins this season, but Towson -- a team with one win last season -- played the Hoyas to a 46-40 final at Georgetown. Good D team, but the O needs work.
-- It looked like Isaiah Canaan might be hurt after taking a hit to the head, but he returned late in the second half to help lead Murray State to a win over Evansville. That would have truly been a season-changing injury.
-- Adonis Thomas took an elbow to the head against Austin Peay, but Josh Pastner said after the game that Thomas should be ready to go after the weekend. He said Thomas had a corneal abrasion.
-- BYU is usually one of the toughest places to play, but it needed a late rally to escape Utah by three. The WCC has its days where it looks like an exciting, competitive conference – and other days where it seems like Gonzaga could run away with it and make it a one-bid league.
-- New coach, same dominant offensive rebounding for Kansas State. The Wildcats grabbed 20 offensive boards against George Washington, which played a key role in the close win.
-- Washington is simply a disaster. The Huskies now have lost three home games, the latest to Nevada. Lorenzo Romar is missing the go-to star he seems to always have on the roster, whether it's Tony Wroten or Terrence Ross or Quincy Pondexter. 
It appears he's more than happy to pay up, given the circumstances

Lithuania seems ready for the Ball era to begin

The Sun Devils make a big jump and the Jayhawks slide after ASU pulls the big upset
Arizona's big man from the Bahamas balled out against two talented teams

Coach Shaka Smart doesn't expect him to be out for an extended period of time

Jackson isn't showing the Sun Devils much respect after beating KU