Night Court: Busy day highlighted by Elston Turner's 40, Duke's loss
The first half of the day was headlined by No. 1 Duke losing, as well as Indiana dominating for 30 minutes. The evening and night had Kentucky losing and another Mountain West classic.
by

Eye on Col Basket staff

• 12 min read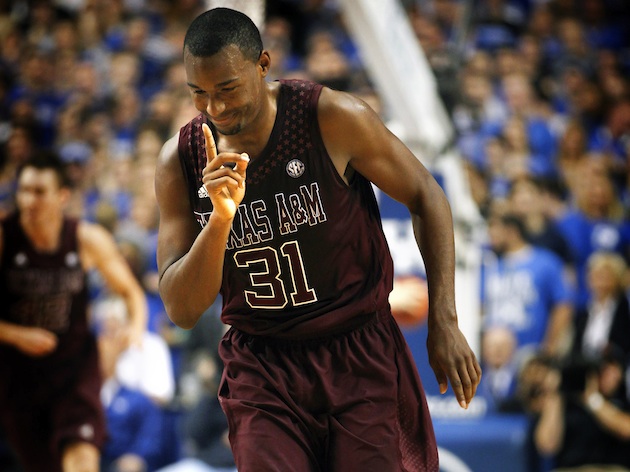 Elston Turner stunned the Rupp Arena crowd on Saturday, scoring 40 points as Texas A&M upset Kentucky. (Getty)
By Matt Norlander and Jeff Borzello
The best we've seen so far: Duke goes down to NC State.
(Before you get to my thoughts, here's Parrish's column from Raleigh.)
Now, that's a good win for NC State, naturally. It disrupts order in the ACC and it also plays into the fact that, by the way, Mark Gottfried's team was picked to win the league this season. Remember that. Also remember that Duke didn't have Ryan Kelly today and that is absolutely an asterisk worth tacking onto this victory. State fans: enjoy this. You have such a fun team to watch when it's clicking. C.J. Leslie was awesome during and after the game. But Feb. 7 is the road rematch for your team, and I'm already anxious as hell to see how that one plays out.
Sidebar for Duke here is Seth Curry leaving the game. Initially it was worry over an aggravation to Curry's right leg injury, but turns out NC State left some moisture on the court, and in fact Curry tweaked an ankle. If that's the case, he shouldn't be out too long, if at all.
The best of the night: San Diego State holds off Colorado State in overtime.
Colorado State struggled to win road games last season, and it looked like the Rams were headed for the same fate this year -- especially after San Diego State took an 18-point halftime lead on the heels of 10 first-half 3-pointers. But the Mountain West doesn't have blowouts this season, so Colorado State came all the way back to send it to overtime. In the extra period, it was all Chase Tapley. Prior to the game, it was unclear if Tapley (flu) would even play -- but he scored 12 points in overtime in the 79-72 victory. 
There's just not much left to say about how fun the Mountain West is going to be this season. Every night, seemingly every game -- just awesome. Close games, tight conference race, possibly five or six NCAA tournament bids.
More Mountain West fun: UNLV beats Air Force in overtime.
UNLV was on the losing end of three close games this season, and the Runnin' Rebels nearly dropped another to Air Force on Saturday. But Bryce Dejean-Jones hit two free throws to tie the game in regulation, then hit the game-winning jumper in overtime to put UNLV over the top. Anthony Bennett continued his freshman dominance with 22 points and 16 rebounds. The Rebs didn't look great, especially against the Falcons' zone, but with road games at San Diego State and Colorado State up next, they couldn't afford to drop this one.
Don't count out the Tar Heels: That's how it's done, North Carolina.
The Heels, on the heels of that home loss to Miami a couple of days ago, went into Florida State and got a 77-72 win that, I'll be honest, I wasn't sure it was capable of getting. I still question the long-term health and prospects of this team, but at least it took care of business and will keep the vibe healthy.
Florida State remains enigmatic. If anything, the game could be seen as a microcosm of what the ACC will be this year. Solid league, not the worst among the powers, but there's going to be inconsistency with nearly every team except the top and bottom two, most likely.
Biggest resume-booster: Ole Miss cements itself as possible fourth bid in SEC.
Actually, one could say that Ole Miss has the third-best resume in the conference right now, given the way Kentucky is playing. The Rebels had a gaudy 12-2 record, but the best wins were at Tennessee and against Rutgers. Saturday answered some of the questions, though, as Ole Miss got 22 points from Murphy Holloway and easily handled No. 10 Missouri, 64-49. The SEC is very down this season, but at least now it looks like it will get a fourth bid to the NCAA tournament. If Ole Miss can continue to stockpile wins against the bottom of the league -- and also pick up another Missouri-esque win, the Rebels will go dancing. This was a monster win for the profile.
Deserving of a free dinner at the restaurant of their choice: Connecticut, for playing like it has nothing to lose.
Notre Dame had only lost once coming into Saturday, and that was all the way back in the middle of November to Saint Joseph's. So, on the road, the Huskies handled Notre Dame 65-58, and what I loved about watching this game in spurts (there was so much afternoon hoops I could barely keep up) was to see how well and hard these players continue to chase for Kevin Ollie. The man earned his contract and then some, and even now, in a season that doesn't have playoff opportunities in the waiting because of APR punishments from the NCAA, he's able to motivate this team.
UConn is going to arguably be the best spoiler in the history of college hoops. Or at least since the days when leagues only got one berth to the NCAA tournament. UConn hosts Louisville on Monday. Lined up to be a great one.
No soup for you: Illinois, what was that?

We'll seldom fault even the best teams for going on the road in-league and dropping games against inferior teams. Wisconsin is not as good as Illinois, but still, a 74-51 final -- including Illinois only putting up seven points in the first 15 minutes of the game -- is not a good look. Thank goodness John Groce's team got that win against Ohio State (and we'll see what the Buckeyes are made of at home against Michigan on Sunday), otherwise this would be an 0-4 Big Ten team.
UW has now won 11 of the last 15 meetings vs. Illinois, by the way. And Badgers senior  Jared Berggren notched his first career double-double (really surprising to me), with 15 points and 12 snares.
No food for you at all: Elston Turner scored 40 points as Kentucky lost to Texas A&M ... at home.
No matter how poorly Kentucky has played this season, no one has really been concerned about its postseason prospects. After all, the Wildcats have three lottery picks, all the losses were to very good teams, and there are still two months left in the season. Well ... it might be time to show concern. Goodman wrote about this earlier today, but Kentucky simply isn't an NCAA tournament team right now. Losing to a mediocre Texas A&M at home by double-digits isn't acceptable for a team with this much talent. Since the season-opening win over Maryland back in early November, Kentucky's best wins are over Vanderbilt and Marshall.
We can't give Turner just a cursory mention, though. The senior A&M guard is having the best season of his career -- and he decided Saturday at Rupp Arena would be the perfect time to knock down six 3-pointers en route to 40 points. It was one of the best individual performances of the season.
Roadies: Kansas State got a good league win at average West Virginia. The Wildcats escaped with a 65-64 outcome but it highlights just how many teams played well enough to earn wins away from home Saturday. Let us tick off the ones who've already done it: K-State; UConn; UCLA; Marquette; Georgetown; North Carolina; Butler; Ohio; Virginia Tech. And more to come tonight, certainly.
Saturday stars
Numbers don't lie
114: Belmont has won its first four Ohio Valley games -- by a combined 114 points. (via @belmontbyrdcage)
.500: The five CAA teams above .500 in league play? Northeastern, Delaware, Towson, Hofstra, James Madison. Not exactly a who's who of mid-major powers. Going to be a fun two months.
37.7:
Both
Cincinnati
and
Rutgers
shot 20 for 53 from the field in the Bearcats' 68-58 win on Saturday.
26-5:
Buffalo
went on a 26-5 run in the final 11 minutes against
Miami (Ohio)
-- but still lost, when Miami's
Allen Roberts
hit two free throws with six seconds left.
1912:
That's the last time
Washington
started 3-0 in conference play. With Saturday's 65-60 win over
Stanford
, the Huskies are now 3-0 in the Pac-12. That battle was certainly reason enough to stay up for the final game of the night.
Other action worth your attention
It says something about Saturday's offering when we've gotten this far into the post and are just now getting to Indiana's 88-81 home win against Minnesota. The Hoosiers should've closed out the Golden Gophers well before things got in doubt with three minutes to go, but nevertheless, a good home W. Minnesota is not elite, but I continue to like this team. Here's what I loved about IU: All starters scored between 13 and 20 points. A balanced attack. And if you missed that first half: yowza. Such a fun team to watch when it's offense is clicking and skating down the court.
UCLA went on the road and beat Colorado. You can read about UCLA's angle here. As for the Buffaloes, it's now a question of if this team can/wants to sustain success throughout the Pac-12. No reason to fret yet, but I am more cautious now than I was before over how truly good this group is. Just barely above the bubble talk come February?
Twenty-seven percent. Thirty-eight points. That's all South Florida could muster against Louisville's defense on Saturday. Peyton Siva surpassed 1,000 career points and Gorgui Dieng had 16 rebounds.
Ben McLemore had just two field goals for Kansas, but the Jayhawks didn't really need much in their 60-46 win over Texas Tech. We wanted another Superman performance!
We covered all the Rotnei Clarke scary injury news over here. It should be noted that Butler overcame losing Clarke in the first half and got a good 79-73 win at Dayton, meaning Butler has started its career as an A-10 member 2-0, both of those Ws coming on the road.
Maybe Brandon Ashley will be the Arizona freshman big man to separate himself (although we've heard that before). He had 12 points and seven rebounds as Arizona bounced back from its first loss with a win at Oregon State. 
Florida has sort of disappeared from the nation's eye with a couple losses in the mpast few weeks, but the Gators are still humming along. They got 20 points from Kenny Boynton and dominated the glass in a 22-point win over LSU.
Listen, Texas isn't good this year, but I was curious to see how Iowa State would respond to getting a W ripped from its hands at Kansas earlier this week. The answer: Cyclones 82, Longhorns 62.
No Kendall Williams for New Mexico, no problem. The Lobos cruised past Fresno State with 19 and 14 from Alex Kirk.
Norlander clearly jinxed Saint Louis. After writing about the Billikens on Friday afternoon and how they had yet to lose since the passing of Rick Majerus, Temple went out and beat them on Saturday. The Owls remain inconsistent -- but still a tough out. 
Another Atlantic 10 team, VCU, won its 11th game in a row by knocking off St. Bonaventure.
Alabama is now 9-6 overall after a 68-65 home win against Tennessee. Good of the Tide to hold serve on their court, but in reality this continues to hurt/demerit the SEC because Tennessee needed to get a good road win here.

Trae Golden

missed a 3 as time expired to give the Vols a shot at overtime, and now Tennessee has lost three in a row, matching Bama's 8-6 overall record, but is instead 0-2 in league play. 
Oklahoma had a let's-see-what-ya-got game at home against Oklahoma State. You know what? Lon Kruger's team will make the NCAA tournament this year. I'm convinced. Young group getting better and one that didn't wilt whatsoever against the Pokes. It ended 77-68.
Murray State isn't the same team as last year, but the Racers still have Isaiah Canaan. He had 26 points as they held off Austin Peay.
Delightful (and not-so-delightful) thoughts
-- A lot of players missed playing time today due to suspension or injury: James Southerland (Syracuse), Greg Whittington (Georgetown), Kendall Williams (New Mexico), Leslie McDonald (North Carolina), Tray Woodall (Pitt), Clarke (Butler), Seth Curry (Duke).
-- Marquette is quietly off to a nice start in Big East play with victories against UConn, Georgetown and now Pittsburgh, on the road, Saturday. Buzz Williams gets it done with aplomb.
-- When's the next time Memphis will lose in Conference USA? The Tigers are starting to stockpile wins again, beating UAB on Saturday, and there's not an intimidating league game on the schedule until next month.
-- Under-the-radar result: Stephen F. Austin went into Oral Roberts and came out with a significant Southland win. SFA is now 14-1 and undefeated in the league.
-- North Dakota State is already 6-0 in the Summit. The Bison still have to win the automatic bid, though -- and that means beating Nate Wolters when it counts.
-- Northeastern is your surprise CAA team. The Huskies are 4-0 in the league and got coach Bill Coen his 100th win Saturday.
-- Remember when we got all excited about Santa Clara for hanging tough with Duke for a half? The Broncos have lost three in a row, including Saturday's 84-62 defeat at the hands of BYU. In other WCC action, Saint Mary's beat San Francisco.
-- Rhode Island isn't good, but Charlotte might be. The 49ers improved to 14-2 after winning 58-50 at URI. Sleeper team in the A-10 this year, certainly. Not going to win the league, but who knows, maybe it finishes top three?
-- Holy Cross is nothing great, but know that Lehigh won at home over it, 79-47, in its first D-I game without C.J. McCollum, who's out for approximately two more months with a broken left foot.
--
Auburn hoops is a 2-0 SEC team for the first time in 10 years after knocking off South Carolina.
-- Obviously, John Thompson III is going to say he's in favor of moving forward with the Catholic 7, but he also indicated Saturday he'd like to see the league get ambitious and go after Gonzaga.
---
For more college basketball news, rumors and analysis, follow @EyeOnCBB on Twitter, like us on Facebook and subscribe to the thrice-a-week podcast on iTunes. You can follow Matt Norlander on Twitter here: @MattNorlander and Jeff Borzello here: @JeffBorzello
The BC fan has a ton of apparel and gear headed his way after this putt

Durant's made a habit of making sure his alma mater is set with the latest customized gear

Ball says UCLA told him to thank Trump for getting him back to the states after shoplifting...
SportsLine's advanced computer model simulated Wednesday's Villanova vs. Temple game 10,000...

Will any of these six teams make it to 2018 without their first loss?

Temple could be a big problem for undefeated Villanova, the No. 1 team in the Top 25 (and...