Night Court: Cincinnati puts nation on notice with Louisville win
Cincinnati will certainly have the nation's attention now, after going into Louisville and beating the Cardinals.
• 6 min read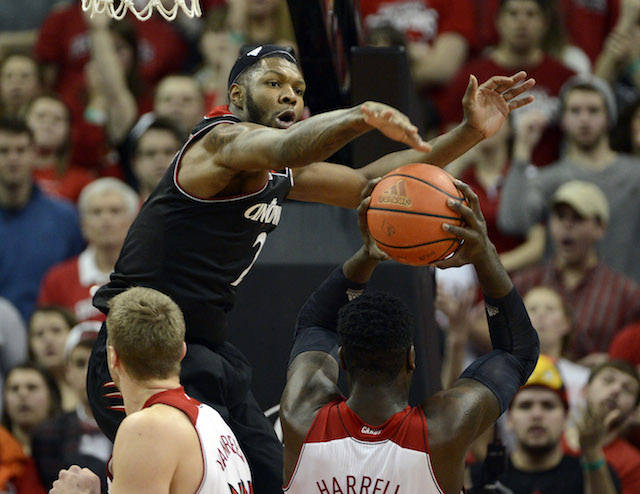 Here's everything you need to know from college basketball's Thursday …  
Game of the Day: Cincinnati takes control of AAC with road win at Louisville.
The time for Cincinnati to fly under the radar has officially expired. The Bearcats went into Louisville and came out with a 69-66 victory, moving to 9-0 in the AAC and 20-2 overall. Cincinnati has won 13 games in a row and hasn't lost since December 14. Moreover, they now have road victories over Memphis and Louisville in conference play, which really puts them in the driver's seat for the AAC regular-season title.
Sean Kilpatrick led the way with 28 points, including 11-for-11 from the free-throw line, while Justin Jackson shrugged off an ankle injury to finish with 11 points and nine boards. Louisville had four players in double-figures, paced by Montrezl Harrell and his 18 points and six rebounds.
The story of this game was defense and toughness. Cincinnati is as tough as they come in college basketball and the Bearcats play some of the most stifling half-court defense in the country. They held Louisville to 20 first-half points, and jumped out to a 17-point lead in the second half – before the Cardinals came back. However, while most teams would have likely wilted under the pressure from Louisville, Cincinnati responded by holding the Cardinals to just two points in the final five minutes of the game.
Cincinnati isn't going to be a trendy Final Four pick due to its inconsistent offense, but with Kilpatrick capable of going for 25 every night and Jackson and Titus Rubles finishing inside, the Bearcats can get the requisite 65 points it needs to win games. That's all they need – because they aren't going to give up more than 60 points too often. It's what's worked for Mick Cronin: offensive rebounding, having one go-to scorer, playing physical, and defending as well as anyone in the country. This season, it's all coming together. 
What else we'll be talking about in the morning: UCLA is the second-best team in the Pac-12, but Oregon is in serious trouble.
It looked like Oregon's 14-0 run against the Bruins would be a season-saver -- the Ducks were up three and had all the momentum. Then UCLA scored the final five points, including Travis Wear's bucket in the lane with 5.3 seconds left, to get the 70-68 win. The Bruins continue to prove themselves as the "best of the rest" in the Pac-12 behind Arizona, winning five of its last six since falling to the Wildcats. Jordan Adams finished with 19 points, and UCLA overcame an uneven performance from Kyle Anderson (10 assists, nine turnovers). 
On the other side, Oregon needed that win. The Ducks are just 2-6 in the Pac-12, and face USC at home before going on the road against Arizona and Arizona State. They might need a split on the Arizona trip, and then take care of business against Oregon State, Washington and Washington State at home. There is still time to turn it around, but Dana Altman's crew have dug themselves quite a hole.
And that's a bad loss: Providence falls to Marquette.
Providence entered Thursday on a five-game winning streak, including wins over Creighton and Xavier. But the Friars went on the road and lost to Marquette, 61-50. They were just 2-for-17 from 3-point range and turned it over 15 times. It's not that losing at Marquette is a bad loss, but Providence still needs to prove it can beat good teams away from home. The key home wins will help get the at-large resume on the radar, but there is still work to do – especially on the road.
Players of impact
Grand Canyon's Killian Larson went for 28 points and 20 rebounds in a win over Chicago State.
Northwestern State has been playing better lately, and Jalan West is a primary reason. He had 27 points and 10 dimes against Incarnate Word.
Good all-around effort from Earl Brown of St. Francis (Pa.): 25 points, 10 rebounds, four assists, three blocks.
Mentioned Tyler Haws below, but him getting 38 points gets another spot here. 
It was in a losing effort, but Quinnipiac's Zaid Hearst finished with 33 points, six rebounds and four assists in a defeat to Canisius. 
Numbers to figure
16: That was the number of consecutive SEC losses Auburn had before Thursday. Then the Tigers went out and beat Alabama by 19 behind 32 points from Chris Denson.
Hmmm:
Louisville is 17-4 & ranked 12th this season. Last year thru 21 games Louisville was 17-4 & ranked 12th. And went on to win NCAA title.

— ESPN Stats & Info (@ESPNStatsInfo) January 31, 2014
Other outcomes of note:
It wasn't a vintage Florida performance, but the Gators won their 12th straight game, this time over Mississippi State. Casey Prather had 16 points.
And that's 10 straight wins for Michigan, and the Wolverines are now 8-0 in the Big Ten. Michigan took care of Purdue on Thursday, with four guys in double-figures. Caris LeVert had 14 points and 11 boards.
Indiana is in some serious trouble. The Hoosiers lost at Nebraska on Thursday, dropping to 3-5 in the Big Ten and 13-8 overall. Nineteen turnovers did them in against the Cornhuskers, who came back from a 16-point deficit. By the way, Tim Miles has Nebraska as winners of three of its last four.
It was less than one month ago when Connecticut lost at Houston on New Year's Eve. There was a stark contrast on Thursday, as the Huskies destroyed the Cougars, 80-43. Nineteen points and seven rebounds from Shabazz Napier.
San Diego has shown recently it's not going to be an easy out in the WCC, and the Toreros got a big win on Thursday, beating Saint Mary's 61-43. That snapped a four-game winning streak for the Gaels, and SMC now heads to BYU this weekend.
Chattanooga really back down to Earth on Thursday. The Mocs had won 10 in a row and were 8-0 in the SoCon – but they went to Davidson and got obliterated by 43.
Despite various personnel losses, UTEP is now 5-1 in Conference USA after beating preseason favorite Louisiana Tech, 89-79. Freshman forward Vincent Hunter is ballin' right now, averaging 19.8 points and 7.8 rebounds in his last five games. 
BYU snapped its two-game losing streak by defeating Pacific. Tyler Haws dropped 38 points -- bringing his three-game averages to 36.3 points. 
Canisius stayed atop the MAAC, as Billy Baron went for 20 points to lead the Golden Griffins to a road win at Quinnipiac.
UC-Santa Barbara's Alan Williams dominated 7-foot-6 Mamadou Ndiaye of UC-Irvine to the tune of 26 points and 10 rebounds, as UCSB got the 20-point win.
In a battle for first in the NEC, Robert Morris held on to beat Bryant, 79-76.
Stephen F. Austin continues to roll in the Southland, beating Abilene Christian by 16 and moving to 8-0. 
Utah Valley is now 7-0 in the WAC after beating UT-Pan American on Thursday.
Oregon State is two games ahead of Oregon in the Pac-12 standings, as the Beavers defeated USC in overtime behind 24 points and eight rebounds from Roberto Nelson.
Notebook:
"Four Sides of the Story" also takes a look at Tiger Woods' first PGA tournament and the role...

Indiana's Archie Miller and Mizzou's Cuonzo Martin have been killing it on the recruiting...

Duke's much-anticipated Allen-Duval connection is off to a hot start already
It'll be Miller vs. Miller if the Hoosiers and Wildcats can finalize the proposed series

Wisconsin's Ethan Happ has made only two jumpers in his career, but is adding a long-range...

The deal is part of long-awaited $2.64 billion contract; CBS' hoops-only commitment runs through...