Night Court: Duke pulls away in second half to beat UCLA
Duke and UCLA played to a draw for 20 minutes, but the Blue Devils stepped up their defense in the second half en route to a win.
• 3 min read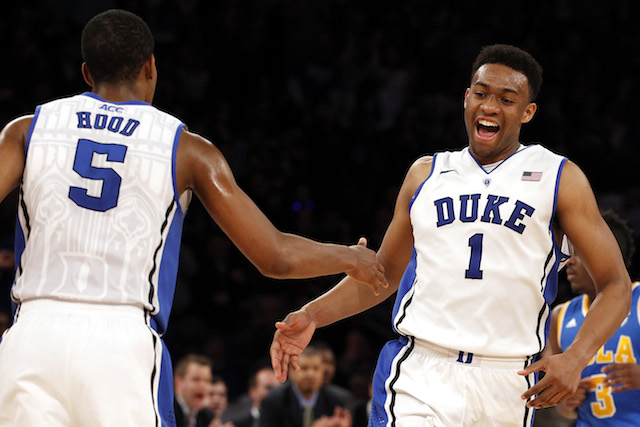 Here's everything you need to know from college basketball's Thursday …  
Game of the Day: Duke pulls away in the second half to beat UCLA, 80-63.
We had two people at Madison Square Garden for the showdown between the bluebloods, with both Matt Norlander and Jon Rothstein giving their takes. Norlander wrote that, while UCLA's defense has been the primary culprit in the two losses, the Bruins' offense has just has many questions. Meanwhile, Rothstein wrote about Duke's secondary options outside of Jabari Parker, Rodney Hood and Quinn Cook.
Parker led the way for Duke with 23 points, 10 rebounds and five assists, while Hood and Cook each tallied 14 points. One big key, though, was the emergence of Amile Jefferson inside. The sophomore came off the bench to score 11 points and seven rebounds, with this performance coming on the heels of a 10-rebound effort earlier this week against Gardner-Webb. On the other side, Kyle Anderson did his best to keep UCLA in the game in the second half, finishing with 15 points, 10 boards, seven assists and five steals. David Wear hit four 3-pointers and went for 16 points.
What else we'll be talking about in the morning: Where does Dayton stack up in the Atlantic 10?
The Flyers moved to 9-2 on Thursday, beating high-scoring Iona, 96-84 – and the game wasn't even that close. The lead got up to as many as 23 points in the second half, with Dayton shooting better than 55 percent from the field and also grabbing 15 offensive rebounds. Dyshawn Pierre led the way with 22 points and 14 rebounds, while Vee Sanford and Khari Price totaled 33 points in the backcourt. A.J. English and Sean Armand combined for 50 points for Iona in the loss.
Can the Flyers break into the top three of the Atlantic 10? Those wins over Gonzaga and California in November opened up some eyes, although losing to Illinois State didn't help matters. In order to get past either Massachusetts, Saint Louis or VCU, Dayton has to guard inside the arc better. Iona shot nearly 52 percent from the field on Thursday night, while Illinois State shot 56.2 percent from 2-point range in the Redbirds' win. The pieces are there for Archie Miller, though.
Players with impact
Morehead State's Drew Kelly had one of the best lines you'll see all season: 40 points, 12 rebounds in a 120-83 win over South Dakota.
Lafayette came up short against St. Francis (N.Y.), but Bryce Scott finished with 35 points on just 17 shots.
Solid all-around game for Tennessee Tech's Dennis Ogbe: 22 points, eight boards, three blocks, four steals, 8-for-10 from the field.
Numbers to figure
15: Savannah State used 15 players in its 17-point loss to Miami on Thursday. The Hurricanes used just seven.
1: After losing 32 in a row, Grambling won its first game on Monday. However, the Tigers snapped their one-game winning streak with a loss at TCU.
222: That's the number of consecutive games Duke has played as a top-10 team in the AP poll. Beating UCLA ensures it will be 223.
Other outcomes of note:
Arizona is now 12-0 to start the season, after the Wildcats cruised past Southern. Aaron Gordon had an impressive outing, scoring 21 points – but he only went 4-for-10 from the free-throw stripe.
Long Beach State had lost nine straight games, and had not defeated a Division-I team this season. However, the 49ers got the services of UCLA transfer Tyler Lamb on Thursday -- and it paid off immediately. Long Beach State knocked off USC, blowing a 14-point halftime lead before Michael Caffey hit a bucket with 18 seconds left to win by one. Lamb had 20 points.
USC Upstate now has two decent road wins, after beating South Carolina on Thursday. The Spartans had already won at Virginia Tech.
Weird ending in Clemson vs. Auburn: Auburn was up three with under two seconds left, but Clemson dunked it and fouled instead of going for a 3. Auburn ended up pulling out a 66-64 win.
La Salle is known for its backcourt, but its big men carried the Explorers past Wagner. Jerrell Wright and Steve Zack combined for 29 points and 24 rebounds.
Great production from Arkansas' freshmen duo of Bobby Portis and Moses Kingsley: 27 points and 21 boards in a win over Tennessee-Martin.
Decent road win for Stony Brook at Loyola (Md.). Jameel Warney continued to roll, finishing with 20 points and 11 boards. Dylon Cormier did make 16 free throws for Loyola.
Notebook:
-- Butler transfer Andrew Smeathers is heading to Mount St. Mary's.
-- South Carolina forward Michael Carrera didn't play in Thursday's game, after being suspended for a post-game altercation against Manhattan earlier this week.
For the first time in years, the Shockers played a must-see game with national implications...

Gary Parrish and Matt Norlander discuss a wild weekend of college basketball

Andy Kennedy announced on Sunday he will no longer coach the Rebels
Grayson Allen has taken over with Marvin Bagley (knee) out of the lineup

The loss puts the Buckeyes out of the top 16 and it may lose the one-seed in the Big Ten t...

Austin Hatch has been part of the Wolverines program since 2014