Night Court: Duke's win over Cuse highlights awesome day of hoops
It's a loaded Saturday. Best day of the season so far. So much to get to.
by

Eye on Col Basket staff

• 13 min read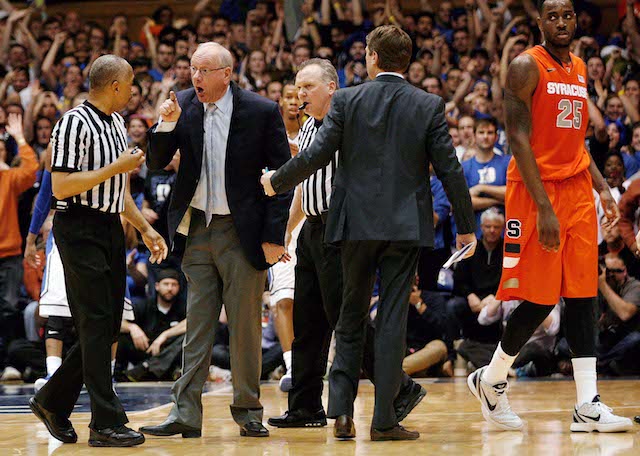 Here's everything you need to know from college basketball's slam-packed Saturday, the biggest day of the year so far this season.
And remember to check our Poppin' Bubbles post to get the latest and longest look at every single bubble-related outcome from today  …  
Game of the Day: Duke beats Syracuse in Durham -- but Jim Boeheim's ejection is all anyone is talking about.
Gary Parrish was on site, so we'll just link to his column for everything you need to know about the game.
But quickly, this was a huge win for Duke to bounce back after losing to North Carolina earlier in the week. For Syracuse, the Orange went from No. 1 and undefeated to a two-loss team in just one week. Jabari Parker was the best player on the floor for most of the night, finishing with 19 points and 10 rebounds, showing why he is arguably the most complete offensive prospect heading down the stretch. Tyler Ennis was rattled more than we've seen him at all this season, shooting just 2-for-13 from the field. Unlike the first meeting, where seemingly everyone played well, Duke was carried by Parker and Rodney Hood, while Jerami Grant was the only one to really impress for the Orange.
As an aside, Virginia is now alone in first-place in the ACC.
Statement win by Louisville: Louisville gets a Russpectacular shot with 2.2 seconds to go, sneaks past Cincinnati.
The game was close, frenzied -- and not pretty. An alley fight, basically. It's what you might have expected between two of the best defensive teams in the country. Louisville's 58-57 win over the Bearcats likely prevents Cincy from getting a No. 2 seed, unless it runs the table. This was just the fourth loss of the season for Mick Cronin's team. Louisville also has dropped just four games while winning six in a row.
With this, Rick Pitino's holding on to his promise of not shaving until Louisville loses.
Rick.
Can we get one of those White House petitions started in an effort to get Pitino to Bic himself by the end of the weekend?
The Bearcats got 28 out of Sean Kilpatrick, who had a very special day despite the loss. Read further down for why.
By the way, our national colulmnist, Gregg Doyel, was at this game and filed a column on Russ Smith.
New Mexico makes statement with dominant win over San Diego State: The Lobos have been flying under the radar for most of the past two months, but I think they're going to start garnerning attention going forward. They thoroughly handled San Diego State on Saturday night, with the 58-44 final margin not indicative of how much New Mexico controlled the game. Cameron Bairstow continued his fantastic season with 26 points and 11 rebounds, while San Diego State star Xavier Thames was just 3-for-15 from the field and finished with seven points. 
The Lobos are going to be a team no one wants to play in March. They have three studs -- Bairstow, point guard Kendall Williams, center Alex Kirk -- and are playing their best basketball at the right time. They're defending better than they were early in the season, and the only two losses since Dec. 17 were against UNLV and Boise State by a combined four points. As for San Diego State, the Aztecs really struggle to score when Thames isn't knocking down shots. Their droughts could cost them in March. 
What else we'll be talking about in the morning: Florida's 19 straight wins mean the Gators will be No. 1

We touched on Florida over Ole Miss here, but it should be noted Florida hasn't been No. 1 in the country since the week of Feb. 13, 2007. As a program, the team's had 10 total weeks atop the AP poll in school history. This will mean something big. And for anyone thinking Wichita State should leapfrog the Gators, we're here to tell you that's just not going to happen.
Florida will be No. 1 in the polls and in the minds of many who put Billy Donovan's team atop the odds list of winning this year's title.
Kentucky scrapes past LSU in overtime: Bayou Bengals' chances slipping away.
It would have been a season sweep of UK if LSU had been able to hang on. But a Julius Randle put-back in the closing seconds of overtime put Kentucky on top 77-76 and gave the Wildcats a win that will keep them on pace to a top-four seed.
Johnny O'Bryant III and Anthony Hickey each put up 20 in the loss. Aaron Harrison had a game-high 21 in the win. Kentucky's only losses since Jan. 15 have come at LSU and vs. Florida.
That's a good win: Wisconsin wins on the road again, improves its very stout resume.

Our Wisconsin-over-Iowa coverage also had a separate story. Two, in fact. But we've got more to say here.
The Badgers, winners of five in a row, have eight wins inside the RPI top 50. Only Kansas can top that. UW has seven wins over ranked teams and 10 wins on road/neutral courts. Nobody in the league can claim as many. By doing this, Bo Ryan is setting his team up for a No. 4 seed at the absolute worst. The worst.
Wisconsin wound up winning despite Iowa's Roy Devyn Marble tallying the first double-double of his career (21 points, 11 assists). Frank the Tank Kaminsky had a game-high 21. He's coming along as a player. This team's coming along. Final Four dark horse? That's probably putting it lightly.
Kansas stomps Texas: The Jayhawks avenged their earlier loss to the Longhorns by getting out to a huge first-half lead and just cruising in the second half. Andrew Wiggins had one of his better games of the season, finishing with 21 points and six rebounds, while Joel Embiid had 13 points, seven rebounds and six blocks. Sixteen players saw the floor for Kansas, which is now certainly headed to yet another Big 12 title. 
By the way, look at Wayne Selden's reaction after Tarik Black's dunk. Hopping chairs!
And that's a bad loss: Tennessee is swept by Texas A&M and on life support for an NCAA tourney bid. Missouri didn't help itself, either.

Antwan Space, who isn't an abundant 3-point maker, hit a deep ball with 2.4 remaining in a 65-65 overtime game. That 3 gave Texas A&M a home win over the Vols and could have altered the career of Cuonzo Martin in the process. Space also hit a winning shot on Jan. 11, in Knoxville. Here's how it looked Saturday.
Tennessee could ill afford to lose this game. The Vols are now 16-11, having lost three of their last four. Beating Missouri at home in the season finale is pretty much a mandate at this point. If Martin's team did that, it would mean a season sweep of the Tigers, which is an ace needed up his sleeve right now.
Missouri is in a similar boat after losing at Alabama. The Tigers were the SEC team best suited to grab a third bid for the league, but they took a hit with the loss in Tuscaloosa. By the way, a win for the Tide had to be nice for Anthony Grant, whose seat seems to be heating up.
The Big East is a cluster: Red Storm stumble late at Villanova; Xavier gets walloped by the Hoyas.
With a home game vs. Xavier and a road game at Marquette to close out the season, the Johnnies still have chances to play into the NCAAs. But boy this would've been a huge one. Probably would have killed off Villanova's two-seed chances in the process. As it was, a 57-54 Wildcats final. Nova is now 24-3, while St. John's is 18-10.
Villanova remains undefeated this season when playing opponents not named Syracuse and Creighton.
Elsewhere in the Big East, things remained hazy thanks to Georgetown's 74-52 smackaround of Xavier. Heading into this game, Xavier was in the field for many while Georgetown was on the verge of not having that distinction. Now what do we think? We think Georgetown's remaining games appropriately will determine the team's fate: at Marquette, vs. Creighton, at Villanova. Winning two of those three and getting a win in the Big East tournament will seal it up.
Xavier, now 18-9, has a 'uge road game at St. John's on Tuesday.
Another bad loss: Gonzaga loses second in a row, at San Diego.
We dove deeper into this in the bubbles post, but the Bulldogs are now in some trouble for the NCAA tournament. If they lose another regular-season game -- there are two left, at Pacific and at Saint Mary's -- and don't win the conference tournament, it's going to be an anxious Selection Sunday for the Zags.
Players with impact
Marcus Smart had a very solid return to the court, the type of game that should get a lot of pub. He had 16 points in the 84-62 win over Texas Tech, but more than that, a career-best 10 assists and six more steals. Huge showing for him, and a big confidence booster for the team. The win doesn't help the NCAA outlook, but at least it's finally a win instead of another loss. The streak ends at seven. 
Sean Kilpatrick became the second player in Cincinnati history to reach 2,000 points. With the Big O himself sitting in the stands, Kilpatrick joined Oscar Robertson. Even though Cinci lost, this will eventually truly shake Kilpatrick. What an honor.
Javon McCrea set the new all-time scoring mark for Buffalo Bulls. The senior power forward had 31 points in the team's 78-69 win at Kent State. It was the first time Buffalo ever won at the Memorial A&C Center, by the way. McCrea's career will crack 2,000 points by season's end. He sits at 1,920 following Saturday's game.
You snag 18 boards, you get a mention. Ousmane Drame gets his second dose of love this season int his spot. He was a beast, scoring 26 and grabbing 18 boards in Quinnipiac's 90-88 win at Niagara. Bobcats angling to steal the MAAC title in their first season in the conference.
Steve Holt! The Saint Mary's guard went for 35 in the team's 76-54 win over Santa Clara.
Howard's James Daniel is the nation's leading freshman scorer, and he added to that on Saturday, scoring 38 points. 
Thirty-four points and six rebounds from Idaho's Stephen Madison.
Abilene Christian put up 124 points on Saturday, and Julian Edmonson scored 33 of them, knocking down eight 3-pointers.
Great all-around line from Brown's Cedric Kuakumensah: 30 points, 14 rebounds, seven blocks.
Speaking of versatile lines, check out Sacramento State's Mikh McKinney: 29 points, 11 rebounds, six assists.
Numbers to figure
3: Georgetown's three turnovers Saturday were the fewest ever under JT3.
73.3: Via ESPN, North Carolina shot 73.3% on 3-pointers against Wake Forest, a school record for UNC. North Carolina followed up that Duke win by scoring a season-high 105 points less than 48 hours removed from Thursday night's ending. Wow. But that's what playing Wake Forest can do for a team, I suppose.
31: Duke and Stephen F. Austin both improved their home winning streaks to 31 games.
19: Florida and Saint Louis are both on 19-game winning streaks.
50.4: North Dakota State's field goal perecentage. Tops in the nation. NDSU, now 10-2 in the Summit, beat defending champs South Dakota State 74-59.
.457: 
@YahooForde The @B1GMBBall road teams are 37-44 (.457) in conference. Only @BigWestSports (24-28, .462) & @WACSports (28-26, .519) better

— KPIsports (@KPIsports) February 22, 2014
Other outcomes of note:
With a win over Drake, Wichita State is the first 29-0 team in college basketball since Illinois nine seasons ago.
The biggest win of the day in terms of bubble teams might have come from Stanford, which took down UCLA to nab a marquee win. 
Meanwhile, Minnesota had a chance to do the same -- but the Gophers were obliterated in the second half by Ohio State. 
Saint Louis stayed unbeaten in the Atlantic 10 by hanging on to beat George Washington. The Billikens blew a 14-point second-half lead, but ended up with the victory. 
Baylor, once in danger of missing the NCAAs, is now 18-9 and winners of four straight after going to West Virginia and getting an 88-75 win. Royce O'Neal had a career-best 22 points for the Bears. WVU can play spoiler down the stretch, but at 15-12 it's looking like the 'Eers aren't going to have enough, barring a Big 12 title-game appearance.
A blowout between two NCAA tournament teams. Oklahoma won 86-73 at home over K-State in a game that wasn't that close. The 18-9 Wildcats have dropped six straight away from home.
Boise State and UNLV had one of the better games of the night -- with a terrific finish. Boise State's Derrick Marks hit a jumper with under four seconds left to give the Broncos a one-point lead, but Deville Smith came back down and buried a pull-up jumper at the buzzer. It initally counted, but the refs waved it off. Leon Rice ended up celebrating in front of Dave Rice, which made for sort of an awkward moment.
Temple took Memphis to overtime, but the Tigers came out with a three-point win. 
Clemson wins 63-55 at Georgia Tech, keeping the Tigers in the mix for a tournament bid. The bubble is shaping up to be interesting as always. Perhaps a bit more crowded around the cut line this season as opposed to the past five years?
Miami 69, Boston College 42. That's a very bad look for Syracuse.
Virginia, now 14-1 in the ACC and 23-5 overall, beat Notre Dame 70-49. The team's won 11 straight. It's the first time Virginia's ever gotten to 14-1 in the ACC. This win was sealed amid a 25-0 run in the second half that took nearly nine minutes. Only one Irish player cracked double figures. When will we start talking Cavs as a No. 2 seed? If they beat Syracuse in a week, they'll be on that line. 
Saint Joe's dodged a bad loss, wins easily 87-72 at home to remain in the NCAA tournament picture as of now.
Another outcome in the A-10 that keeps the conference in the mix with seven tourney hopefuls: Dayton maintaining the course and winning on the road. The Flyers are 18-8 and winners of six straight. Going to be a very intriguing case going forward.
We're making it a point to point out just how nice a job Mark Fox has done with an undermanned Georgia team. By getting to 9-5 in league play Saturday with a 73-56 win at South Carolina, Fox guaranteed he'll have his third season of .500 or better in the league.
It was close for much of it, but get the road wins in league play no matter how they come. That's what Iowa State did in winning 71-60 at TCU.
Richmond stays alive in the NCAA tourney mix -- though outside looking in now -- by winning 62-49 at home over La Salle.
Harvard came back in the second half to beat Princeton, keeping them in first place alongside Yale. 
Marquette kept its faint NCAA tourney hopes alive by surviving OT at DePaul 96-94 to get to 16-11. It should have never even made it to OT, though. Check out the greatest buzzer beater that never was.
Notebook:
-- Quinnipiac's Umar Shannon buried a 3-pointer at the buzzer to beat Niagara. 
-- Butler announced Saturday that forward Kameron Woods has been reinstated to the team following a one-game suspension.
-- Jason Brickman passed Steve Blake on Saturday to move into fifth all-time on the NCAA's assist leaderboard at 975.
-- From Iowa Athletics, "Roy Marble and Roy Devyn Marble moved up to No. 5 on the father-son scoring combos list. They move past the Maravich combos (Pete and Jaeson; 3,667 points) (Pete and Josh; 3,671 points)." That is tremendous.
-- College hoops had a pizza fight, reportedly, Saturday afternoon.
-- Aaron Gordon, solid dunker.
Oklahoma's star freshman has a father who has been there and done that

Kentucky now is at risk of slipping out of the Top 25 (and one)

Cherry's commitment gives ASU a top-20 recruiting class and its highest rated pledge since...
Matt Norlander is on a 11-7 run in college basketball picks and shares his best bets for W...

Kentucky losing this game probably cost it a shot at earning a high NCAA Tournament seed

Freshman had 12 turnovers and 20 points; the Wildcats rattled him and kept OU on its heels