Night Court: Four top-10 teams fall, Duke/Cuse lives up to hype
There's so much to see and share. Come catch up on the most meaningful games in college hoops from Saturday.
by

Eye on Col Basket staff

• 14 min read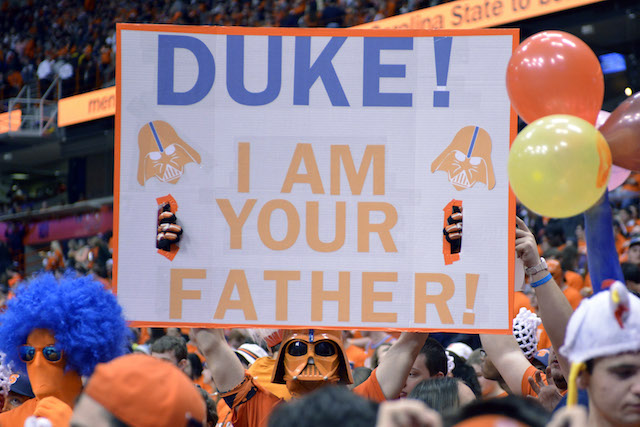 Here's everything you need to know from college basketball's slam-packed, massive Saturday …
Game of the day season: Duke's trip to Syracuse lives up to all the hype, with the Orange winning in overtime, 91-89.
It was hyped as the game of the year, and rightfully so. But it couldn't possibly live up to the billing, could it? Wrong. Despite the fouls and whistles and disqualifications, it was pretty much as good as it gets for a February college basketball game. 
Looking at the box score, almost everyone played well. On Syracuse's side, C.J. Fair had 28 points; Jerami Grant had 24 points and 10 rebounds; Tyler Ennis went for 14 points and nine assists; Rakeem Christmas finished with 10 rebounds and six blocks; and Trevor Cooney went for 14. Over on Duke, Rasheed Sulaimon led the way with 16 points and six assists -- but Jabari Parker (15 points), Andre Dawkins (14), Rodney Hood (14) and Amile Jefferson (14 points, seven rebounds, five assists) all performed well.
Syracuse is now off to its best start in school history, with 21 straight wins to begin the season.
Both teams are clear Final Four contenders, and everyone has already circled the rematch on their calendar: February 22. 
No. 1 goes down: Arizona lost its first game of the season, at California.
Borzello has been hyping this game as the game Arizona loses its first game, and Justin Cobbs made a jumper with 0.9 seconds left to give the Golden Bears a two-point win. We wrote quickly on this game on the blog. The bigger issue for Arizona could be the injury to Brandon Ashley; he was seen on crutches after leaving the game with a foot injury, and it would be a brutal blow to the Wildcats if he is out for an extended time. Syracuse will likely move to No. 1 on Monday, but how far will Arizona drop? The Wildcats' resume is still likely good enough to be in the top two, although Florida is rolling right now. 
Update: this is bad news.
Arizona coach Sean Miller said on his radio show PF Brandon Ashley might be lost for the year. Thinks foot is broken, depends on severity.

— Michael DeCourcy (@tsnmike) February 2, 2014
Another great game:  Baylor looks like a new team in winning at Oklahoma State.
Baylor, this is why we love you and hate you. Going into Stillwater and winning 76-70 over Oklahoma State? That's really nice. But to do it without starting point guard Kenny Chery? Nobody had that. Consider the place was close to packed, thanks in part to OSU Travis Ford begging the students to show up. Marcus Smart, who's been mediocre as of late, wasn't able to put forth a signature performance. He had 15 points, seven assists, six rebounds and four turnovers. Not bad at all, but OSU didn't appear to be ready for the effort Baylor gave.
Now the Bears are at 4-4 in the Big 12 thanks to a team-high 20 points from Brady Heslip and 11-23 3-point shooting. BU looked as active as we've seen it all season long. And now there's a huge home game against Kansas looming on Tuesday.
That's a great win: Texas hands Kansas its first Big 12 loss.
The 17-4 Longhorns are a clear-cut top 25 team right now, and as the season goes on, it's kind of hard to believe that to be the case all the while watching it unfold. Rick Barnes is somehow making this work. Anyone that watched this game knows that Texas so clearly outplayed Kansas; just 11 turnovers and 19 fouls for UT. Isaiah Taylor, an emerging factor for the Horns, led the team with 23 points. Given the roster, it really is one of the better coaching jobs being done to this point, nationally.
Andrew Wiggins had a non-showing, fouling out after scoring seven points and grabbing five rebounds.
That's a good win: SMU has no issues with Memphis, wins 87-72.
SMU remains unbeaten at home and is giving the American Athletic Conference a very good chance at earning five teams into this year's NCAA tournament. The Ponies improves to 17-5 and 6-3 in the league behind 14 points and 10 assists from Nic Moore. Markus Kennedy took in 15 rebounds, and once again helped show that the Memphis interior needs a lot of work.
And that's a bad loss: Xavier now 2-3 in its last five games.

Dropping a home decision to Seton Hall is not how you help the Big East out, X. The Musketeers fell 68-60 and are now 15-6. It was the first time in 14 games Xavier lost on its home floor. A 16-point, 14-rebound performance from Matt Stainbrook went for naught. Semaj Christon had 21 in the loss; Fuquan Edwin's 18 points and six rebounds led SHU in both categories.
And that's a confusing loss: Michigan State falls on a neutral court to Georgetown.
Without Adreian Payne and Branden Dawson, the Spartans fell 64-60 to the Hoyas. MSU can only do so much while being far from full-strength. The team's 3-point shots weren't falling, to boot.
This is a fairly massive victory for Georgetown, which is now 12-9 and ends a five-game losing streak in the most unexpected of ways. With upcoming games against DePaul, home to  Butler, home to Providence, at St. John's, there could be hope still. But on thin ice, certainly, are these Hoyas. Beating K-State and VCU earlier in the season still looks good. Markel Starks had 16 points.
Best highlight for Michigan State was this Gary Harris flash to the rim. He led all scorers with 20.
Ohio State-Wisconsin. What can we say?
Both 17-5, both 4-5 in the league. Trey Jackson couldn't get a shot off, Sam Dekker had an awkward 3-point attempt at the buzzer. Friend of the blog, Chip Patterson, details Wisconsin's sorry state here.
Can we get your thoughts, Bo Ryan?
Let's talk Ohio State, then. First off, nice pass, Shannon Scott.
The Buckeyes didn't exactly wow in this one, either. Someone had to win, despite recent play from both teams lending credence to the theory that perhaps both teams could have lost.
Aaron Craft had seven points in the closing minutes, Ohio State got to 17-5 and stopped the bleeding. A road game at Iowa Tuesday is not going to be easy. Regardless of how this team wins, or how often, it's hard to see how anyone outside of Columbus is going to take it as a legitimate Sweet 16 club going forward. The offense, the talent, the execution is as poor as Thad Matta's had in years.
Massachusetts loses again on the road
The Minutemen sneaked by with a couple of close wins in the early part of Atlantic 10 play, and it's now catching up to them. They have now lost three straight road games, and three of their last four overall -- this coming after a 16-1 start. On Saturday, Saint Joseph's got out to a 16-point halftime lead, before blowing it all and needing a 5-0 run to finish the game and win 73-68. Chaz Williams had 16 points and 10 assists for Massachusetts, but Halil Kanacevic (18 points) paced four St. Joe's players in double-figures.
Players of impact
Jabari Brown: 33 points and arguably becoming the most lethal shooter in the country in the past two weeks. The Tigers need more overall, but he's the best player in the SEC at the moment.

Juwan Staten scoried 35 points for the Mountaineers in the team's home victory over Kansas State.
You go for 20-20, you're getting a mention. UC Santa Barbara's Alan Williams went for 27 points and 20 rebounds. 
Eastern Washington's Tyler Harvey had 10 3-pointers and 38 points.
Charleston Southern's Sheldon Strickland fired in seven 3-pointers and finished with 35 points.
Melvin Ejim had 22 points and 16 rebounds, and Iowa State won 81-75 over Oklahoma, certainly a good win. One more game, at Oklahoma State Sunday, before this brutal stretch ends for ISU. Right now ISU is 3-4 against the probable/realistic NCAA tourney teams from the league. Getting to 4-4 would mean a 17-4 overall record and 5-4 mark in the league. Absolutely you take that if you're a Cyclones fan. Buddy Hield had 30 points and seven rebounds in the loss.
Bryce Cotton had 28 and six assists for Providence. More on that below.
Credit to Lavonte Dority, who scored a personal-best 33 points in helping Valpo win 70-46 over UIC. Dority is from Chicago. 
Dwight Powell: One of the better players in the Pac-12. He had 28 points, five rebounds and five assists in Stanford's home win over Arizona State.
Briante Weber, just a junior, is now the all-time leader in steals in VCU history. Weber broke a 29-year old school record in VCU's 81-70 intra-city home win against Richmond Saturday. Weber finished with five thefts. The previous record of 257 was held by former UConn star Jeremy Lamb's dad, Rolando, and it took him 120 games to do so. Weber's at just 94 career games to this point. This might become an untouchable Rams record. Is 400 possible? Why not? VCU Athletics sent along this graphic, which we promised we'd put in Night Court.
Numbers to figure
54: The number of years between the two most recent three-game winning streaks on the road in the Big Ten for Northwestern. It's an impossibly long time for any team in a major conference to endure. Northwestern is now 12-11 and won five Big Ten games (one more than last year) after beating Minnesota 55-54. Minnesota's Mo Walker's second miss of the game came in the final seconds near the rim, as a layup attempt didn't fall and no foul was called. Drew Crawford led NU with 17.
55: The number of years between 7-0 starts in league play for Saint Louis, which needed overtime to beat George Mason 85-80. The last time the Bills were seven for their first seven, they were members of the Missouri Valley. SLU is now 20-2, the best start in program history.
36: How many points poor Texas A&M was able to put on Florida Saturday. The Gators are not too far away from entering mainstream discussion of being a title favorite alongside Arizona.
The Dome has hosted the largest on-campus college basketball crowd each season since it opened. Tonight, it's a record 35,446.

— Syracuse Athletics (@Cuse) February 2, 2014
Other outcomes of note:
Wichita State still unbeaten, now 23-0. You see the 81-67 final and think "ho-hum," but actually Evansville got out to a 15-point lead in the first half. Inspired by WSU once again coming back to thrum a team, or a little worried that a few lackluster showings in the first 20 minutes of MVC play means the Shockers aren't getting up for these games?
Discussed the Kentucky win/Missouri loss in its own post. Thought this was noteworthy, too.
Calipari said he pulled Brown and Clarkson aside afterward and told them "you guys are special."

— Steve Walentik (@Steve_Walentik) February 1, 2014
Eighteen wins in a row and a 19-1 record for San Diego State, which got 24 points from Xavier Thames to beat Colorado State.
Illinois hung in for awhile, but Iowa pulled away down the stretch for an 81-74 road victory. Roy Devyn Marble led the way for the Hawkeyes with 17 points and five rebounds. Illinois drops to 2-7 in the Big Ten with seven straight losses.
LSU is making a move as the potential third-best team in the SEC. After beating Kentucky during the week, the Tigers followed it up with a home victory over Arkansas. The Razorbacks are now 2-6 in the SEC. 
Comeback of the night: UNLV was down by 11 to Boise State with just over three minutes remaining -- but a 12-0 run gave them the lead and the Runnin' Rebels pulled out a four-point win. Khem Birch had 15 points and 15 boards -- and that's four straight wins for UNLV.
Let's talk MAC. There was a big game today in Athens, Ohio. Toledo wasn't able to pull it out, falling 95-90 to Ohio, meaning both teams are now 6-2 in the league. The Rockets are one of a handful of mid-majors with legitimate hopes of an at-large, but it probably can only afford one more conference loss before that dream dies.
It's critical to get the wins on the road over teams you're much better than. Providence got a 77-72 win at DePaul few will notice, but it gets PC to 6-3 in the Big East and keeps them firmly in the NCAA tournament discussion as of now.
Similar to Providence, North Carolina got a win it should have. This one at home, though. An 84-70 decision over N.C. State.
Colorado wins in overtime 79-75 at home over Utah. It was only the second time CU has earned a dub since Spencer Dinwiddie went down for the season with a torn knee.
Notre Dame won at the buzzer, via 3-pointer.
Louisville bounced back from its mid-week home loss to Cincinnati with an easy win over UCF.
Marquette (12-10) is now in danger of not even making the NIT. The Golden Eagles were punked by St. John's and lost at MSG 74-59. Chris Obekpa, perhaps the best shot-blocker in the country, had seven more here.
Delaware is your Colonial frontrunner still, now 8-0 in the league following a close-shave 66-65 W against North Carolina Wilmington. 
Giving Wake Forest fans hope was never a good idea. Via @bloggersodear, the Deacs statistically had their worst loss in Jeff Bzdelik's tenure in dropping a 79-70 home game to Georgia Tech.
Mid-major shocker alert: Previously-unbeaten-in-the-NEC Robert Morris loses 74-73 at home to 6-15 Central Connecticut State.
Oregon would have preferred to pull out Thursday's victory against UCLA, but the Ducks bounced back to knock off USC. Trips to Arizona and Arizona State are up this week.
Arizona State falling 76-70 at Stanford will probably be very overlooked, but it will ding ASU's seeding in the Pac-12 tourney down the road and likely put the Sun Devils in a tough spot. Seems ASU is on a bubble path.
A team really slipping and a prime candidate to become an unnecessary NIT club? How about K-State, which lost 81-71 at WVU and is now 15-7/5-4 overall. The Wildcats need some nice wins in a very tough Big 12 going forward. Keep an eye.
Mountain West action: New Mexico played San Jose State. San Jose State is still winless in the MWC, New Mexico moves to 8-1. 
At one point, Ole Miss trailed 61-46 at home to South Carolina. The Rebels raced back and won 75-71 to improve to 6-2 in the SEC, keeping pace with Kentucky. Necessary for that team, for sure. Marshall Henderson led the team with 21 points.
Gonzaga handled San Francisco, 75-65, in a battle of the top two teams in the WCC standings. Sam Dower had 24 points and six rebounds. 
Alabama is now just 9-12 on the season, after getting blown out at home by Tennessee, 76-59. It was also a needed win for the Volunteers, which is 5-3 in the SEC and faces only three top-100 KenPom teams the rest of the season. Jarnell Stokes had a monster night, 22 points and 16 boards. 
Wichita State's two upcoming opponents, Indiana State and Northern Iowa, tangled on Saturday. ISU scored 53 points in the second half and got the 87-81 win. The Sycamores host Wichita on Wednesday.
Is the WCC a one-bid league this season? It sure seems that way, but BYU improved its positioning by beating Saint Mary's on Saturday. 
Clemson wins at Florida State 53-49, and the deeper we dive into the ACC season, the less likely it seems either of these teams will play in the field of 68.
Washington State got its second Pac-12 win of the season by beating Washington.
Utah Valley is no longer unbeaten in the WAC, losing by 23 to preseason favorite New Mexico State.
Notebook:
-- Wild, wild ending in Sacramento State-Weber State. To read more on it, click here.
Here it is. Full court bomb by SacState to beat Weber State. Wow! https://t.co/Qif8XWfmXz

— Brandon J Fessler (@BrandonJFessler) February 2, 2014
-- Sporting News' Mike DeCourcy broke the news that Davidson, on the 25-year anniversary of Bob McKillop coaching at the school, named the court after him on Saturday. It was a surprise event for McKillop. Davidson won 62-43 over The Citadel.
Yeah, this is really cool ... MT @Joey_Beeler Terrific image by photographer Tim Cowie of Bob McKillop. pic.twitter.com/f0kjXuChz4

— Ryan Fagan (@ryanfagan) February 1, 2014
-- Is Greg Whittington not part of Rutgers' future?
-- Don't know how you do this.
George Mason managed to go an entire half without shooting a three-pointer or a free throw. That's impressive.

— Ben Weixlmann (@BWeixScout) February 1, 2014
-- Dayton earned an absolute must-win at home over 17-4 George Washington, but it comes with an asterisk. GW was without Maurice Creek, Kethan Savage and Joe McDonald, all vital starters. So the 75-65 decision helps in the standings for Dayton but probably won't ding the Colonials too much in the eyes of the selection committee, which should note the team was hampered in playing on the road.
-- Kennesaw State vs. East Tennessee State was postponed due to bad weather.
-- Dunk City's 3-point threat is out for the next three games.
-- Chase Brogna has left Ball State's basketball team due to health concerns.
-- Legendary Temple head coach John Chaney was immortalized with a statue. (Photo from OwlSports.com).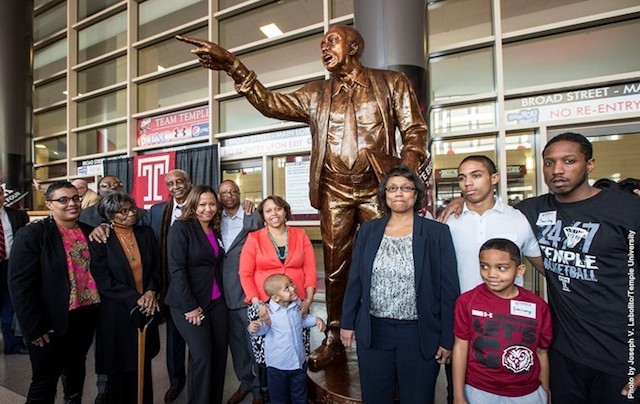 The Gaels are back in the Top 25 (and 1) after taking down the Zags

The selection committee will again reveal what it is thinking ahead of Selection Sunday

Teams not in major conferences with a shot at an at-large NCAA Tournament bids
The nation's No. 3 player will commit Saturday and here's his impact on each of his finali...

Gary Parrish and Matt Norlander also preview the weekend and Zion Williamson's announcemen...

The Sun Devils started 12-0, but since then are 2-4 after Wednesday's loss to Stanford